by Atiya Hasan 
Fawad Khan, star of the ravingly popular Pakistani drama "Humsafar" and the Disney Bollywood movie "Khoobsurat" has been touring the US for reasons that fall very much outside of the Bollywood genre. His recent partnership with Islamic Relief to promote Pakistan development has taken him to seven cities all over the US, that culminated with Dallas TX on Mar. 15, 2015.
Islamic Relief is an international humanitarian aid and charity organization that was founded in California in 1993. Their Website states their mission:
Islamic Relief USA provides relief and development in a dignified manner regardless of gender, race, or religion, and works to empower individuals in their communities and give them a voice in the world.
The recent tour with Fawad Khan is aimed mainly toward helping orphaned children and women, that are living in debilitating financial circumstances due to the political and social issues of Pakistan. Islamic Relief is working on providing them with the necessary survival tools such as education or training in trade skills.
Popular Pakistani singer Najam Shiraz is also on tour with Khan. At the event, he brought along the entertainment sprinkled with words of faith and hope. The songs he sang focused on unity and the removal of sectarianism that plagues not just Pakistan, but essentially all of South Asia. He closed out the entertainment with his energizing rendition of Qawwali singer Nusrat Fateh Ali Khan's infamous "Allah Hoo."
"I'm just here to spread some hope because people always like to say there's no hope in Pakistan," Shiraz said.
As Fawad Khan finally took the stage as the keynote speaker of the night, the energy was electric and the attendees were excited to hear what he had to say.  His speech was short but to the point and he emphasized the importance of donating to the cause.
"This is an investment in Pakistan. It will go a long way in creating a stable community, especially for the children."
The event in Houston that I attended raised $150,000 for the cause. At the end of his seven-city tour, Fawad Khan and Najam Shiraz helped raise a total of $1.1 million from 4,000 attendees all over the U.S.A.
[Photo Credit: Razi Asaduddin & Jean Velez Photgraphy]
Contribute to the Islamic Relief U.S.A. Pakistan Development campaign. 


[divider]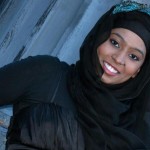 Atiya Hasan is the Editor in Chief of Brown Girl Magazine. She currently lives in Houston, TX and has just graduated from medical school. She is all about female empowerment through education and the importance of understanding their rights and sexuality. She is scheduled to be published in an upcoming anthology titled "Faithfully Feminist: Jewish, Christian, and Muslim Feminists on Why We Stay" and is part of the I Speak for Myself series. In her free time, Atiya enjoys consuming large amounts of chocolate and TV shows.