Last month, visual artist Sania Ahmed created a moving video of Brooklyn's Little Pakistan neighborhood celebrating Chaand Raat. If you missed it, please do yourself a huge favor and check it out below:
The Brooklyn-native and Columbia University grad student is a budding artist, who uses different mediums to explore visual art. After watching her first video "Blessings," we needed to learn about the creative person behind the camera.
Here's what we found out about the immensely talented Ahmed in our first ever "Fast Five Interview" series, which will introduce budding artists/activists work to the Brown Girl community with short five-question Q&A interviews.
1. What made you pick up the passion for visual art and filmmaking?
"I've always found myself compelled to create some type of visual art ever since I could remember. I would embellish the walls of my room and closet with collages of paintings, magazine clippings, prints of Mughal miniature paintings,  a mural of old Metrocards and pictures of MIA and Kurt Cobain.

During the summers in junior high and high school, my sister and I would spend hours making 'artsy' music videos with our home video camcorder to The Cranberries and Fiona Apple songs.

I would be behind the camera and direct the video, and my sister would be the subject/singer. We thought we were so freaking cool.

Now that I'm a bit older, I still haven't let that part of me go but rather, I've been experimenting with different mediums and seeing what I could come up with. Through the years, I've become hyper-aware and devoted to my hyphenated identity, which is Pakistani-American-Brooklynite-New Yorker-Ahmadi Muslim-Woman, and so my art definitely speaks to the realization of this hyphenation that I've come to find so beautiful."
["$hezantino," by Sania Ahmed]
2. What does your visual art series "$hezantino" show its viewers?
"My visual art series '$hezantino' plays with the elements of my hyphenated identity, and showcases a clash of civilizations and cultural debris that manifests as a result. It shows how I've sought to make sense of the images, words, sights and sounds of two of my very distinct worlds.

It showcases editorials from Raf Simons, Balenciaga, Alexander Wang, Maison Margiela, along with pop culture icons Kanye West and Rihanna conceived inconceivably with 1970s Punjabi film Maula Jatt, Brooklyn's little Pakistan's Halal Meat and Grocery, Lahore street scenes, vibrant Pakistani truck art, the homeland's beautifully oversaturated culture, and most importantly, Shezan Mango Juice, a staple in my life growing up.

Each piece tells a story, an unimagined conversation between these two worlds and how this New Yorker mind and Pakistani dil attempts to translate two decades of duplicitous identities."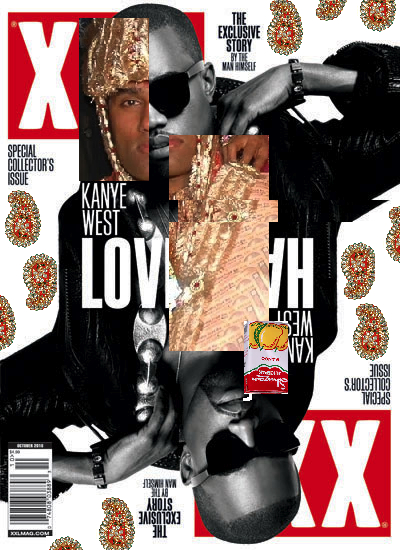 ["Dulha Yeezus" from "$hezantino," by Sania Ahmed]
3. Why was it important for you to highlight the festivities of Chaand Raat in Brooklyn's Little Pakistan?
"I knew the Chaand Raat Mela was going to be naturally filmable and aesthetically organic–and so over-saturatedly desi that I had to make something out of it this year.

My family and I attend the event every other year or so to get our last minute mehndi done or hit up the stalls for some chamkeeli swag on sale, and also just to take in some of the sights and sounds of our people and our pind. So, I definitely wanted to see what I could make of it and what I captured was better than what I had expected."
["$hezantino," by Sania Ahmed]
4. Why choose Big Sean's "Blessings" for the backtrack to the video? What does the song signify for you during this festival?
"Firstly, the more obvious reason is definitely the fact that the month of Ramadhan followed by the celebration of Eid-ul-Fitr is the most blessed time of the year for a Muslim. Detoxing all the toxins you've accumulated throughout the year both spiritually and physically and starting new is a very blessed process.

Secondly, the song "Blessings" is a mainstream commercial rap song–and like any mainstream commercial rap song, of course, it features the usual self-affirmations about the artist's greatness, braggadocios, self-assertions, arrogance, etc. But this song is a little different from all of that because of the term and theme of "blessings" and being blessed – it acknowledges that despite all this fame and greatness and self-pride, it's all coming from something other than ourselves. We work hard but we are also gifted with talents, opportunities, people and things from a Greater Being beyond ourselves.

Similarly, the Desi immigrant communities here in Jackson Heights or in Coney Island Avenue reflect that same sort of empowerment and self-pride through recognition of our blessings. Everyone–everyone's parents, rather, have that story of landing at [the airport] JFK or LGA, alone and afraid, trying to figure out how to build their worlds in a place that is so foreign and cold to them with just ten dollars in their pocket, the clothes on their back and a perhaps a floral-tiger printed mink blanket in their suitcase.

Yet despite this, the acknowledgment of their blessings and that feeling of gratitude and praise for the Greater Being never escapes the way they look at the world, and the way they look at themselves. 'Allah ka shukar hai' (all thanks to Allah), spoken with almost every exhale of their breaths, is a common proverb of our elders–those that have built entire satellite motherlands here for us to grow and thrive in despite everything.

And so here we are. It is empowering and it is worth celebrating."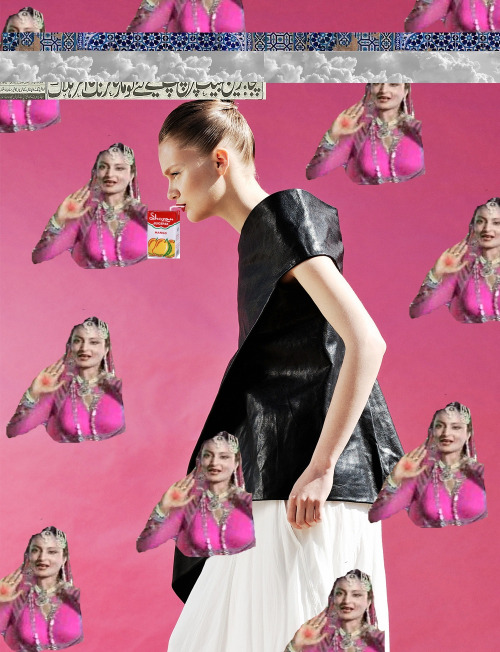 ["$hezantino," by Sania Ahmed]
5. What does the future hold for Sania Ahmed?
"In the foreseeable future, I'll be finishing up grad school and I'm feeling very blessed to have made it this far.

In regards to my art, I want to continue being a part of this visual and artistic conversation that allows this generation–of kids with immigrant parents–to embrace the clash of civilizations and make it beautiful in our own way.

I have a few more ideas of upcoming series and projects that I want to execute in the near future that carry these same elements.

Other than all that it's just blessings on blessings from here."
Follow Ahmed on Twitter to keep up with her latest updates.
[Feature Image: Candid photo of artist Sania Ahmed | Photo Courtesy: Sania Ahmed]
---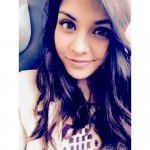 Kamini Ramdeen is quite astonishing, believe it or not, she is best friends with Beyonce and she also has tea with MIA on the weekends. Okay, none of that is true, but when she isn't busy day-dreaming of ridiculously funny stories and using her crafty clever humor to capture the hearts of millions, she is editing content and creating graphics for Brown Girl Magazine and India.com, she also strategies SEO for kicks. Follow her on Snapchat (username: kramdeen) for her daily observations of the wonderfully bizarre City of New York.