Soulful Rajasthani singer, 23-year-old Vivek Goyal, from Long Island New York, grew up surrounded by Bollywood music — watching "Indian Idol," "Sa Ra Ga Ma Pa," or simply listening to his parents singing Indian music around the house. He began to appreciate Indian classical music at age seven and now wants to take his singing talent to the next level.
Vivek has appeared on television twice and has performed in front of an audience several times.
Where did your singing career really begin?
"I used to go to a music school in Flushing, NY where I learned to play the piano and tabla. It was then I developed a sense of rhythm, and began singing along. Initially, I didn't even want to go, but I'm so glad that my parents convinced me to appreciate the opportunities I had and to take advantage of them. I truly believe I am here trying to pursue my dream of singing because of them, and how much they have guided, and supported me throughout everything"
Who are some Indian Artists that inspire you?
"Some Indian artists that inspire me are Sonu Nigam, Kailash Kher, Atif Aslam, and Rahat Fateh Ali Khan. There are a whole bunch but if I could perform next to anyone it would definitely be Arijit Singh."
When did you start singing covers?
"I started recording in my room a few years ago. I got a microphone and all the equipment I needed. I made my first YouTube cover with my brother Varun about four years ago which was a combination of the songs from "Aashiqui 2." Since it was my first production, of course it's not my best work. Yet, I did not give up.
After focusing on my weaknesses and continually trying to improve my singing, I released my second production, a cover of the hit Bollywood song "Main Hoon Hero Tera" for which I received a lot of positive feedback from, as well as over 3,000 clicks on YouTube. My most recent release is a Bollywood mashup consisting of five songs, one of which I wrote myself."
How do you balance your time between Optometry school and singing?
"Time is very important, and I'm the kind of person who always wants to be doing something productive. Most of my day goes towards studying, and I really don't get much sleep, but even when I'm in class, you'll see me writing lyrics whenever an idea sparks. Everytime I take a break from studying, I try to listen to new songs, or come up with new ideas. I have recently began writing my own songs, and the next step is to do some Bollywood fusion productions, as well as create my own original songs."
What is your ultimate goal?
"My career is Optometry, but my dream is to become a singer and maybe receive that phone call from the T-series. It is very difficult to make it into the music industry, but in 10 years, I don't want to regret not pursuing my dream, and holding back just because people told me I won't make it. In case my music career does not work out I will still have a solid career to always fall back on."
Subscribe to Vivek Goyal on YouTube, like his page on Facebook and Instagram.
---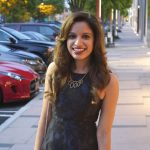 Tayeba Hussain is a native New Yorker, with dreams of becoming a talk show host with a giant cliché coffee mug one day, a la your next Tyra Banks, or Ellen DeGeneres. She's in love with all things media and has also been published on MTV news. You can check out her MTV articles here, and follow her on Instagram @simplytaystyles101.