by Faria Akram 
Looking for the Manish Malhotra of the west, you say? Look no further than Tina Tandon herself. One of the first female Indian-American designers to sell widely mainstream in the U.S., her label has been featured in coveted boutiques such as Kitson in Beverly Hills, Searle on Madison Ave, and Mark Shale on Michigan Ave in Chicago.
Tandon is the go-to designer for top South Asian celebrities in the U.S., including Padma Lakshmi (host of Top Chef) to Janina Gavankar (True Blood) to Reshma Shetty (Royal Pains). Hollywood celebs like Brooke Shields, Katrina Bowden (30 Rock), Jill Zarin (Bravo, Real Housewives of New York) and Bollywood hotties Soha Ali Khan, and Pooja Batra, all love supporting her designs as well.
With more than 10 years of experience in the New York fashion industry, Tandon launched POSH PARI Couture – a modern fusion ethnic-chic label – in 2006 as a side project while still working in the industry. She wanted to create a fresh, new look for the young, modern style savvy South Asian women in the U.S. when none such options existed, and Indian-Americans were only offered outdated choices that were way behind the trends and running styles in India.
The POSH PARI Couture collection offers unique, elegant, sophisticated, and versatile ethnic wear with western sophistication and a New York edge. The label only produces limited edition collections and bespoke custom designs catering to private clients.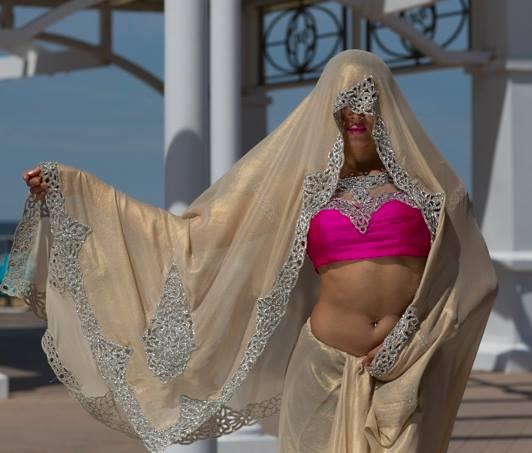 [Posh Pari Couture Collection]
"I wanted to create something that was modern, sophisticated and minimalist – more in tune with the western world for the stylish, globe-trotting, fashion-forward young South Asian women abroad. Designs that could also be versatile and interchangeable between the two worlds we live in," Tandon said.
After being a trendsetter in the ethnic wear market, and as more mainstream demand for her designs and clientele grew, she launched her contemporary American label, T. TANDON, in 2008.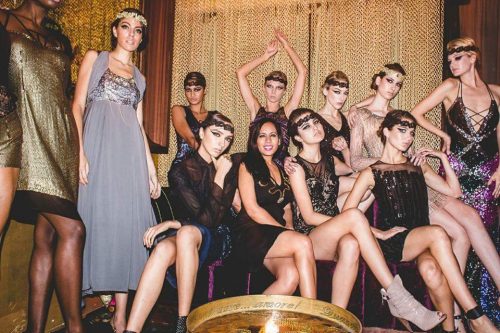 [T. Tandon Collection]
While POSH PARI Couture designs feature a combination of western and eastern sophisticated ethnic wear, T. TANDON offers day-to-evening classics and modern pieces inspired by American vintage.
"It is totally an American mindset," Tandon said, speaking on her T.TANDON line. "Try to keep it very contemporary, as I think, it would be very cliché for me to design an Indian-inspired collection for the American market, being of Indian origin. I am anything but cliché! And it provides me a bit of a challenge to design completely different collections. Keeps me versatile."
T.TANDON now sells to top exclusive designer boutiques and department stores all over the U.S. and internationally in the UAE, Japan, U.K., France, Canada, and India, and is gaining a great following by the style-conscious fashionistas, socialites and celebs alike over the world.
Currently, Tandon is being kept busy with the bridal side of POSH PARI Couture, which is set to launch soon.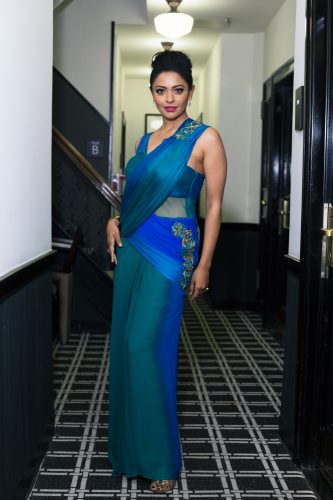 [Posh Pari Couture Collection]
---
Drooling in the desire for these fabulous ensembles yet? No need to fear! You have an opportunity to catch her latest collections from both her T.Tandon and POSH PARI Couture lines on Saturday, Oct.8th from 3:30 p.m. – 8 p.m., and Sunday Oct.9th from 10 a.m. – 3 p.m. at the Waldorf Astoria Hotel. Visit the Facebook event page here or RSVP to PR@TTANDON.COM.
You can follow her collection on Instagram, @POSHPARICOUTURE and @TTandonNY, as well as on her Facebook pages, Posh Pari Couture and T.Tandon New York.
---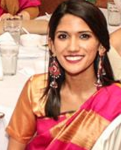 Faria Akram is a tiny and tough Texas native who has a double degree in journalism & advertising from the best school in the world, UT Austin. When she's not trying to master the art of storytelling, she can be found choreographing dance routines in her room, planning adventures with friends or watching "Kuch Kuch Hota Hai" for the thousandth time. She loves sparkling water, reading, meeting new people and sharing their stories with the world.