by Sarah Khan 
I've always considered myself somewhat of a Farhan Akhtar fan, like yeah, I can name some of his movies and songs – and that's about it. But wow, on Thursday night, I fell in love with the man. He was so witty and positive throughout the entire press conference I attended in Dallas for his Zinda Tour 2016, which is his first-ever, six-day U.S. tour with his band, Farhan Live.

[Farhan Akhtar and his team at Thursday night's press conference. | Photo Courtesy of Sarah Khan]
Pleased to announce our first ever US tour… Dates & Cities listed below. Details to follow.. Shine On!! pic.twitter.com/5lDveklYsr

— Farhan Akhtar (@FarOutAkhtar) February 23, 2016
Akhtar along with singer and composer Papon and their team strolled into the event smiling. They began the evening with a few words about how excited and thankful they were to be here. The questions ranged from aunties declaring their admiration for the two to people asking about Akhtar's experience skydiving (he's jumped 110 times since "Zindagi Na Milegi Dobara!"). He answered all the questions with such spirit and warmth.
Earlier in the press conference, a girl described his voice as "honey on sandpaper." It became an ongoing joke throughout the entire conference.
He put me in a trance when he was answering my question.
"Hi Farhan! I'm Sarah from Brown Girl Magazine. You've had other actors sing with you on tracks, who surprised you the most and why?"
I said this calmly as I was staring at the new love of my life in the eyes.
Akhtar answered and explained in full detail—as he was staring deeply into my soul:
"The most fun I've had was with Hrithik and Abhay. I have to think about this question because I've never been asked this before."
He's still looking right at me, you guys.
"So for 'Rock On!! 2,' we really wanted the female lead to sing her own songs. We all know Shradda [Kapoor] can sing but I never knew how well. She is so talented!"
I have tunnel vision at this point. Oh, God.
"I've told her to focus on her singing, don't let that go to waste! She has definitely surprised me the most."
I felt as though our conversation had lasted a lifetime, and now Akhtar was aware of every dark secret within me. Sadly, the magical moment came to an end and he turned his attention to the next girl…I mean, journalist.
Akhtar also spoke about the social campaign he launched in 2013,
MARD – Men Against Rape and Discrimination
. Being the feminist he is, listen to a snippet of a poem he recited in Urdu at the press conference.
Akhtar, you really do have a way with words and your voice is literally like "honey on sand paper."
P.S. Farhan, if you're reading this, "Dil Chahta Hai" sequel?
A special thank you to Cosmo City Media for inviting Brown Girl Magazine to the ZindaTour press conference and American Bollywood for organizing the event.
---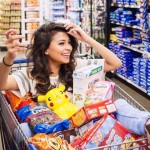 Sarah Khan is aspiring to be Sharmila Tagore with the swag of Aaliyah. She is 23-years-old and her mom won't stop asking her about marriage. Sarah usually ends up telling her mom that she wants to marry an African-American Jew, which causes her mother to promptly throw chappals at her. Sarah wants Drake to know that she's down and ready whenever he is. Sarah is also 257 Pokemon away from catching them all.