A few years ago, Farhan Akhtar, 40, hid behind the scenes and directed the classic coming of age films in Bollywood "Dil Chahta Hain." He comes from incredibly talented lineage and is one of the most creative and skilled actors in Bollywood. Not only is he a director, but also a producer, actor and singer. He recently won several best actor awards for his heart-wrenching portrayal of Olympic runner Milkha Sing in "Bhaag Milkha Bhaag." And now he's helping us all #ReachForTheSky.
As if that was not enough, Akhtar has been one of the first celebrities in India to publicly raise awareness about gender equality and promote women's empowerment. In 2013 he started an initiative called Men Against Rape and Discrimination known as MARD (Hindi for man). This campaign was created to bring about change in India and start conversations regarding respect and equality towards women. MARD asks men to sign their pledge and become a catalyst for change.
Akhtar and MARD teamed up with Google's "Helping Women Get Online" campaign to create an inspirational song to spread awareness with the hashtag #ReachForTheSky. With musicians Salim and Sulaiman, Akhtar wrote and sang the lyrics to "Chulein Asaman," the Hindi phrase for reach for the sky. The song is about women stepping away from the norm, breaking barriers and living up to their potential. Images and clips of Indian women who have broken these barriers are seen in the video to remind all women that they too, can reach for the sky.
Every time I look into the mirror, I want to see a man whose mother, sister, wife and daughter are proud to call their own."
– Farhan Akhtar
This video is the start of a movement in India that will someday change the role of women in Indian society, a movement that will allow and empower women to get educated, speak up and stand equal to men.
---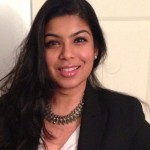 Arpita Mehta is pursuing a career in digital and social media after graduating from Boston University's College of Communication. She is a dancer, a dessert addict and a Beyonce fan girl. She is currently studying Kathak, an Indian classical dance, and loves every second of it. She currently lives in North Jersey, but calls Mumbai and Boston home as well. She is always updated on the latest in pop culture, both Bollywood and Hollywood, but also can tell you what's happening in the world whether its politics or the latest in technology.