I met Melanie Chandra three years ago on set for a movie called "For Here or to Go." I spent my Saturday afternoon as an extra in a scene that was filmed at my local yoga studio (my tree pose was perfect by the end). At that time, I interviewed Chandra, an up-and-coming actress who had recently quit her job as an analyst at McKinsey to pursue acting.
Three years later, as I interview her again, I find that Chandra has a list of accomplishments to share: She worked alongside Jack Black and Tim Robbins in "The Brink," landed a recurring role in CBS's "Code Black," and she got married! To add even more to that list, the actress also shot for "Brown Nation," an Indian-American comedy show that was recently released on Netflix.
Chandra has definitely become an artist who needs no introduction. So without further delay let me, share with you snippets of my most recent conversation with the actress: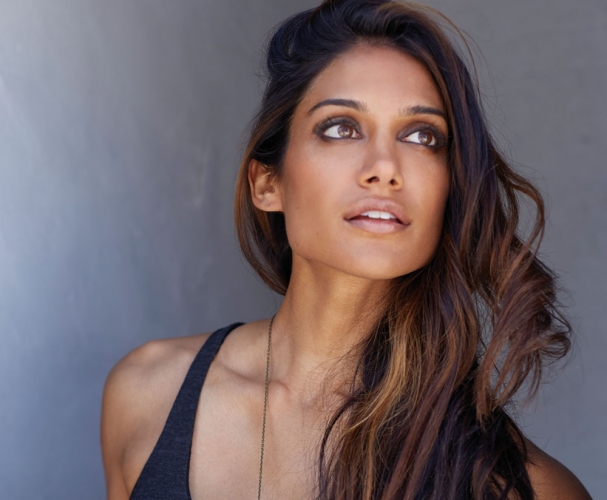 [Photo via: Elle.in.]
I know you filmed "Brown Nation" a couple of years ago. What was going on in your life back then and what led you to your role on the show?
"'Brown Nation' was shot before I filmed 'The Brink' and before I got casted in 'Code Black.' It was at a very different point at my career, still very up and coming. I happened to know the cinematographer for 'Brown Nation' and he connected me with Abi, the director, who wanted me to audition for the role—I didn't realize it was going to be on Netflix one day!"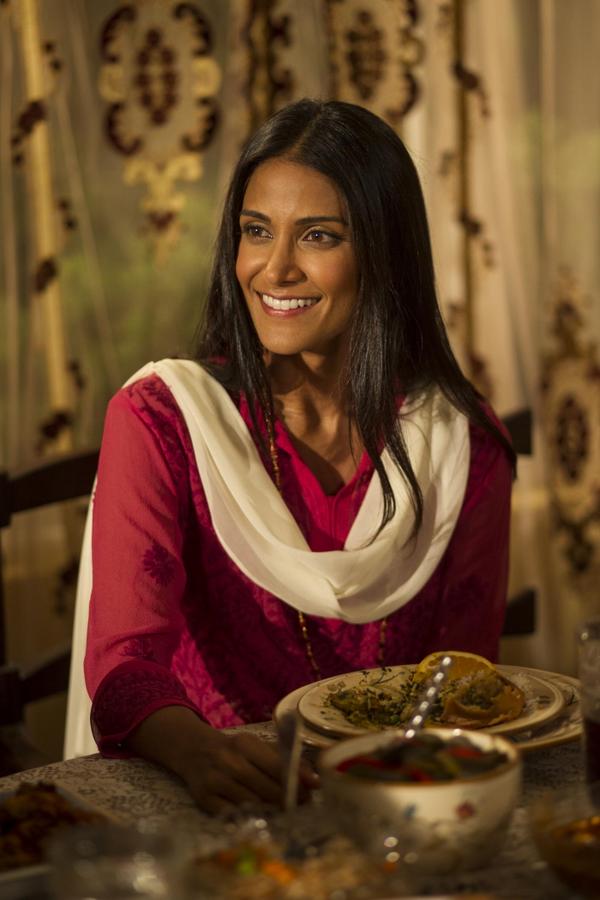 [The actress essayed the role of Fareeda Khan in "The Brink," totally channeling her inner Brown Girl. Photo via: Anokhi Media.]
So if I understand correctly, "Brown Nation" was independently produced and then later picked up by Netflix?
"Exactly and it's actually one of the first Netflix shows that they picked up, that was independently produced and financed. Abi wasn't sure if the show would cater to an Indian audience, an Indian-American audience, or mainstream viewers. But Netflix came across it and really loved the concept. Abi and the other producers decided it was the perfect platform to reach a global audience."
When you were filming "Brown Nation," what did you perceive the target audience to be?
"I perceived it to be catered for the Indian diaspora. Indians in India have a specific sensibility for comedy and Americans have their own sensibility when it comes to this genre — 'Brown Nation' is a blend of both. When I was shooting it, I found myself relating to both aspects of the humor— there are so many nuisances that only someone with an Indian background could capture."
Can you describe your character, Roli? She seems like a relaxed, fun-loving girl!
"She's a carefree millennial who is constantly looking for a distraction and fun things to do. She's a little girly, and a little bit of a flirt but without realizing it. She hates sending emails and she'd rather write notes on Post-Its with cartoons, which is ironic because she works at an IT firm. Roli is a huge departure from the characters I've been playing over the last few years. It's really fun to play someone so light, carefree, and quirky."
How do you personally identify with her character compared to your character as Malaya in "Code Black," for example?
"Well, I think as human beings we have access to every character imaginable and you just have to locate it within. I definitely have my 'Roli moments' in real life. I was in a sorority in college so I can definitely channel some of that into Roli. My character in 'Code Black' is a very serious, focused, doctor who is extremely smart and resilient. A lot of what I bring to that character stems from my journey climbing up the ranks in academia and getting my engineering degree, and trying to constantly prove to myself."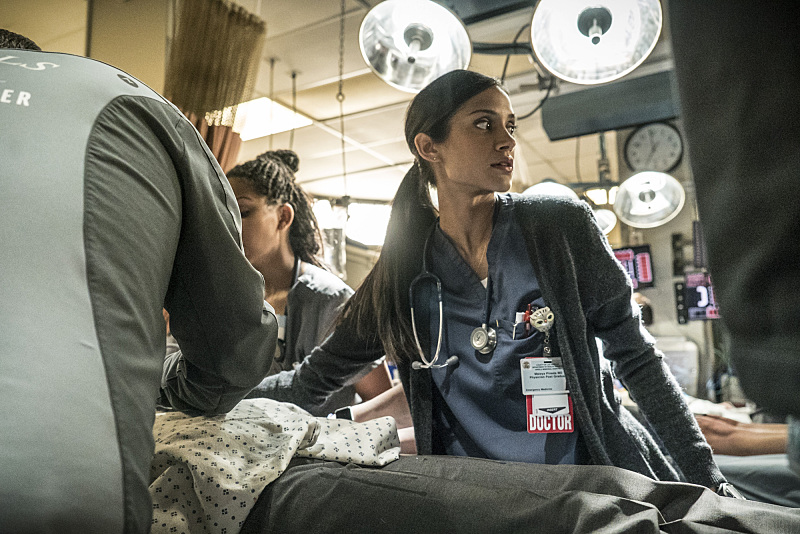 [Chandra in a still from "Code Black." Photo via: fansided.com.]
I know I asked this question a few years ago when I first interviewed you, but how is it like to be an Indian-American in Hollywood? Are there any expectations you need to meet and/or biases that need to be broken?
"It's so interesting because I just re-read that interview and I was reading that exact response, and it's pretty much the same. I think it's a really good time to be in Hollywood because television networks have a mandate to cast more diverse actors. But I think what needs to continue to happen is to get more diverse producers, writers, and directors who can add another level to creating characters from different ethnic backgrounds."
What's lined up for you for the next couple of years?
"I would love to work across different mediums— whether that's network TV, cable TV, or feature films. One of my goals is to create a TV show that is based around an Indian-American lead because I think there is still a lot that we need to explore in that realm. So creating and writing a TV series is a passion project of mine that I am currently working on."
---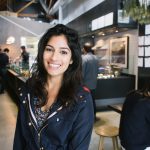 Akansha Agrawal is a writer, pilates instructor, and an Insights Analyst who lives in San Francisco, CA. She is also the creator of Citrus & Gold— a blog that focuses on wellness for the mind and body. Akansha loves to connect to like-minded individuals so feel free to say hi on Instagram or Twitter!