As far back as my childhood memories serve me, the on-screen arrival of a 'plus-size' female actor in a Bollywood film often prompted the audience to assume "ah, that must be the heroine's fat funny friend!" In 2017, these stereotypes continue to prevail in the form of comics such as Indian TV personality, Bharti Singh. However, this smart lady used her stint on dance reality show, "Nach Baliye," to finally call out on society's fat-shaming culture.
Singh is a much-loved comedienne on shows such as "Comedy Circus." She was recently praised for her dancing skills with her fiancé Harsh Limbachiyaa, on the current season of Star's "Nach Baliye," a dancing reality show for celebrity couples. Overwhelmed by emotion from the positive feedback on her performance, she moved both the judges and the audience by recalling her struggles to overcome the myth that fat girls can only be compartmentalized as the "fat friend" and never the girlfriend! She also used this platform to convey a commendable message to young women that their looks should never deter nor define them, as she is proof in the pudding of a successful female celebrity in an often harsh industry. So will statements such as Singh's steer the direction of negative body-shaming?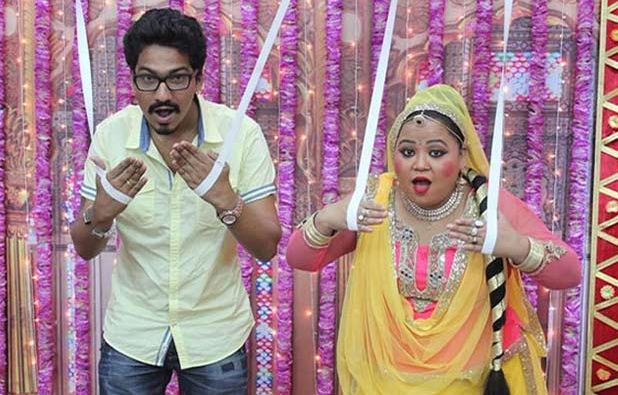 [Bharti Singh in Nach Baliye. | Photo Source: NachBaliye8.xyz]
Bhaskar Chawla's recent article in Vagabomb rightly states how cinema and television still fail to detach a person's weight as a means of being an item of ridicule. 1950's actress Tun Tun, who played the female comic in films such as Babul with Dilip Kumar, started her career as Uma Devi the singer. As stronger vocal artists emerged, thus began Devi's downfall as a singer. A fellow artist suggested, since her appearance would not qualify for that 'ideal' superstar look, she should capitalize on her larger than life persona by undertaking comedy roles. Inheriting the namesake, Tun Tun, she became one of the first non-lead actresses, whose physique was exploited as essential cinema humor. Yet, she still gave her male peers a run for their money.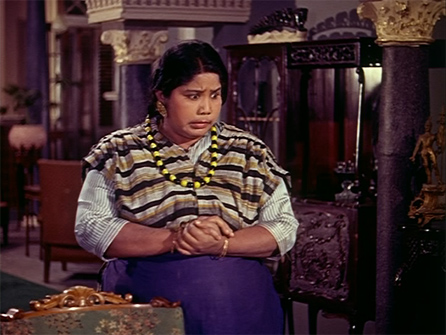 [Tun Tun. | Photo Source: hairstyle-and-fashion.blogspot.com]
What followed were films which tried to emulate similar characters, but sadly portraying larger sized females (and males) in the most negative manner imaginable. One of my all-time favorite Bollywood classics, "Dil," sadly adhered to this in the infamous boxing match scene with actor Aamir Khan and his nemesis. In this scene, the protagonist Madhuri Dixit, claimed that Khan's punishment, should he lose the boxing match, was to kiss her fat friend! And if he wins – he kisses the beautiful and slender Madhuri, of course!
Similar to the fairness debate, recently raised again by Bollywood actor Abhay Deol, Indian cinema still tries to dictate an element of superiority over physical appearance being nothing less than perfection. By portraying larger women as not just void from emotion when they are ridiculed, but as societal punishment (a la´ "Dil"), what message does this echo to influential young men and women who aspire to follow in the footsteps of their icons and consider these narcissist views as acceptable?
Bharti Singh herself has had made it no secret that despite her initial insecurity about her looks, she used this to her advantage. In an NDTV interview in October 2015, she stated:
"When I came to Mumbai seven years back, I used to hate the fact that I am overweight. But it has become my USP (universal selling point). I never try to diet. To be successful, talent matters, and not weight"
Whilst her quick wit and humor have catapulted her to become one of India's funniest TV personalities, there is a brim of self-confidence which has ensured she has developed a sense of comfort with her peers who often mock her size on screen. When questioned about her on-screen relationship with another fellow anchor, she stated in the Hindustan Times earlier this year:
"Both Krushna (Abhishek) and I, as the hosts of our show, take so many jokes on us and laugh about it all the time. He would call me bhains ka bachcha (child of a bull), chota haathi (small elephant) but somehow I never feel bad. I don't take it to heart, rather I always enjoy it"
As empowering as this may sound, how do we truly embrace ourselves for who we are if women themselves are self-accepting of their weight being used as humor to entertain the masses? Surely plus-size women have much more to offer to the world than self-humiliation. Comedy that depends on an individual's appearance does not equate to wholesome television. It simply contradicts that self-belief that many Indian women want to retain, in that they are worth much more.
Cinema has also used its power to challenge such stereotypes; Yash Raj's 2015 release Dum Laga Ke Haisha being one such example. Set in Haridwar, the story revolves around a local college drop-out male, forced to marry an educated girl who happens to be overweight, thus narrating the prejudices around women whose marriageable traits are usually led by their looks, be it fairness or weight. If you ever have been a member of any major Indian matrimonial site (yes, guilty) a fairness measurement is actually listed as a criterion!
Often, there is a failure to differentiate between a genuine concern for an individual's well-being because of their weight and out right body shaming. As someone who took their body insecurity to the extreme, it still infuriates me that any form of deliberate taunt be it "fatso" or "skin and bones" is considered as a means of  'help'. Comparing a larger size woman to a farm animal is equally as damaging to an anorexic who beyond her diet of wine, laxatives and cigarettes is accustomed to being labeled a skeleton.  No, the skinny shaming wasn't going to help me gain weight!
Yes, everyone has body insecurities, we all have something we wish we could change about our bodies.  Who doesn't? But don't we owe it to ourselves as women to teach each other to embrace everything weird and wonderful about each other? In this infinite battle to fight off how society wants to mold us, let's not give the world a chance to do so. So come on Bharti Singh, let's see more of those comebacks from you as the brilliant comedienne you are! We're worth it!