At one of the fastest rates in history, President-elect Donald Trump has begun choosing his cabinet. He plans on meeting with more candidates this week in order to decide who his administration team and Secretary of State will be.
Rumors have it Mitt Romney is the most likely potential candidate for Secretary of State after praising Trump post-dinner Tuesday night. I guess we'll have to wait and see and at this rate – it doesn't seem to be long.
Here's what we do know.
The following are a list of Senate-confirmed cabinet members:
National Security Adviser
While not a formal member of the cabinet, the National Security Adviser is known as the "gatekeeper" for policy proposals from the State Department, Pentagon and other agencies. The role of this adviser is to aide the President and their cabinet on national security issues and our foreign policy. Many see this as an important role and function due to Trump's lack of experience in government and office. He has selected a retired Army lieutenant general and former director of Defense Intelligence Agency, Michael T. Flynn. Not only has Flynn been a passionate supporter of Trump throughout his campaign, but he has advocated his fear of Muslims and "radical Islam" numerous times. Despite having close financial and lobbying relationships with Turkish and Russian interests, he recently even claimed China and North Korea are pro-jihadist and anti-Western conspirators, adding to his list which includes Cuba and Venezuela. Alongside Trump's lack of experience in office, this appointment raises red flags, both nationally and internationally, because of its importance to foreign policy and especially Flynn's highly depicted Islamophobia and "sympathy" for white supremacy.
White House Chief Strategist
A non-traditional White House role, the White House Chief Strategist serves as another senior adviser to the President. While there are no known administrative duties, he/she is to take on a long term view on presidential strategy. The role allows for one to control the message of the or image of the President, including their social media strategy. Originally considered for Chief of Staff, Trump elected Stephen K. Bannon as his White House Chief Strategist. Described as a right-wing media executive and the chairman of Trump's campaign, Bannon not only represents racist but sexist views and ideology. Known for once suggesting only property owners should vote, Bannon has numerously stated his opinion publicly of the "genetic superiority" of some people over others. Alongside many disturbing comments about Jews and Blacks, trending now is an interaction between Bannon and one of his former colleagues, Julia Jones.
Recounting her interactions with Bannon, former colleague Jones has reported to various news outlets such as the Daily Beast, and reporter Scott Shane's conversations regarding generic superiority including the following:
"I said, 'That would exclude a lot of African-Americans,'" Ms. Jones recalled. "He said, 'Maybe that's not such a bad thing.' I said, 'But what about Wendy?'" referring to Mr. Bannon's executive assistant. "He said, 'She's different. She's family.'"
White House Chief of Staff
The White House Chief of Staff is responsible for directing and planning all administrative, financial, and operational activities for the organization's President, CEO, and/or Board of Directors. Meaning his/her role is to supervise White House Staff, set strategy, executive the vision of the President, control Presidential access and be the all-knowing advisor to the President. He/she plays the role of not only overseeing actions of the White House but is the main contact between not only management but important officials in Washington. Trump has elected Reince Priebus, chairman of the Republican National Committee, to steer his agenda and maintain his relationships. Priebus has recently announced that the denial of climate change will be the "default position" of the White House.
Although they still require Senate confirmation here are the current and latest list of Trump's cabinet nominees:
Transportation Secretary
[Photo Source/Wikipedia]
Elaine L. Chao
Former Labor Secretary in the George W. Bush Administration, Chao will oversee Trump's promise to increase infrastructure in rebuilding bridges, airports, roads and other transit systems. Chao became the first Asian-American woman to be named to a Cabinet post in 2001, heading the Labor Department for eight years. She is to play a critical role as Transportation Secretary, if Trump sticks to his promise of investing $1 trillion in transportation restoration. There is controversy on Chao's nomination due to past incidents including two mining disasters in which 15 including miners and rescue workers had died. Chao had claimed that inspections were made, however from an inspector general report the following year, it was found the mines still went uninspected.
Health and Human Services Secretary
[Photo Source/Wikipedia]
Tom Price
Sixth year Georgia Republican congressman and orthopedic surgeon opposed to the Affordable Care Act. His main role is to "repeal and replace" the Affordable Care Act alongside heading a department that approves new drugs, dictates biomedical research, and operates Medicare and Medicaid, which insures more than 100 million Americans. Price's support and policies seem to be "physician friendly." Not only is Price against the Affordable Care Act, but Price also proposes individual tax credits to be based on age, not income. What does that mean? This would mean that those on government-sponsored health coverage, such as Medicare and Medicaid, could get a tax credit for opting out and purchasing different plans, in order to offset the cost of individual health coverage. The most important issue with his nomination is the potential effect on women's reproductive rights. Not only has Price actively opposed access to free birth control but he has previously favored an amendment that would have allowed insurers to opt out of covering birth control due to religious or moral concerns. In 2015, he voted against a bill that prevented employers from firing workers for using contraception or seeking to terminate a pregnancy. Price has claimed all women can afford birth control and thus it does not need to be free. When asked about the access to birth control being limited to low-income women he stated to Think Progress, "Bring me one woman who has been left behind. Bring me one. There's not one." His lack of support of Planned Parenthood and history of supporting bills that not only oppose abortion but rights of those who use contraception shows his potential effect on women's rights and reproductive health.
Commerce Secretary
[Photo Source/CNBC]
Wilbur Ross
Estimated by Forbes to be worth $2.9 billion. According to the New York Times, Ross has said the United States must free itself from the "bondage" of "bad trade agreements," and has advocated threats to impose steep tariffs on China. The Commerce Secretary oversees the Bureau of Economic Analysis and the National Oceanic and Atmospheric Administration. Known as the "King of Bankruptcy", Ross is a billionaire investor who would represent the interests of  U.S. businesses both domestically and internationally. His role would be to protect workers, focus on business globalization, and tackle the challenges faced by corporations.
Education Secretary
[Photo Source/Wikipedia]
Betsy DeVos
Seen as one of the worst and unqualified picks yet, Trump has selected DeVos, former chairwoman of the Michigan Republican Party and "an education activist" as his nominee for Education Secretary. Not only does DeVos lack experience in Washington, she is an activist from Michigan, with experience in state policy. She has been a controversial pick as she has never attended nor sent her children to public school alongside advocating for profit schools. She spent nearly three decades trying to redirect American tax dollars away from public schools. Trump has said he plans to drastically change the Education Department as well as redirect responsibilities for curriculum research, development and educational aid to state and local governments. DeVos has been involved in many scandals in attempt to advocate her educational reforms including one involving Scott Jensen. Like many other current nominees, prior to her nomination she was not pro-Trump. Her lack of experience in education and teaching makes her a criticized candidate as the Education Secretary and not having a teaching background raises many red flags. Her lack of support for the common core curriculum and public schools also makes her a controversial candidate for this position.
UN Ambassador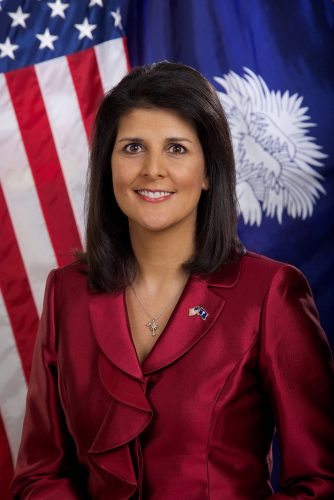 [Photo Source/Wikipedia]
Nikki R. Haley
The UN Ambassador comes second to the secretary of state. This person represents the United States in the United Nations when discussing the country's interests at Security Council meetings. Trump has selected governor of South Carolina, Nikki Haley. Haley was known as a former critic of Trump during his campaign for Presidency which makes this another surprising pick. In an interview on the "Today" show on NBC, Haley had said, "Mr. Trump has definitely contributed to what I think is just irresponsible talk." This was responded to with her being called weak on immigration and Trump claiming she had asked him for campaign contributions.  "She's very, very weak on illegal immigration," Trump said. "She's very, very weak on illegal immigration. You can't have that." After this she had also condemned Trump for not speaking out against white supremacy, making her a strange pick for his cabinet. Haley has served in the South Carolina House of Representatives for six years from 2005-2011, representing Lexington County. She is been given credit for bringing more jobs to South Carolina as well as bringing the state's unemployment rate to a 15-year low, according to Trump's transition team. Criticisms arise with her nomination and while she has led trade missions overseas during her time as governor, she both lacks experience in foreign policy and has never held a federal governmental role.
Secretary of Housing and Urban Development
[Photo Source/Wikipedia]
Ben Carson
Trump is said to have extended a nomination to Carson, former neurosurgeon and presidential candidate. Carson has previously stated he does not want to work in government, however in other instances and on social media he has said: "After serious discussions with the Trump transition team, I feel that I can make a significant contribution particularly to making our inner cities great for everyone. An announcement is forthcoming about my role in helping to make America great again."
Created in 1960, the department is in charge of insuring more than $1 trillion in housing loans alongside managing billions of dollars in public housing money, rental assistance, and homelessness programs. It works alongside the Department of Justice to investigate claims of discrimination in housing and in the past has fought discrimination on behalf of nearly 100,000 Americans.
Carson seems to lack political experience, aside from his previous presidential run. His role would include overseeing fair-housing laws, the development of affordable housing and access to mortgage insurance. The Housing and Urban Development department has the ability to help poor and low-income Americans obtain good and affordable housing. It is unclear how his nomination and potential role will affect the fight against poverty, education and poor health associated with housing instability and urban development, though many seem to think he will do as little as possible to contribute to the causes.
Director of the Central Intelligence Agency
[Photo Source/Wikipedia]
Mike Pompeo
According to the C.I.A website, the primary mission of the Central Intelligence Agency is to "collect, analyze, evaluate, and disseminate foreign intelligence to assist the President and senior U.S. government policymakers in making decisions relating to national security." The role of the Director is to collect, correlate and evaluate intelligence related to national security and provide appropriate dissemination of such intelligence. He/she is also in charge of performing other functions and duties that relate to intelligence and affect national security as the President or Director of National Intelligence may direct.
Trump has selected Mike Pompeo, a Representative of Kansas and former Army officer as his nominee. Pompeo is a member of the House Intelligence Committee and is a strong critic of the Iran nuclear deal, stating on Twitter that he is "looking forward to rolling back this disastrous deal with the world's largest state sponsor of terrorism." Pompeo has also heavily supported online surveillance programs. Regarding NSA contractor Edward Snowden, he has notably said, "I think the proper outcome would be that he would be given a death sentence" because he "put friends of mine, friends of yours who serve in the military today at enormous risk because of the information he stole and then released to foreign powers." The Council on American-Islamic Relations (CAIR) has also accused Pompeo of Islamophobia after multiple statements he has made including one following the Boston Marathon bombing in 2013. Pompeo is a controversial and uneasy nominee for this position, making many uncomfortable with the ideology he might bring to the C.I.A.
Attorney General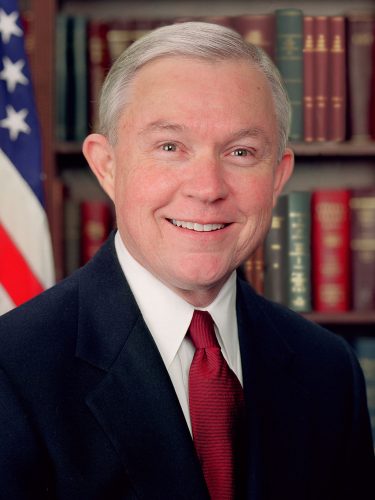 [Photo Source/Wikipedia]
Jeff Sessions
The attorney general is the top law enforcement official and lawyer for the government. The nominee has the ability to change how civil rights laws are enforced and has authority on how the President's law and order platform is carried out.
Trump has selected Senator Jeff Sessions of Alabama as his nominee. Sessions has a strong opposition to immigration, with a passionate stance towards strict immigration enforcement. He is an advocate for reduced spending and "tough-on- crime" measures. He is best known for unsuccessfully prosecuting three civil rights activists for voter fraud. His nomination for a federal judgeship in 1986 was rejected because of racially charged comments and actions when he referred to the NAACP as "un-American." He has also made many disturbing comments about students with disabilities. In a speech before Congress, he dismissed the Disabilities Education Act, claiming it was preventing teachers from executing the proper discipline to students. "We have children we cannot control because of this federal law," he said. He is also said to have made comments on the Voting Rights Act claiming it is "an intrusive piece of legislation." Much of what Sessions has said has caused many to see him unfit to be Attorney General. These alongside many other comments affecting marginalized groups have raised a red flag on his nomination. He has even brought up issues dealing with the War on Drugs, including insisting that "good people don't smoke marijuana."
More to come as we patiently wait for:
Secretary of State: Potential Mitt Romney

Defense Secretary

Director of National Intelligence

Interior Secretary

Agriculture Secretary

Labor Secretary

Energy Secretary

Secretary of Veterans Affairs

Homeland Security Secretary

Environmental Protection Agency Administrator

U.S. Trade Representative