So, you leave your house, you get in your car to drive to work or school, jamming to your favorite song, and when you go to pick up your daily coffee, your nail breaks! I don't know how your nail could break when picking up a cup of Joe, but it just did. For un-explainable beauty emergencies such as this one, I've compiled a survival list with all the products you need to get through your day, while staying smart, hip and beautiful.
1. Nail file is your standard touch-up necessity. Quick fix if you happen to break a nail!
2. Boscia oil blotting sheets to get rid of that oily shine we all dread. Great for your using on your T-zone to remove the oil, but it leaves your makeup unscathed. Plus the added benefit of green tea with these bad boys is a plus in my book!
3. Urban Decay 24/7 eyeliners are great to use for those long school days. These eyeliners have great pigmentation that actually last! Choose jewel tones to complement your eye color and this season's trends.
4. Urban Decay Ink for Eyes liquid liner for a fuss-free dramatic liner that doesn't budge all day. Great to use in a pinch to create an instant dramatic look in the day or at night! This slim tube takes up no space at all.
5. Dior Lip Glow Color Reviver Balm in Coral to add a subtle tint of color to your lips. This formula moisturizes your lips and  creates a lip tint unique to you by working with your chemistry- very cool! How's that for some science?
6. Hand sanitizer is a total no-brainer when you can't get to a sink.
7. Travel size anti-perspirent  deodorant is compact and an easy way to feel refreshed on those long days. Especially in hotter climates!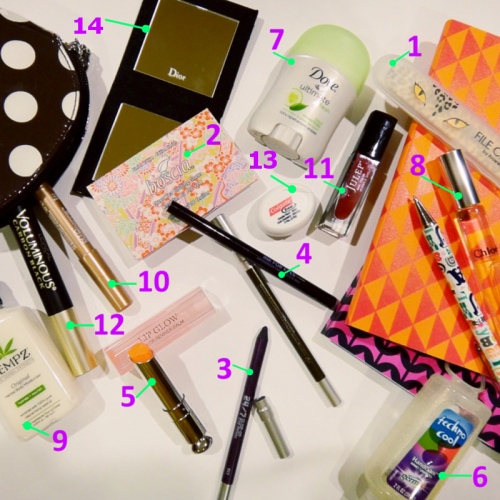 8. Bring your favorite perfume in rollerball form if you need a little pick-me-up! This is one is my favorite, by Chloe!
9. Quick visit to the restroom? Don't let that harsh water affect your hands – keep them moisturized with a good non-greasy formula.
10. NYX Shadow sticks come in a variety of neutral colors that can be used for a quick and fast-drying eye shadow application.
11. Your favorite Fall nail polish you're currently rocking for touch ups. Pictured is 'Julep.'
12. Mascara makes all the difference and is the easiest way to open up those eyes! My favorite is the L'oreal Voluminous in Carbon Black.
13. Dental floss is great to carry on-the-go if your don't have time to brush your teeth in between meals. Your gums with thank you later!
14. A compact mirror and a small make-up bag to carry all your necessities!