Dear Brown Girl readers,
Happy Holidays! This holiday season is a special one because it allows us to reflect on how far we've come as a team of volunteer writers who live across the world with different backgrounds and professions, but we all manage to come together to build upon one common goal—a website dedicated to empowering young South Asian women.
We face enormous challenges everyday—limited time, bandwidth, funds, and resources, to name a few, but somehow we make it work. The Brown Girl team has diligently published more than two captivating stories a day, empowered hundreds of thousands of readers worldwide, engaged with more than three million social media fans, partnered with more than a dozen sponsors and partners, and continue to be a thriving platform for more than 120 dedicated writers.
Oh, and did we mention, we crossed more than 700,000 unique visitors and 1.2 million page views in 2016?!
But our stats mean nothing when we realize the impact we've made on young brown folk who visit us when they feel lonely, out of place, weak, shy, sad, and/or embarrassed of their hyphenated identity.
Don't let our mission to empower girls stray you from the most important stat of all—more than 30 percent of our readership is comprised of young men, which proves the feminist movement has truly evolved, and it continues to grow with the amazing group of supporters and partners we've worked with in the past.
So, from the bottom of our hearts, thank you for supporting our journey. To celebrate our growth and success, we've put together an amazing holiday gift basket full of lots of goodies. 
To enter, please take our 5-minute survey, which closes on December 25, 2016, at 9 A.M. EST. One lucky winner will be announced on Christmas Day.
The gift basket includes more than $300 worth of goodies.
A $25 Sephora gift card (courtesy of the BG staff).
And a few select items from our wonderful sponsors—Bandar Foods, BollyX, Miraya Jewelry and Simitri Designs—who've graciously opened their hearts to support the Brown Girl community.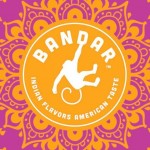 Bandar's "monkey sauces" and snacks are inspired by the most popular and tasty flavors in South Asia. The products are the premier Indian-American crossover food brand that have been tweaked to be even more delicious, and accessible for everyday use.

The gift basket will include five types of chutneys (all of which are vegan, gluten-free and contain nothing artificial), and three types of hand-crafted chips that are 60 percent less fat than the leading pita chip brand  — Garlic, Tikka Masala, and Pink Himalayan Salt.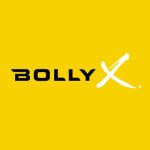 BollyX—a Bollywood-inspired dance-fitness program that consists of 50-minute cardio workout cycles between higher and lower intensity dance sequences to get you moving, sweating, and motivated all at the same time. BollyX's fitness curriculum has been created by world-class choreographers and certified fitness professionals to ensure a safe and powerful total body dance workout for all. The goal is not only to get you in the best shape of your life, but also to make you feel like a Bollywood star simultaneously. Find a class near you today!
The gift basket will include two Instructor Certification Trainings (one for you and one for a friend!) as well as a $50 to our online shop! At our BollyX Instructor Certification Training, you'll learn South Asian dance techniques, fitness concepts and how to help others unleash their inner rockstars. No prior experience with South Asian dance is required—all you need is a positive attitude!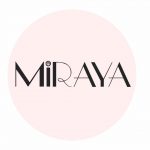 Miraya is an all-encompassing lifestyle blogzine, and Shop Miraya is its e-commerce counterpart, inspired by the intricacies of traditional India, features an assortment of jewelry and accessories that have a global appeal, based out of San Francisco.
The gift basket includes a newly-launched handmade velvet choker with a green Kundan pendant.
[Follow Miraya on Facebook and Instagram]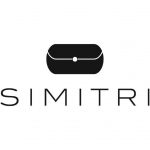 Simitri has collaborated with highly talented Indian designer Gayatri Chopra to launch their brand in the U.S. with a vast selection of party clutches, wristlets, sling bags and handbags. These come in various avatars created with Indian weaves and contemporary designs with an ensemble of rich hues and embroideries to brighten your wardrobe. This versatile collection can be worn from morning to evening and will be the perfect accessory to completing your outfit.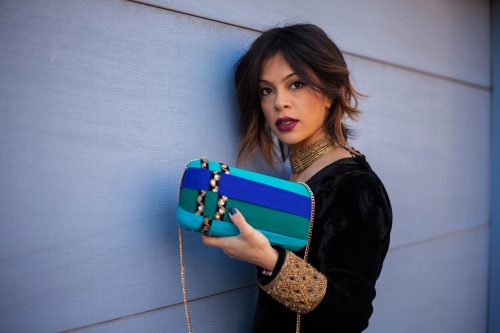 The gift basket includes the Zari LayM clutch, which is a mix of rich hues and zardozi hand embroidery.
[Follow Simitri Designs on Facebook and Instagram]
Have you entered in our holiday gift basket giveaway yet? If not, be sure to ENTER HERE!