by Mariya Taher
For more than two years now, Sahiyo has been collecting stories on the continuation of female genital cutting—or, as it is referred to by the community I was raised in, khatna. You can read my story here.
Sahiyo's mission is to empower Asian communities to abandon female genital cutting and to create positive change through dialogue, education, and collaboration based on community involvement.
We share stories because there is power in storytelling: many of the women (and men) who have submitted stories to us, do so in order to reclaim a piece of themselves that was lost when they underwent it, or when their loved ones had to undergo it.
We share stories because we want to shed light on the fact that FGC is, unfortunately, a global issue—and that countless women undergo it every single day.
We share stories because stories spark emotion. As humans, we have an intuitive, emotional side as well as a deliberate, rational side to our character. Too often in everyday life, we only try and connect with people on a rational level—but this isn't enough to actually change how people behave. People may understand what you want them to do but if they aren't emotionally engaged, they won't be open to changing their minds. Storytelling allows us to appeal to both sides of a person's character.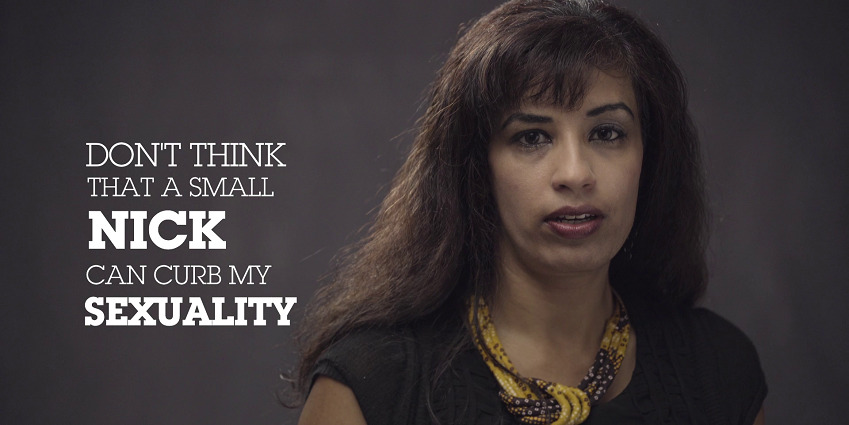 We share stories so that people can learn from mistakes, and so that they may raise their voices and speak out against harmful practices such as FGC.
To continue sharing stories, Priya Goswami, Sahiyo Cofounder, shot a video on Female Genital Cutting (FGC) for Love Matters –India. The video brings together voices of resistance on the practice of FGC from India and the United States for the very first time, featuring women and men directly affected by khatna or FGC.
Help Sahiyo continue sharing these powerful stories by watching the video here and sharing it with your own networks.
---
Mariya Taher is currently pursuing an MFA in Creative Writing at Lesley University, MA. She received her Masters in Social Work from San Francisco State University and her BA from the University of California Santa Barbara, where she majored in Religious Studies and double minored in Global, Peace, and Security & Sociocultural Linguistics. Prior to attending Lesley University, she worked in the gender violence field for seven years. She has contributed articles to Solstice Literary Magazine, Global Voices, The Express Tribune, The San Francisco Examiner, BayWoof, and the Imagining Equality Project put together by the Global Fund for Women and the International Museum of Women.