by Ashni Mehta
Fashion blogger Sushmitha aka Miss Minus Sized always has the perfect look for every season and occasion. From everyday street style to beach days and vacations in Peru, Brown Girl Sushmitha's styled outfits are the go-to guide for all of your fashion needs!
With the help of her style tips, you are sure to turn heads wherever you go. Her ever evolving style includes trendy, chic, edgy, retro and much more. The best part about it? She works with a strict budget of $50 a month, so you won't do any significant damage to your bank account. She even shows you how to style and accessorize your seasonal clothing to make them versatile enough for year-round wear. Talk about street-smart-style! 😉
In case you missed any of her looks, we've collected our favorite looks of 2015 to share with you. So open up your closets, and get ready to be inspired.
And be sure to follow us on Instagram (@BrownGirlMag) to see her looks weekly and follow her 'gram account (@thesushshingdig) for more daily fashion!
Happy styling, ladies!
---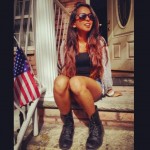 Ashni Mehta graduated from St. John's University with a degree in Psychology. Currently, she is the Community Manager at Corporate Suites Business Centers, as well as a professional Bollywood dancer with Sonalee Vyas Dance Company (SVDC). She is a passionate aerial yogini and a self-proclaimed foodie. During her free time, you'll find her eating and laughing her way through NYC.