"wow, what a temper."

sometimes I do not know

if I am a woman or if

I am a storm.

or perhaps if all the women

before me, whose mouths

were wired shut by tradition,

incapable of expressing their

outrage.

perhaps they now scream,

wildly,

through me.

– "Untitled," by Elizabeth Jaikaran
I remember seeing this poem on Instagram soon after the inauguration of President Donald Trump. Like many women, particularly women of color, I was exhausted after the election and began to doubt the strength of my own voice. However, Elizabeth Jaikaran's words shook me to my core. They were powerful words and reminded me of the power that I, too, possessed, no matter how weak I was feeling in that moment. "Trauma," Jaikaran's debut short story collection, shows that her words are equally, if not more, powerful in prose.
Jaikaran's collection of short stories details the lives and the trauma of real Guyanese women, most of whom are her direct ancestors. The stories are told in first-person with an honesty that makes every story seem relatable. Her compelling prose, sometimes breaking into poetry, is defined by her attention to detail, from using Guyanese Creole in dialogue to including lyrics from Bollywood songs and beautifully describing the bustling streets of Richmond Hill, New York. Her imagery makes the reader feel like they are living and breathing the stories of these women. In between each narrative, Jaikaran provides an informational chapter for additional context and depth to the stories of these women. These chapters include information on the Indo-Muslim heritage of Guyana, the indigenous peoples of Guyana, and on mental health within the Guyanese community.
"I was drawn to Elizabeth [Jaikaran's] book because of the honesty and intensity of the stories," Christine Cote, a publisher at Shanti Arts, said. "Then, once I understood that these 'stories' are not fiction, I realized that these stories needed to be seen and read."
Cote notes that these are very personal stories for Jaikaran; she writes about her family and the issues facing the cultural community she comes from. Her passion for these issues and the impact these women have had on her is apparent in the raw words of "Trauma."
"Her book has everything I look for," Cote said. "Compelling content, creative presentation, beautiful writing, and it just might make the world a better place."
Six months after Trump's inauguration, I picked up "Trauma." I came to this collection broken, exhausted and disillusioned. The news cycle was peppered with a new wave of atrocities – the lack of justice for Philando Castile, the murders of Nabra Hassanen and Charleena Lyles, the terrorist attacks in London. My heart was aching and my spirit felt weak, and I was almost nervous about reading a book where the title seemed to exemplify all of the horrors I was seeing unfold around me.
However, "Trauma," despite its title, provided me with powerful words to mend my broken spirit – the spirit of a woman of color who is often exhausted, tired and overwhelmed by the injustice in the world. By retelling the real lives of the women before her, Jaikaran provided me with catharsis and healing. All too often, the stories of women and culture are either static, one-dimensional and incomplete – focusing only on stereotypes or the victimization of women. Nevertheless, Jaikaran does the lives of the women in these stories justice through multi-dimensional, raw, realistic and human narratives. The women in these stories are whole, they are human, and they are more than their traumas.
These narratives remind us that beyond the trauma there is family,  faith, hope and love. Jaikaran's stories remind us that women of color aren't victims of our past – we are survivors, we are heroes, we are strong, and our stories and our voices matter.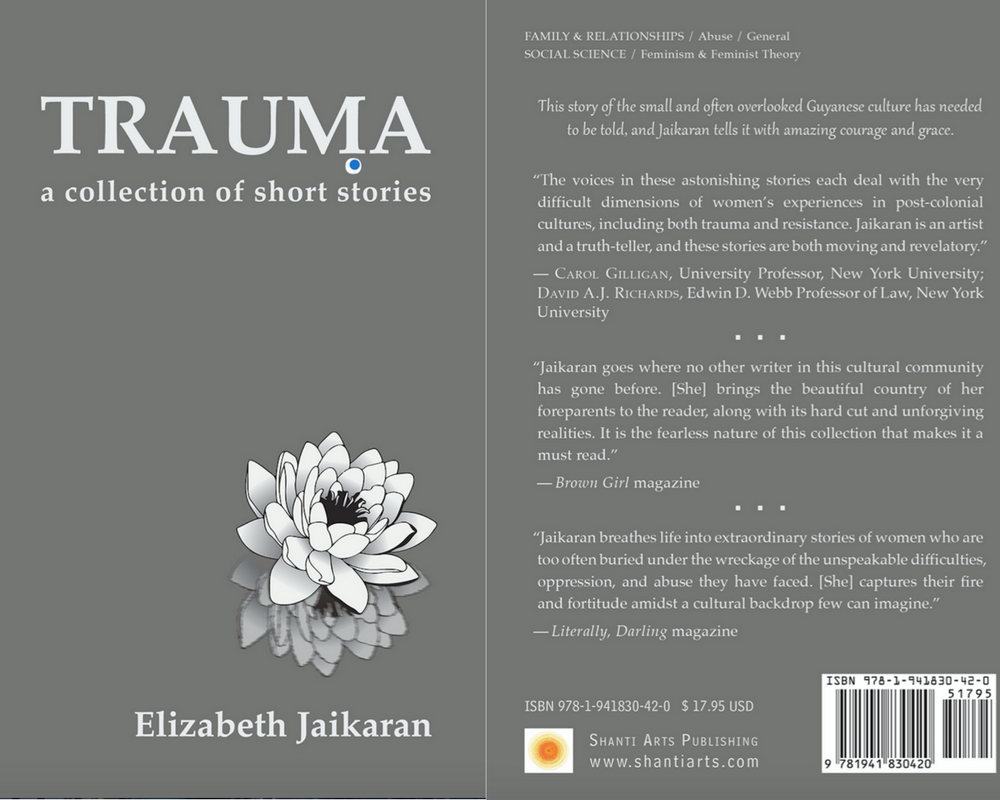 The author has a gift. Her words breathe life into others, no matter how heavy their hearts or how big the burdens they carry on their backs. Whether it's through poetry or prose, she is able to lift the spirits of others around her and help them find the strength in their own voices. This gift and the power of Jaikaran's voice is the heart and soul of "Trauma," it's what makes it one of the best and most important books I've read this year.
"Trauma" shows that, despite the question she poses in her poetry, Jaikaran is both a woman and a storm. She rips apart the cages that have kept the women who came before her silent and allows their stories to wash over you, to drown you, and to heal you. The words of Trauma are wild, raw, and passionate, and it's through the power of Jaikaran's words and the stories she raises up that she provides what women of color need now more than ever – hope.
"Trauma" 

is the debut short story collection of Elizabeth Jaikaran. It will be published by

Shanti Arts Publishing Company on

 August 1, 2017. Purchase your copy here.