by Shima Begum 
This post is part of a series of profiles for the South Asian Journalists Association (SAJA), a non-profit journalism organization celebrating its 20th anniversary with a national convention on October 11th, 2014. For more details, please click here.
Rohan Kamicheril, who has an avid fascination for languages, words and world cultures, is an editor for an online platform that aims to connect international writers and readers from around the world to appreciate literary content translated in English.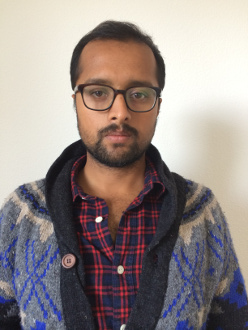 After studying Russian, German and French in college, Kamicheril said he started his journalistic journey as an editorial intern at W.W. Norton.  While at W.W. Norton, he worked with Alane Salierno Mason, co-founder of Words without Borders. Mason eventually introduced Kamicheril to her online publication, where his passion and interests intersected.
Words without Borders, founded in 2003, takes an innovative approach in landscaping the world of international literature by translating and publishing contemporary works by international writers.
Eight years later, Kamicheril is still on board helping others open doors for English readers on world events, although he said, "the journey hasn't just been his own."
"It's been tremendous to see how the magazine, and the perception of world literature in the U.S. has changed in that time," he said.
As the world itself changes, Words without Borders will follow suit in documenting the imprint of these changes on contemporary literature.
On Oct. 11th, the South Asian Journalists Association will celebrate their 20th anniversary at a national convention in New York City. During the convention, we can expect Kamicheril to discuss the junction of journalism and advocacy.
As a South Asian journalist looking forward to meeting many others like himself, Kamicheril said it is refreshing to see more South Asians becoming increasingly visible in the journalism and media world in the U.S.
As for Kamicheril's aspirations to write, he said he looks to his South Asian heritage for inspiration.
"The food and culinary traditions of south India remain a source of great fascination for me, and are something I try to write about whenever I get a chance, but it's hard not to find the rest of the world equally fascinating—there's just so much of it, and the variety of stories out there can be incredibly compelling," Kamicheril said.
Even though Kamicheril usually leaves the translation aspect of his work to his network of translators, he said he translated two stories from Russian to English for Words without Borders' "Writing from the Silk Road" issue, written by Uzbek writers, because the stories stood out to him in particular.
He is sensitive to the challenges of translating a story across languages. He adds "translation is incredibly hard work for a variety of reasons."
"The translators we work with are incredibly sensitive to these difficulties, and though I'm sure they'd agree that some aspects of a story may not be possible to translate, they would counter (as do I), that the process of translation, of close scrutiny and engagement, adds an immeasurable wealth of meaning to translated literature," he said.
Far from things being lost, he believes that there is much to be gained through translation.
"I'd like to think that our most precious work grows out of our willingness to see the world through a fresh lens, and by applying literary standards that are rigorous, but subject to constant refinement and adaptation," Kamicheril said.
In 2015, the magazine will continue to meander through unexplored parts of the planet, literally and figuratively. Kamicheril said he is excited about a future issue on uchronia, or alternate histories, from around the world.
Kamicheril said they are also in the process of launching a new program called Words without Borders Campus, which helps educators in the U.S. bring international literature into high school classrooms.
[divider]
Born in Bangladesh, raised as a true blue New Yorker, Shima Begum aspires to work in the health field. During her free time, she loves reading avidly and finding inspiration that she can share with those who need it through her writing.