by Ashni Mehta – Follow @ashnimehta
The following post is brought to you by our sponsor, IndiaBoulevard.com— a marketplace for Indian fashion. These photo series are a part of our 'East Meets West' photo shoot, curated in efforts to showcase how we merge our eastern and western flairs to shape our identities.
Growing up as an Indian-American, I had to forge my own identity, one that combined the rich culture, values and traditions of my roots with the free-spirit and ambition of the country I call home. In doing so, I also forged a distinct personal style, and fashion, that strongly reflects the beautiful clash of cultures that composes my hyphenated identity: East Meets West.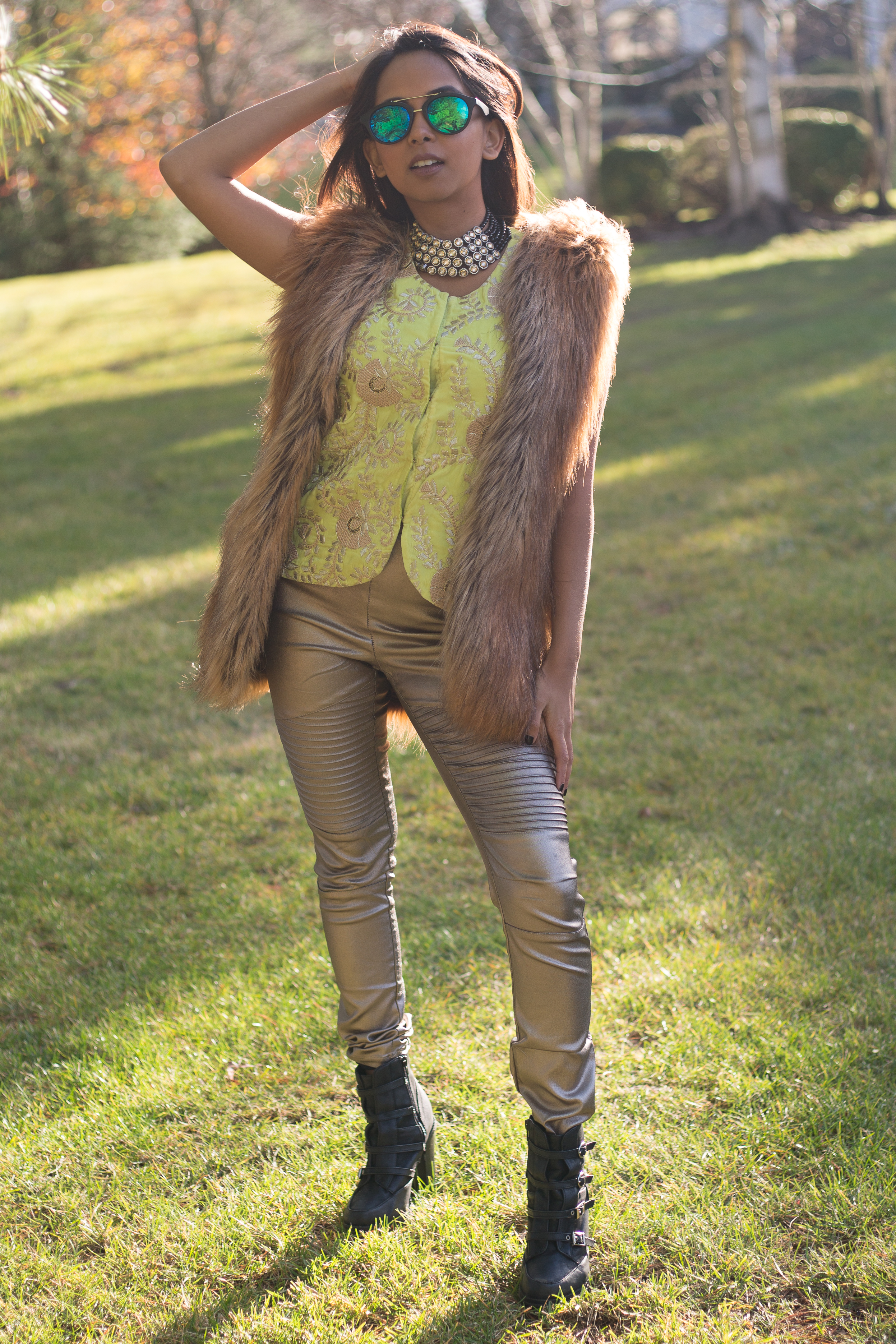 Bridging the gap between two distinct, powerful cultures hasn't always been easy. Growing up in America, I felt like a stranger in the country I was born and raised in because one of the biggest parts of my identity was completely foreign to the people I was surrounded by. There were days it felt easier to repress that aspect of my identity in order to assimilate into American society. So, forging a personal brand that combines the two isn't just about style or fashion—it signifies the struggles I overcame to find who I am.
From eating french fries with chutney or Maggi sauce, and adding masala to my favorite pasta dishes, I stay connected to my roots no matter what I do, and my everyday style is no different. I am a bubbly, vivacious, confident, bold, edgy, free-spirited Bollywood dancer, and I aim to exude that in my daily fashion. While the chic and edgy aesthetic that is the signature of New York fashion is definitely a staple in my wardrobe, it's the vibrant colors, intricate embroidery, and mesmerizing prints that have always been my favorite part of South Asian culture and have truly allowed me to experiment and develop my unique personal style. I strive to incorporate Indian accents into my ensembles that truly capture the essence of South Asian fashion.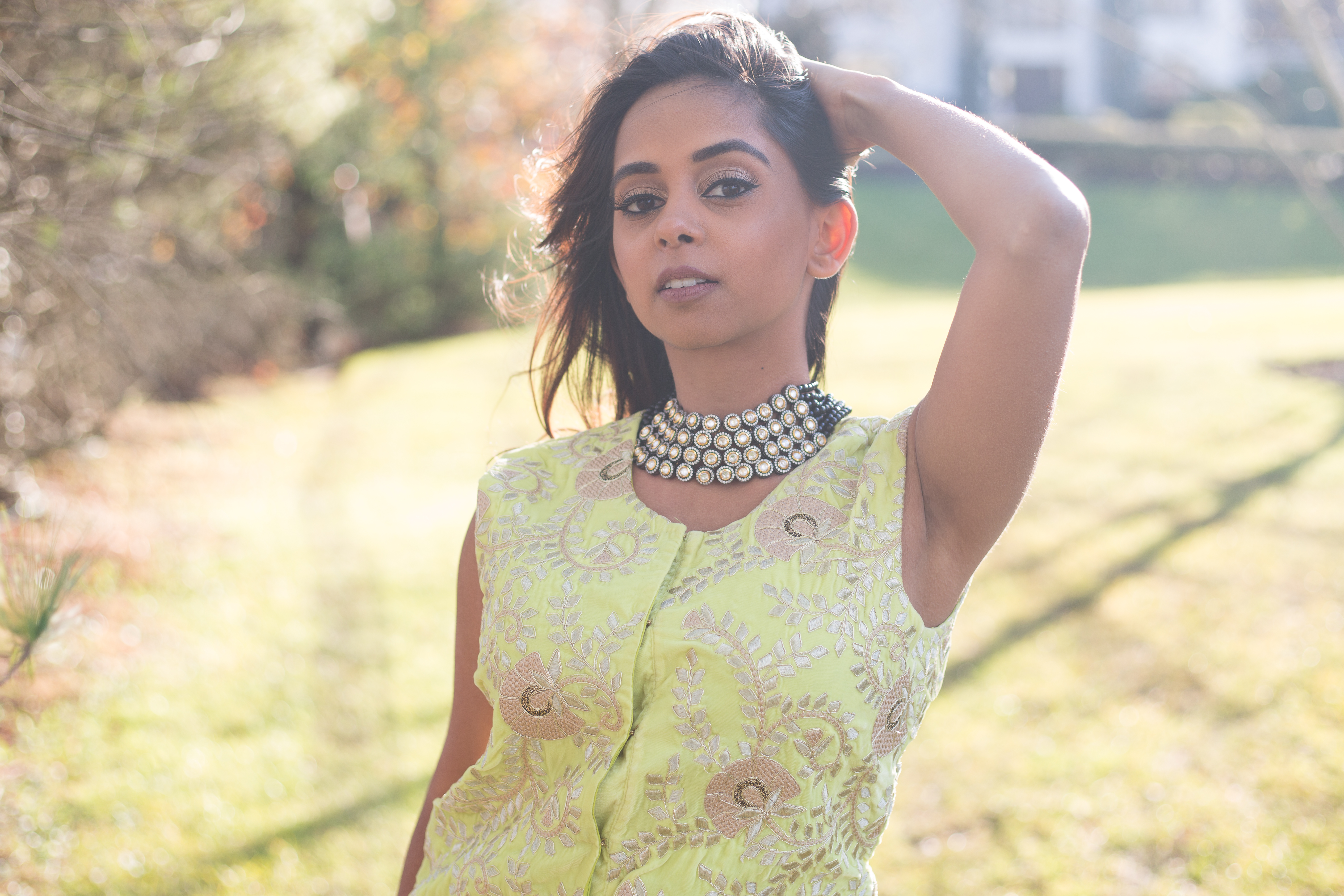 The sleek silhouettes, leather accents, and dark colors that exemplify the hustle and fast-paced nature of New York combined with the vivid colors and traditional prints of Indian fashion are representative of my lifestyle. Whether it be pairing traditional Indian jewelry with western outfits or wearing a leather jacket with a lengha, you'll always see an edgy twist that pays tribute to the two cultures intertwined within my identity (and being a Bollywood dancer, it also ensures I'm always ready to break out into song and dance!).
Having traveled to almost 25 countries and counting, my style continues to evolve as I expand my horizons and immerse into more cultures from around the world—but developing a unique personal style that pays homage to both of the cultures I adore has enabled me to not only express my identity but also carry around a piece of my roots no matter where I go. It has provided me with the confidence and strength needed to stand out and continue to forge my own unique path in life. I hope that my everyday style inspires and empowers others facing the same obstacles I did to embrace every aspect of their identity, and gives them the power to stand out in a society that encourages conformity.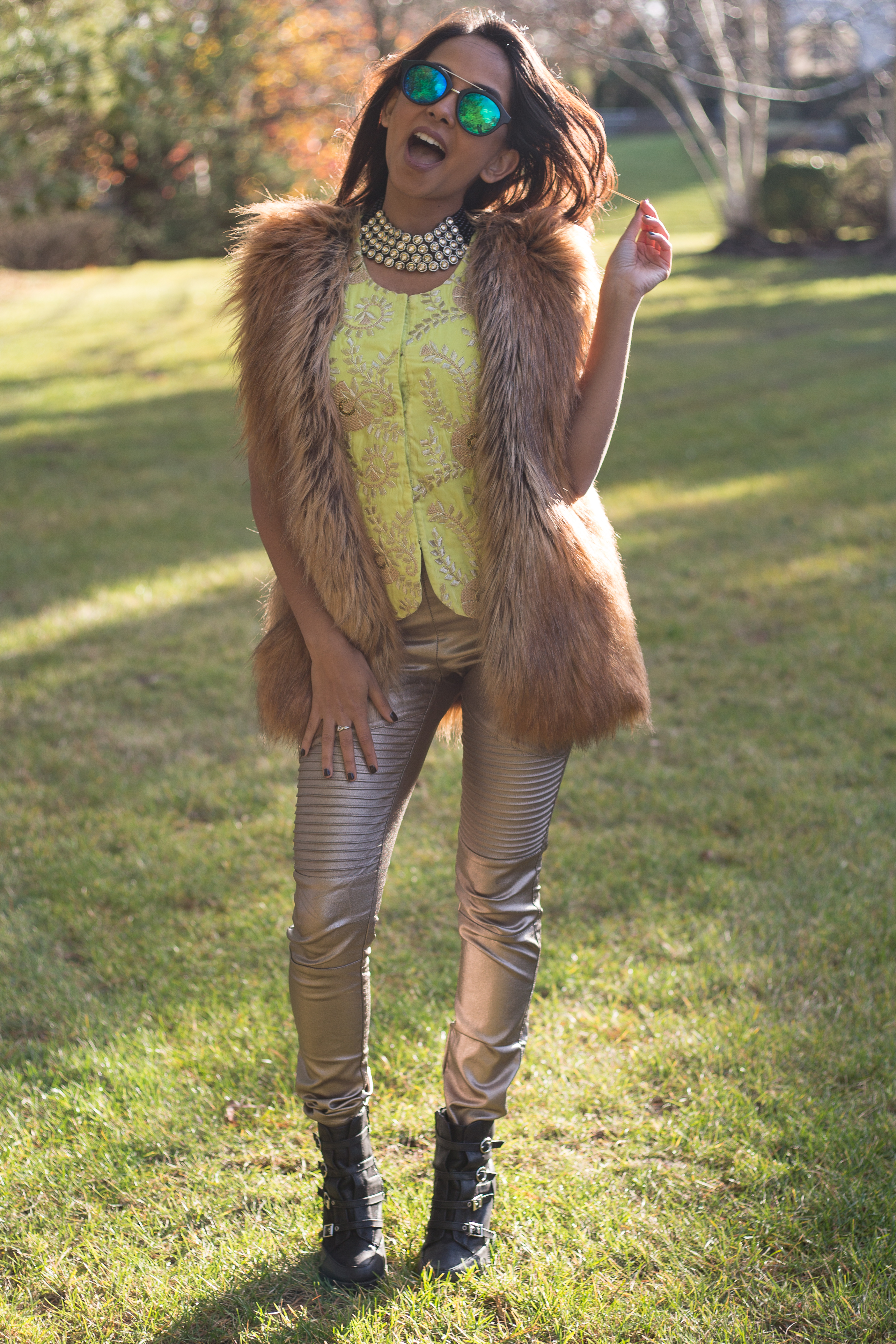 ---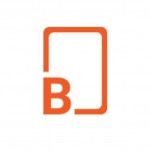 IndiaBoulevard is a curated marketplace for designer fashion. We connect customers from all over the world with a variety of designers, to make custom-made outfits. We believe that every person is unique and has a personal style. Our team combines your style inspirations with your spending preferences to customize the perfect design for you. Our mission is to make designer wear accessible to everyone everywhere. 
---
Ashni Mehta is a Social Media Manager and Digital Coordinator living in the Big Apple. She graduated from St. John's University with a degree in Psychology in 2014. Currently, she develops and executes digital strategy for the Brennan Center for Justice at NYU Law, which is a nonpartisan non-profit that advocates to hold our political institutions and laws accountable to the twin American ideals of democracy and equal justice for all. Ashni is also a professional Bollywood dancer who has performed at prestigious venues across the country such as Times Square, Madison Square Garden, Global Citizen Festival and more. Through dance, she aims to spread awareness about Bollywood and South Asian culture. When she's not navigating the Twitterverse or dancing through life in classic Bollywood fashion, you can find her eating, laughing and shopping her way across New York City or better yet, traveling the world!