by Karishma Sharma – Follow @kaysharmaa
Ah, fast food. Can't live with it, can't live without it. I personally have a love-hate relationship with many fast food joints. The warm comfort is quickly drowned out by a guilty, self-loathing spree. How can we avoid these conflicting feelings? Here's how to eat on the lower calorie side at five different fast food chains!
DISCLAIMER: Low-calorie does not necessarily mean healthy, it just means that these foods are on the "lower" end of the calorie scale (<500 calories)!
1) Taco Bell
Who doesn't love a good Taco Bell run? I personally prefer Taco Bell to 90% of other food choices. It's delicious and adds that perfect spice and flavor for us South Asians. Problem? Between the fried and cheesy goodness, the heavy beans, and the sour cream, you guessed it – it's not the best for you. Here's how to eat low-calorie at Taco Bell. Depending on what meats you can or can't eat, you can substitute beans or chicken for beef in any items on the menu. Switch out heavy Cheesy Gordita Crunches, Crunchwraps, and Quesadillas for Tacos and Cantina items.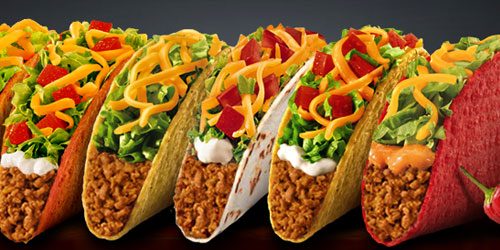 [Photo Source: muytacos.com]
All Tacos: Soft or Crunchy, regular or Doritos Locos: each <200 calories
Bean Burrito: 370 calories
Black Bean Burrito: 390 calories
Chipotle Chicken Loaded Griller: 360 calories
Power Menu Bowl: 450 calories
2) McDonald's
Gotta love McDonald's. Breakfast. Lunch. Dinner. Mmm, I'm lovin' it. However, you know how it goes. Fried chicken, burgers, fries? Nope. Not the best combo. To combat this, check out some of the below items. Try getting a small fry and a side salad instead of a large fries. You can surprise yourself!
[Photo Source: bgr.com]
McChicken: 350 calories
Southwest Grilled Chicken Salad: 350 calories
Sausage Burrito: 250 calories
10-piece chicken nuggets: 440 calories
3) Subway
Alert! Eat fresh – Subway's punch line – is not always true. By the time you have added double cheese to your foot-long, gotten a cookie, and a bag of Lays chips, your attempt at a healthy meal becomes an 800+ calorie meal. Here's how to avoid it: a 6-inch, some Baked Lays, and a glass of water.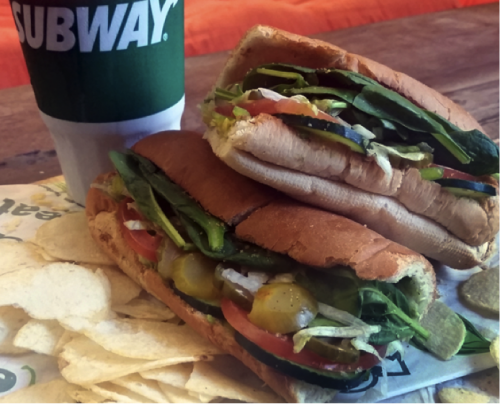 [Photo Source: peta2.com]
Veggie Delite 6": 250-500 calories
Baked Lays: 130 calories
Salads: 300-400 calories
*Note: Focus on getting more greens and less cheese. If you are getting a protein, chicken breast or turkey is much healthier than roast beef or meatballs. For bread, try to get whole wheat instead of Italian. For dressing, try to get something lighter, such as oil and vinegar, or sriracha, instead of chipotle southwest or mayonnaise.
4) Domino's Pizza
Pizza delivery has saved my lazy nights so many times. There's nothing more comforting than a warm, cheesy slice of goodness. But thick crusts, pepperoni and other meats, and extra cheese really make for an unhealthy pie. Below are some lower calorie alternatives for your pizza addiction.
[Photo Source: biz.dominos.com]
Thin Crust Pizza: 350-400 calories per serving
Sandwiches (1/2 size): 370-450 calories
Pasta: 450-500 calories per serving
*Note: It's very important to look at serving suggestions. For pizza, it's about 1/3 of the pie (if medium sized). For sandwiches, it's ½ of it. For pasta, it's ½ the pan.
5) Wendy's
 Yum, Wendy's. How good are those spicy chicken sandwiches? Unfortunately, the buttermilk fried chicken and sea salt fries are not the best for your diet. Here's how to eat healthy at Wendy's, where their salads are actually pretty darn delicious.
[Photo Source: brandeating.com]
Taco Salad (1/2 size): 470 calories
Spicy Chicken Caesar (1/2 size): 410 Calories
Spicy Chicken Wrap: 370 Calories
Grilled Chicken Wrap: 270 calories
Grilled Chicken Sandwich: 360 calories
10-piece spicy chicken nuggets: 470 calories
What are your tips for eating low-cal fast food? Comment below or snap a pic and tag us on Instagram!
---
Karishm
a Sharma is a Bollywood Dance Fitness Instructor based in Minneapolis, MN. Her biggest hobby, her passion, and her dedication are all to fitness. She is also a dancer and is passionate about spreading her culture to those who may not be familiar. She aspires to keep her love of fitness alive each day in everything she does!