by Sravya Tadepalli – Follow @sravya96
The melodies of rhythmic bells and feet singing out the ta-ka-dhi-mi, ta-ka-dhi-mi, ta-ka dhi-mi, and tams of classical Bharatanatyam are generally sung in praise of God or in the telling of old folktales. But in "Duality: Dance Ballet of India," presented at Portland's Newmark Theatre on April 1, 2017, classical Bharatanatyam was used to convey stories of the present—specifically, the stories of Indian immigrant women and their children today.
"Duality" was conceived two years ago by Dr. Jayanthi Raman, a Portland-based Bharatanatyam choreographer and dancer. With a company of professional dancers from India and the United States, "Duality" tells the story of an Indian woman who immigrates to Portland, Oregon after marrying an engineer. In mostly traditional Bharatanatyam style, blended with a bit of semi-classical Chhau and western modern, accompanied by the original music of composer U. Rajesh sung by Indian playback singer Hariharan, "Duality," attempts to take the ancient art form of the classical dance drama and use it to tell a contemporary story of immigration and adoption of a new country and culture.
Bharatanatyam dance dramas generally do not take place in contemporary settings and generally do not deal with contemporary issues. "Duality" is one of the first (if not the first) Bharatanatyam dance dramas telling the story of Indian immigration to the United States. And it is certainly the first Bharatanatyam dance drama to tell the story of Indian immigration to Portland. Raman received a Creative Heights grant from the Oregon Community Foundation, which requested that she challenge herself to do something that she had not done before. Raman decided to challenge herself by telling her own story.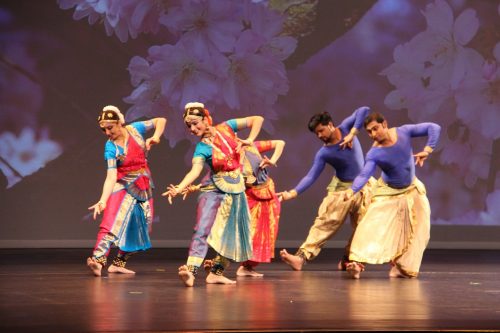 "It's not a biopic, but it's a reflection of immigrants like me," Raman said.

"An immigrant story is something we have to showcase and I wanted to do it."
Some in the Portland community have referred to Raman's work as political art, countering the narrative of immigrants currently propagated by many in the Trump administration. Ironically, in fact, Raman's production was delayed two weeks due to visa issues for dancers traveling from India, something Raman had never before had to deal with. But Raman insists that her work is not political and is not meant to be seen as such.
"My goal as an artist is to make people around me happy and to celebrate what we are," Raman said, adding, that her art is not necessarily free from the influence of her personal beliefs.  "We are human beings…we cannot be objective about it as an artist. It is not political art. I challenged myself to do this because I wanted to do something about me, about all the immigrant women who have challenges."
Raman's story takes the stories of many immigrants like herself, tying in bits and pieces here and there to create a narrative. The main character, Padmini, faces numerous challenges adjusting to her life in Oregon. Dealing with Portland's notorious rainfall, a husband who forbids her from dancing and the death of a child, Padmini's challenges are portrayed as almost overbearing in the first act. But the first act is balanced with a light and cheerful second act, showcasing Padmini's later years raising her daughter and standing up to her husband, and beginning to dance once again.
While the first act tells the story of the Indian immigrant, the second act gives a taste of the first-generation American, featuring a character who studies Indian classical dance and music while also (gulp) having a boyfriend. The everyday experiences so common to Indian immigrants and their children have made the story instantly identifiable to Indian-Oregonians.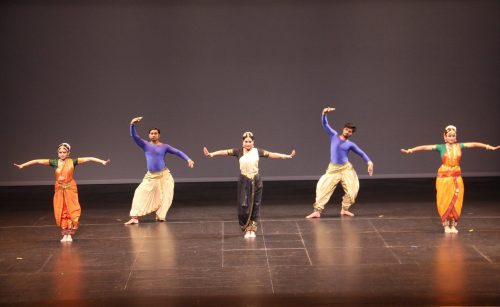 Raman said that the contemporary setting of "Duality" has made Bharatanatyam more accessible to a present-day audience, and said that one of the best parts of the show has been hearing people connect to the experiences shared in the story.
"People stopping me…even at grocery stores and outside…telling me, 'you know, when you did that, that was me.' 'You know when you were there, lonely, just when you moved to Portland, that was me.' 'You know, when you got the job, what you did, that was me.' That is a very nice reaction from people."
Raman plans to continue preserving and working on traditional Kalakshetra style Bharatanatyam work, but she is also interested in exploring the dance further from a contemporary angle.
"There is no way that classical arts will die," Raman said. "That will always be there. But contemporary arts give you the creativity. I've grown now and matured and hopefully will be able to grow into more abstract forms of art."
All photos are courtesy of Gidu Sriram and Raman Srinivasan.
---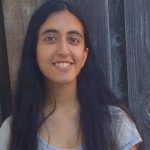 Sravya Tadepalli is a student at the University of Oregon studying political science and journalism. She is a proud Indian-American-Oregonian and grew up in a small town in the southern Willamette Valley. Sravya is passionate about theater, racial issues, and politics. She is also particularly interested in figuring out policy solutions to problems of social justice and political partisanship.