by Elizabeth Jaikaran – Follow @LizJaikaran
In a recent interview with Porter Magazine, Bella Hadid opened up about her father's immigration to the United States as a refugee and her pride surrounding her Muslim faith. Bella's father, Mohamed Hadid, is of Palestinian origin, born in Nazareth in 1948. Though not a particularly strict Muslim, it became clear from Bella's interview that Islam is still a very important part of her identity. This relationship with faith is a true one for many Muslims throughout the world despite the misguided belief that the only true Muslim is the one who covers and prays and follows each word of our scripture to the syllable.
The result: Whenever Muslims emerge who do not fit the very rigid mold of traditional Muslim representation, non-Muslims and Muslim puritans alike tend to question, or even attempt to disprove, their Muslim identity.
"You must not be a real Muslim if you dress like that."

"If you don't pray five times a day then you're not much of a Muslim."
Whether Bella Hadid is the best person to lead a discussion on the complexities of performative Islam is up for debate. It is also unclear whether she simply identifies with Islam from a cultural (Middle Eastern) standpoint as opposed to a religious one. However, it is tough to ignore that, in response to her proclamation of Muslim pride she was met with the tell-tale responses of disbelief/mistrust in the viability of her identity that many Muslim women know all too well. The, "Ha, yeah sure, YOU'RE Muslim," commentary fluttered gratuitously in the committedly infernal comment sections of articles and posts reporting on the model's latest interview. As one might expect, much of the disbelief regarding her spiritual identity was focused on the ever-so-tired assertion that her aesthetic did not match that of a "true" Muslim given her oft-revealing attire. Here are some examples taken from the comments of public Facebook posts.
Because we all dress the same way—completely covered. We even have a uniform.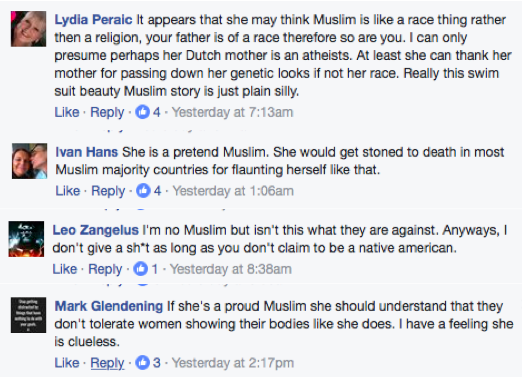 [Photo Source: Facebook]
What does the Saudi government have to do with us?!

[Photo Source: Facebook]
Also is marijuana legal in Saudi!?

[Photo Source: Facebook]
Yes, because you are the ultimate authority on Muslim classification.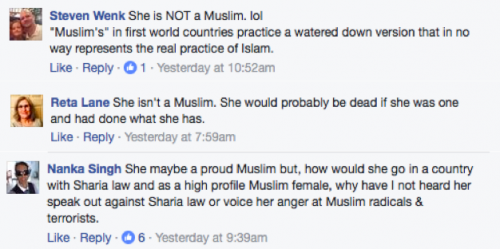 [Photo Source: Facebook]
Here's the thing: this kind of commentary reflects that espousers of anti-Muslim sentiment view Muslims who do not fit traditional molds of orthodoxy as wrenches in their overarching worldview of Muslims as a monolithic community in which physical expression is limited. They need this to be true so that they can continue to paint this demographic—especially Muslim women—as oppressed victims of a homogenous and unsavory code of performative faith. This problematic understanding of Muslim womanhood is not only what drives prevailing misconceptions about Muslims in the West, but it is also what severely limits our representation in Western media.
In fact, in the world of advertising, reaching the Muslim demographic seems to be an easy one-step execution. I imagine that the marketing meetings transpire as follows:
– How can we make this product more appealing to Muslims, though?

– Erm. A woman in hijab?

– Brilliant idea, Maxwell!
Alternatively:
– Any suggestions for how we can we make our brand look more woke?

– Erm. A woman in hijab?

– Brilliant idea, Maxwell!
I mean, I'm sure a few more words are exchanged, but you get what I'm saying. Hijab-clad women are the end-all visual definition of Muslim womanhood, as evidenced through the marketing campaigns of companies like Nike, Pepsi, Coca-Cola and Apple. To be sure, inclusive representation in media is a positive development, especially with respect to the Muslim demographic. However, while hijabis are certainly representative of one beautiful manifestation of Muslim women, there are so many other manifestations of Muslimah that remain unexplored, unacknowledged, and sometimes completely written off as defective—both by rigid Western conceptions of Islam and Islamic purists. In fact, when non-traditional Muslims are depicted in media, they are often portrayed as defectors of faith rather than as serious members of their spiritual community.
The truth is that there are many Muslim women who do not fall within normative understandings of Muslim womanhood. We do not dress or play the traditional part that has come to be the perceived as the sole aesthetic of Muslim women. This, however, does not make us any less viable as Muslims. Indeed, there are a great many Muslim women in shorts, mini-skirts and tights, just as there are Muslim women in hijabs, abayas, kaftans, and salwar kameez. In this Brown Girl Magazine photo series, #DressLikeAMuslim, we feature the full spectrum of the femme Muslim aesthetic by depicting women who identify with Islam regardless of whether they are gloriously draped in hijab, or sexily snug in a body-con dress. There is no single way to be who we are.
Deal with it.
And enjoy these blessings.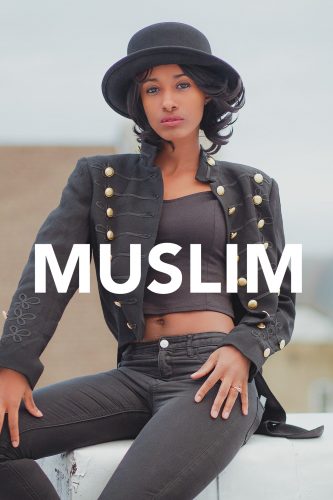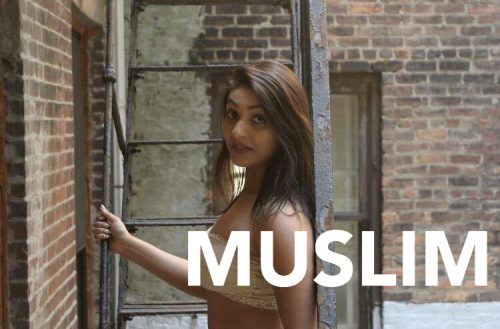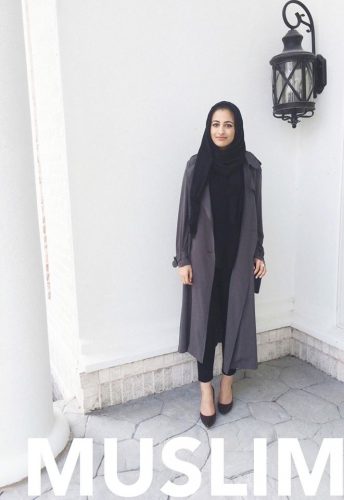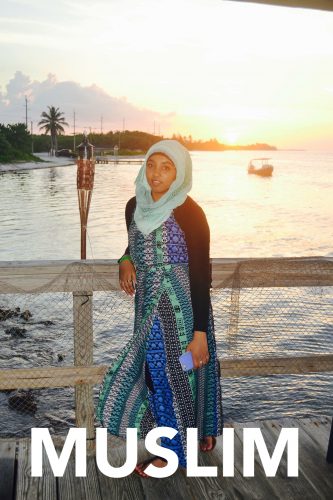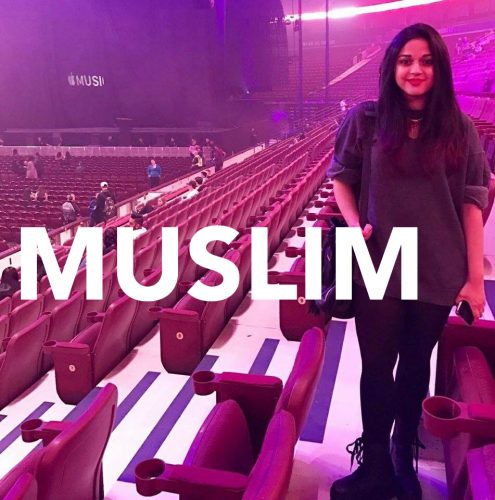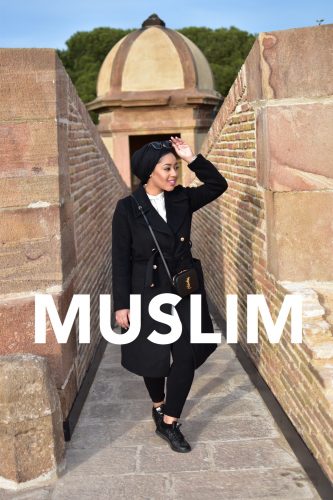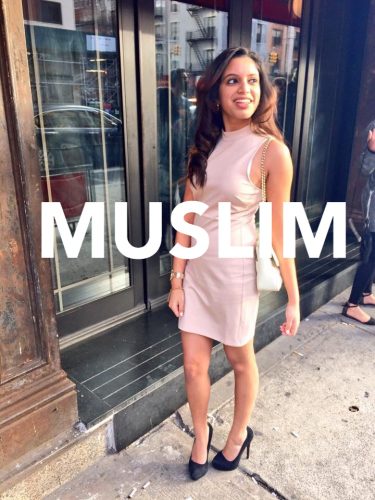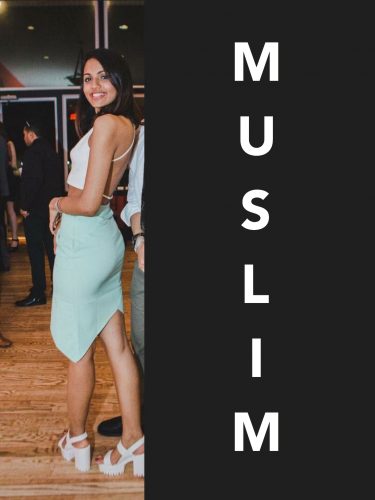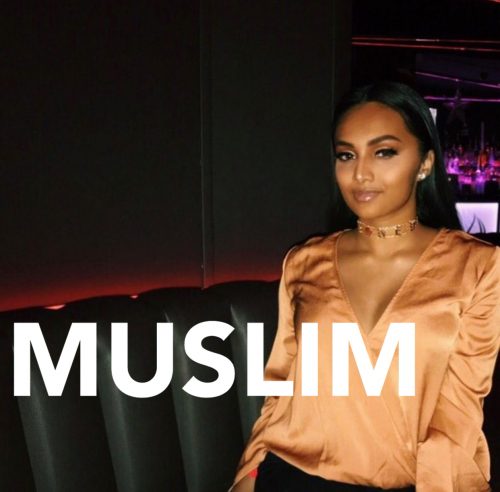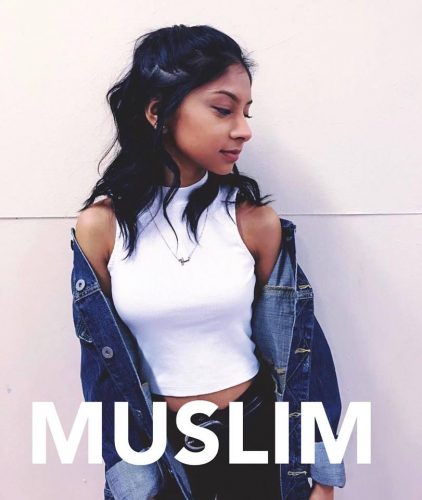 If you are a Muslimah reader, show us how you #DressLikeAMuslim on Instagram, Twitter, or Facebook for a chance to be featured in the series!
---
Elizabeth Jaikaran is a freelance writer based in New York. She graduated from The City College of New York with her B.A. in 2012, and from New York University School of Law in 2016. She is interested in theories of gender politics and enjoys exploring the intersection of international law and social consciousness. When she's not writing, she enjoys celebrating small joys with her friends and binge watching juicy serial dramas with her husband. Her first book, "Trauma," will be published by Shanti Arts in 2017.