Do girls really run the world by dancing on the streets of Lahore? Is this a sign of women's empowerment? Although a few Pakistanis say "yes," the idea did not sit right with others. And that is why the below video, which went viral all over the world, is now unavailable.
https://www.facebook.com/422020534539422/videos/1175385092536292/
https://www.facebook.com/dyot.pk/posts/604809506358658
Five young women from the National College of Arts adorned contemporary apparel and took to the city's Anarkali quarter to promote their clothing company "Do Your Own Thing," while making an attempt to spread the message of women empowerment and modern feminism.
The two-minute video begins with one of them being catcalled through a salaciously staged 'Masha'Allah' in a location that is predominantly occupied by gentlemen of all ages. It further goes on to her removing her protective black chaader (wrap) and breaking into a spontaneous dance routine, later joined by her four girlfriends. 
While it is applaudable to see numerous other advertising campaigns taking progressive steps to brilliantly represent self-assured women in a macho, red-blooded society pushing for female rights, I believe, the marketing strategy by DYOT could have been carried out in a more pragmatic manner.
Everyone enjoys twirling to a good tune, but a female entourage doing an extremely awkward dance to Beyonce, as uneducated men leer at them, is hardly the definition of feminism. In fact, it raises eyebrows on the idea of females 'doing their own thing' in a non-secular country like Pakistan. While their target market is essentially the country's elite, the flash mob is poorly executed in front of a throng of underprivileged men who'd have to sell an arm and a leg to buy the brand's clothes. Why then, are they used as the backdrop props? A lesson in public relations would have saved them a whole lot of trouble and taught them a thing or two about semiotic analysis and their catered audience.
Clutching onto one demographic of the male society also misconstrues the gross reality that it is indeed men within our personal social circles who stop us from doing our own thing, not struggling shopkeepers in bazaars often selling clothes at bargained prices.
Roshaneh Zafar, an active social entrepreneur, began her initiative 'Kashf Foundation' in Pakistan two decades ago and to this day, successfully provides micro-financing, job opportunities, and training for struggling women. Not only is her triumphant narrative a fantastic example of building other women up, but also female empowerment. A more well-known name would be Muniba Mazari – appointed as Pakistan's first National Ambassador for the United Nations to further develop gender equality and female empowerment.
DYOT explained that being a small-scale business, their budget did not permit them to represent themselves on bigger platforms and social media was their best bet. However, going viral comes with certain responsibilities and consequences, and there is little companies can do to stop negative criticism coming from their audience.
The unclear message delivered by the brand caught attention of the digital world instantly, sparking outrage at how feminism and women empowerment are portrayed in the wrong light. The ad's hostile and aggressive tone also mixes women empowerment with some sort of men-hating declaration. It goes on to magnifies other relevant and existing problems within the Pakistani society, such as female objectification. The idea of confused men gathering around to watch, and record, women dancing to a foreign tune they possibly do not understand is the exact opposite of gender equality.
DYOT claims there were no hidden agendas, and just a bunch of people being creative. This again is a fallacy. Their obvious goal was to promote their brand. Feminism is also overtly commercialised in the flash-mob with slim, attractive girls being the chosen ones to engage with the audience; an interaction welcomed with unfriendliness and bewilderment. It also distracts us from the real societal issues Pakistani women face on a daily basis and, not dancing freely on the streets of the country is hardly one of them.
A good strategy for DYOT would've been to inaugurate a run-by-women-only pop-up store or exhibition (keeping their budget in mind) within Anarkali's realms and reclaim it as a gender neutral space, while also promoting healthy gender interaction. A campaign including both women and men doing something far less objectifiable would have worked better in their favour.  Furthermore, it would have conveyed the most powerful message about gender equality—empowerment starts with healthy, normal communication between women AND men.
---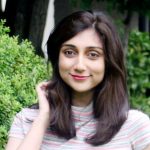 Exploring and writing her way through life, Queenie Shaikh is a biryani addict, latte-art admirer, women's rights advocate, fitness enthusiast, Harry Potter fanatic and a perpetual nomad, amongst many other things.