This post was originally posted on citrusandgold.com and has been republished with permission.
As you probably already know, Indians use turmeric for everything: Food, medicine, drinks, and yes, even for face masks. My mom used to make a variation of this mask back home and now that I am all grown-up (well sorta) I've started to pay attention to my own self-care routine and added this mask into the mix. This easy DIY turmeric face mask is a great at-home remedy to brighten and moisturize your face and skin.
So, there's a reason turmeric is such a prominent ingredient in Indian weddings—it actually works! Symbolically, turmeric is supposed to cleanse the body and soul and marks the beginning of a new chapter in the lives for the couple!
There are many variations of different turmeric masks but I picked the one that's easy and convenient. You only need a few ingredients and a few minutes to put it together. For this recipe, you'll need turmeric, yogurt, honey, and oat flour. You can also completely remove the flour or substitute it with rice flour or gram (chickpea) flour.
Turmeric Face Mask
Prep time: 10 mins
Cook time: 20 mins
Total time: 30 mins
Ingredients
1 tsp of turmeric

1 tsp of honey

1 tbsp of yogurt ( I used plain greek yogurt)

1 tsp of oat flour (gram or rice flour works too)
Instructions 
Mix all the ingredients together to form a smooth paste. If the mask feels too dry you can add a little more yogurt to get the right consistency.

Use a mini rubber spatula to apply the mask to your face, avoiding your eyebrows and hair. If you use your fingers to apply it, be mindful of your nails because turmeric does stain!

Leave the mask on for 15-20 minutes.

Wash your face thoroughly with warm water to remove the mask. You may need a couple of rinses to get it off completely. I like doing it in the shower so I don't have to worry about staining my clothes. An old towel also helps remove the last bits of color.

You can keep the mask in the refrigerator for up to one week. If it starts to dry out, add a little more yogurt (or milk) to fix the consistency.
Now, why is this so good for you? First, turmeric has antiseptic and antibacterial properties; honey has antibacterial properties as well. The lactic acid in yogurt helps remove dead skin cells and moisturizes your skin at the same time. Finally, the oat flour also acts as a gentle exfoliant and hydrates dry skin.
*A few important reminders about turmeric.
A slight yellow tint may remain on your face if you don't wash thoroughly but don't worry it'll fade away on its own.
Turmeric does stain clothes—so beware!
If you have facial hair (especially if it's light in color) don't put turmeric on it.
---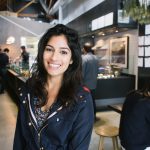 Akansha Agrawal is a writer, pilates instructor, and an Insights Analyst who lives in San Francisco, CA. She is also the creator of Citrus & Gold— a blog that focuses on wellness for the mind and body. Akansha loves to connect to like-minded individuals so feel free to say hi on Instagram or Twitter!