This post was originally published on VitaminBS1.
"How does this look?"

"Shabby."

"Mom!"

"It's Diwali, you can't dress this way. Wear some bangles and please take off that horrible hair clip."
I enjoyed the familiarity of these arguments as I watched my mother decorate the house. It was night and the air was thick with smoke from firecrackers. Occasionally, an explosion would startle us out of our conversation before it faded into more distant thuds – the soundtrack of this season. As we talked, my mother lined the house with diyas and then proceeded to light them. In a matter of seconds, the outside of our home was a soft, glowing yellow.
The front door opened and my sister walked outside, hands tucked into her pockets.
"I don't want to go inside, I just want to sit out here and stare," she said. "How do you like my new clothes?" She shot at me, spinning slowly and allowing me to appreciate her outfit in its entirety.

"Awesome," I said absentmindedly.
I was sure I saw a bowl of sweets in the living room when she had opened the door and suddenly, the three-year-old with a sweet-tooth problem seemed to resurface within me. I turned my glance back to the lamps and the rangoli.
"Dad stuck in traffic again?"
As if on cue, I heard his car pull into the driveway. I had a sudden flashback to the days I was in school, waiting for him to pick me up. My parents' cars may have ordinary-sounding engines to you but to me, they're unique. I can hear them over the worst traffic jam, and I've always been able to. The sound has always made my heart leap in joy and relief – the feeling of going home after a long day is something else.
The car's doors slammed shut and I heard him end the last of his calls for the day. "Wow! Just…wow." He said, staring at the house. I shared his sentiment. The workmen had done an extraordinary job of draping the house with untimely Christmas lights, and the diyas made everything magical.
"Hi! How's college?" He added suddenly, noticing me.

"It's not bad – I just can't believe it's almost over. In a few months, your daughter will be a working professional. How does that sound?"
Diwali was clearly in the air. Everyone was more relaxed, the house was a shade brighter and sweets of all kinds were piled high, waiting to be devoured with a barbaric force. I reached into my pocket and pulled out a bar of Dairy Milk.
"Can you believe I found this at the Indian store today?"

My mother glared at the grinning face in her laptop screen. "Chocolate before a meal? Will you ever grow up?"

"I'd love to see you stop me," I retorted. "Take the next flight here and snatch this chocolate right out of my hands, I'll be waiting."
It isn't easy living abroad during the most family-oriented time of the year. My only comfort is the endless stream of old Diwali advertisements – the student surprising her folks with a visit from the hostel, the husband gifting his wife the beautiful necklace she had been eying, the happy families prancing around holding fireworks dangerously close to their clothes and laughing for no reason. I would watch and lick Dairy Milk off my fingers, a less attractive version of the woman in the ads.
Sound internet connection makes for a few stolen moments of festivity with my family. We can pretend I'm in the wicker chair next to them, with a witty comment ready for every moment. I can eat milk chocolate and tell myself it's almost as good as what's on the kitchen table at home. While they sit outside the house and admire the view, I can stare in awe at the part of my home that fits in the few inches of my laptop screen.
Soon, neighbors will pour out on to the streets. The place will become noisier and the air will be thick with crackling sparklers and delighted screams of children. Loud Diwali greetings will threaten to overpower the distant thunderclap-like sounds. There are some things you just can't enjoy while sitting at a laptop, so I'll say my goodbyes and listen as "Mere tumhare, sabke liye Happy Diwali" plays– for the fifth time today until my battery runs out.
Unlike the girl in the advertisements, I won't be going home this Diwali, but in its own technology-infused way, this year is special.
[divider]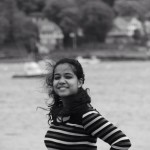 Shreya Suresh is a marketing student in Boston, but her heart will always be in Bangalore, India browsing the bookshelves of Blossoms. Apart from writing and marketing, she enjoys jigsaw puzzles, almost any kind of music, and reading every book she can get her hands on. She is a die hard Harry Potter fan even though that's almost a cliche these days, and her guilty pleasure is Archie Comics. She blogs at vitaminbs1.wordpress.com.