While reading Pakistani author, Kamila Shamsie's novel, "Kartography,"which primarily revolves around Karachi, Pakistan's internal crisis, I learned about the 1971 Liberation War of Bangladesh.
The name given to these women is Birangona.
"Birangona means 'Brave Woman' in Bengali," Leesa Gazi, British Bangladeshi actor, playwright and researcher, said.
Gazi documented the voices of the Birangona women in her documentary "Rising Silence."
https://www.youtube.com/watch?v=Nlm_saJURKY]
Gazi was involved in the theater scene in Bangladesh, and after moving to the U.K. in 1998, she worked as a community TV channel producer. She later transitioned to professional acting and writing. And, in 2012, she founded Komola Collective, a theater arts company with Filiz Ozcan, Sohini Alam, and Caitlin Abbott.
"The four of us had developed a strong, and beautiful understanding while working with each other," she said. "We also significantly realized that the kind of theater we would like to make would only be possible if we had our own theater and arts company,"
They were deeply passionate about narrating stories from women's perspective, particularly stories that often go untold.
"We wanted to revisit history, challenge social taboos, unearth myths, and question accepted beliefs," Gazi shared.
In 2010, Gazi was in Bangladesh interviewing women who were survivors of crimes against humanity.
"During filming, one of them asked me. 'What's the point of telling these stories? No one wants to know and nothing happens.' That shook me terribly.I also learned that a few of the women I met were severely unwell. It suddenly struck me. If they die, their stories will die too,"  she said.
This conversation further strengthened Gazi's resolve to tell the stories of the Birangona women. She shared the idea iwth her theater colleagues and friends.
"We were already starting to think about founding Komola Collective then," Gazi said. "They were extremely moved to hear these stories and decided to develop a theatrical piece based on them."
In 2013, they returned to Bangladesh to develop a research and development performance piece entitled: "Birangona: Women of War".
It was the Komola Collective's debut production, and the subject entirely in alignment with their vision and purpose. The women interviewed offered a rare historical glimpse into horrific events that shaped and mutilated their lives after the War—film footage of the women was also used during the play.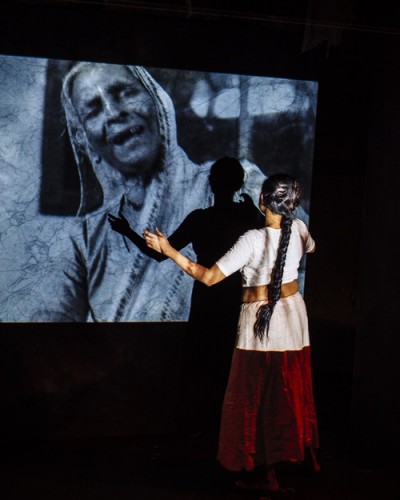 [Photo Credit: Enamul Hoque]
The quest to engage with the women, listen to the stories with sensitively and responsibly convey them to the audience through the play was undoubtedly a painful, challenging, and inspiring journey.
"I felt numb and speechless when I first heard them telling their stories. I had sleepless nights, remembering their harrowing experiences—and their unimaginable pain for their loved ones," Gazi recalled. "They calmly told us how they were captured and raped. But they broke down every time they described how their children were viciously murdered in front of their eyes, how their husbands, parents and families, were killed, how they were raped in front of them."
Some of the stories were so brutal that Gazi often had to shut herself down, pretending that she had not heard them for the sake of her own sanity. She lauds their strength, courage and fighting spirit to rise above extreme sufferings, and mentioned that the Birangona women still have the enormous ability to love and care, which in turn taught her many  valuable lessons and gave her insight on how to prepare for the play.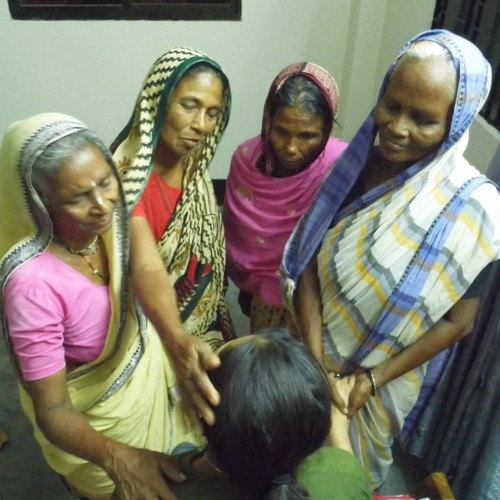 [Photo Credit: Filiz Ozcan]
What the Collective sought to achieve through the play was to invest these women with identities preventing them from being subsumed in a faceless collective of statistics and numbers.
"We wanted to show that each person is someone's daughter, or sister, or mother, or friend, or lover. She has a childhood, a name and a story to tell. We wanted the audience to know them beyond the term 'Birangona.'"
The play elicited a tremendous outpouring of responses from a diverse audience. A young Bangladeshi student commented,
"I know who I am. They are part of me' while a second generation British-Bangladeshi angrily lamented her ignorance about the Birangonas. "How come my family never told me about them? How come I know the bloody birth of Bangladesh but nothing about them?'
After watching their own stories on the stage, the Birangonas themselves responded:
"You have told the world about our stories. A lot of our pain has gone away. No one will forget us. We'll live now."
The question of deliberate historical amnesia and erasure emerges through this statement: "no one will forget us". The need to make the documentary, "Rising Silence" therefore occurred when Gazi realized that while the play had achieved its purpose in initiating dialogue and shattering silence about an otherwise taboo subject, it could only accomplish so much.
"The Birangona women want the world to know what had happened to them during and after the war. They demand due respect and recognition from us and that's what pushed me to think of making a film on them to shed light on their lives. I hope it will be a small step towards achieving that now that we have started making this film in partnership with Openvizor, and Making Herstory."
The feature documentary follows the lives of five Birangona women.
"The first phase of the filming has been completed in December 2014, when we staged the play "Birangona: Women of War" in various places in Bangladesh."
She attributes the name, "Rising Silence" to the situation in which the stigma of mass rape and the collective shame attached to it is so appalling that the women's plight goes untold and silence prevails, rendering them hidden, shunned, and almost forgotten.
"This rising silence feels unbearable to us. We strongly felt the stories of the Birangona women deserve to be told, we wanted to challenge the social stigma of rape and the collective shame attached to it simply by telling their stories. We are deeply honoured and proud to be able to do so," Gazi concludes.
The CEO and founder of Making Herstory, Onjali Rauf, and her organization have supported the making of this documentary. Rauf states that there is a crucial need for such a documentary to be made at various levels.
"It is not just as a fragment of Bangladesh's own history. It is a living, breathing reminder to the world that the violence inflicted on women in war does not end when a war ends," she emphasizes. "My hope for this film is that it will act as a wake-up call to the true brutalities inflicted upon women in war – and which continue to this day. Only by recognizing such injustices and understanding what feeds it can we all begin to actively tackle it."
[Feature Image Photo Credit: Nasser Gazi]
---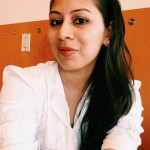 Priyanka Sacheti is a writer based in New Delhi, India. Educated at Universities of Warwick and Oxford, United Kingdom, Priyanka previously lived in Sultanate of Oman and United States. She has written for Gulf News, Brownbook, Khaleejesque, The State, Brown Girl, and India Currents among others with a special focus on art, gender, diaspora, and identity. She's the author of three poetry volumes and two of her short stories have been published in international anthologies featuring Indian immigrant writing. An avid amateur photographer, she explores the intersection of her writing and photography on her blog and Instagram.