After moving to San Francisco, I realized that people really do live and breathe tech here. There's an app to schedule a handyman, an app to deliver your groceries (the same day!), and even an app that sends someone to walk your dog for you. So when it comes to dating, it's clear where people turn – to their phones.
A few of the dating apps I have seen people use here:
Grouper – three men and three women are sent on a group date to a restaurant in hopes that at least a couple of people in that combination will click.
Coffee Meets Bagel – At noon everyday, the app sends you a "bagel," which is basically the pictures and profile of someone who fits the criteria that you picked. If you like your bagel and your bagel likes you back, a private line is created where you can message each other.
Tinder – Most of you know the drill on this one, swipe left if you don't like the picture, swipe right if you do. Yes, there is a profile too, but I have my doubts on whether anyone clicks it. If both people end up swiping right on each other, you get to message one another. The rest is history!
Enter Dil Mil – a Tinder-esque app specifically for South Asians. I love, love, and love technology, so, of course, I couldn't pass up the opportunity to meet Kamaljit, one of the founders of Dil Mil, at a stylish SOMA bar/café to get the scoop.
[Connect with dynamic and professional South Asian singles across the world by downloading the Dil Mil app.]
Before bringing his talents to the Bay Area in hopes of entering the tech scene,  Kamaljit worked in NYC and Philadelphia. He said he always wanted to be an entrepreneur and had previously tried his hand at it in college.
At only 24-years-old, Kamaljit works full-time in business development at a Social Metrics company and manages his start-up Dil Mil on the side.
Dil Mil recently closed at an angel investment round for a $5 million valuation, which aims to solve every desi 20-something-year-old's problem – dating someone who Mummy and Papa will approve of. Here is what he had to say about it:
Why did you want to create Dil Mil?
I realized that there is a need for a dating platform in the South Asian community. Most users on Shaadi.com are the parents. Singles are almost embarrassed to be seen on any of these websites and I don't think they should be. Technology should enable us to live a better life. If it can let you find someone easier and faster then it should be a good thing, not a bad thing.
Why do you think people use the Dil Mil app and will continue using it?
1. It's a product that is mobile in a mobile world.
2. We guarantee we never post anything to Facebook because privacy is really important to us. The whole platform is anonymous just like Tinder.
3. It takes out the fear of rejection. Both parties have to say 'yes' to match. If you select 'no,' the other party is never going to find out.
4. It allows you to connect with people you may otherwise not be able to. Maybe you would have never had the chance to run into them in real life. We facilitate that connection.
There have been more than 20,000 matches made so far in just a few months. How have you managed to grow the Dil Mil user base?
By building trust with the users, especially with women. Once the women are on it, the guys follow. I have conducted surveys and talked to my friends and family to evaluate their concerns with dating apps. Many women don't put pictures on Shaadi.com because it's on the searchable web. You don't have that issue with Dil Mil. With the app, it shows the picture for seven seconds and then disappears. If you take a screen shot during that time, we can tell. We are working on a feature that will warn users if a screenshot is taken and kick off multiple offenders.
How does your family feel about this app for love-shove?
They're supportive. They understand it's a big problem because a lot of my cousins are at the age where they are ready to find somebody. It's becoming more and more relevant; and my parents trust me!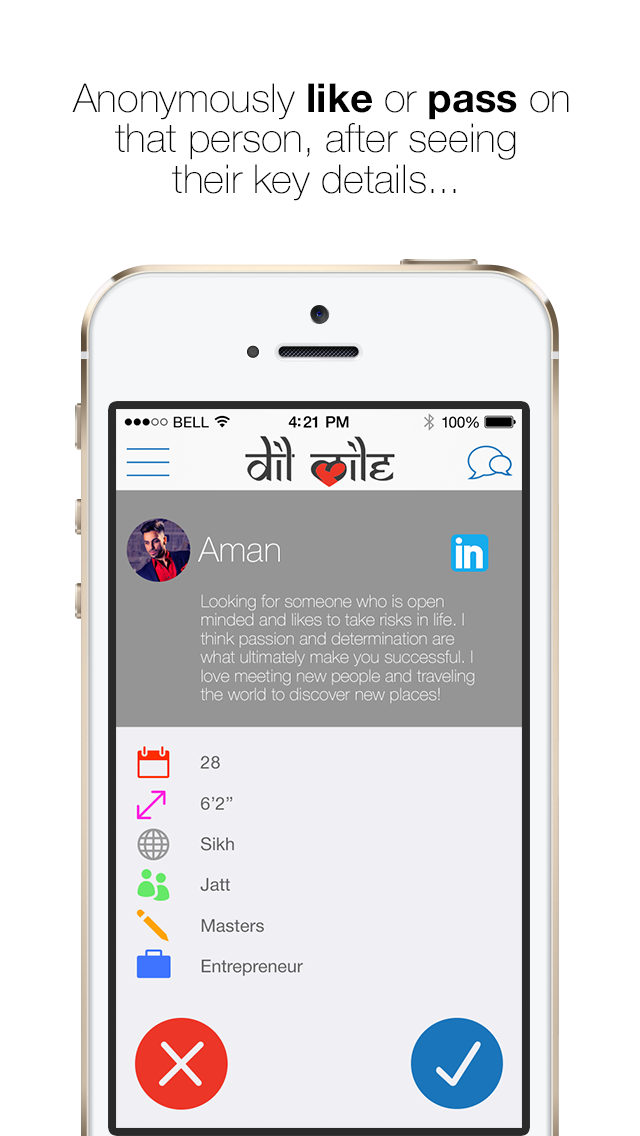 How do you balance your social life and work?
I am used to this lifestyle of working during the week at my day job and doing side projects on the weekends. When I'm doing something I really enjoy, I don't consider it work. We're solving a big problem and for me it's exciting to see it grow.
What's in store for Dil Mil's future?
Currently, the majority of the user base is in California, NYC, and in some areas of Canada. It's only available in the US and Canada right now but we plan to expand.
After our interview, KJ let me take the app for a test drive on his iPhone (not available on Android yet, but coming soon!). Dill Mil has a clean interface and was easy to use. I joked about the variety of cultural preference options as I have never heard of over half of the "types" of South Asians on there! I also thought it was amusing that you could choose to link your LinkedIn profile onto the app. I can definitely see this app going places.
---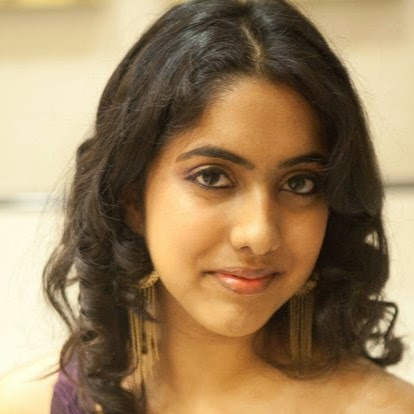 Pia Chakrabarti is a self-proclaimed food-aholic. Some of the things that may compare to her love for food include: cuteness (babies, puppies, etc.), traveling to exotic destinations, and John Stamos. Pia has lived in various corners of the world but will always be a Texas girl at heart. Currently, she is in San Francisco attempting to live out her tech city dreams while eating as unhealthily as SF will allow in order to satisfy her Texas-sized appetite.