by Kanika Monga
Akshaya Patra is the world's largest NGO managed mid-day meal program. It provides nutritious meals in India to 1.5 million children in school while serving over 11,000 schools in over 10 states. Their goal is to address childhood hunger and malnutrition and to promote education for underserved children in India.
Unfortunately, a lot of children drop out of school at an early age so that they can help in other ways to supplement family income. By providing a meal at school, the foundation hopes to help alleviate some of the financial burden and also promote attendance at school. Education and food should be accessible to EVERY child in the world. You can help make that happen. With the help of government subsidies it takes Akshaya Patra only $15 to feed a child for an entire year! Out of every dollar donated, 80 cents go directly to the children. #FoodForEducation
The USA branch of the NGO hosted a gala in Houston to celebrate their fifteenth anniversary, and to commemorate the serving of their 2 billionth meal. The keynote speaker at the event was Indian celebrity chef Sanjeev Kapoor, and the Master of Ceremonies was actor Omi Vaidya.
We share an exclusive interview on Dil Ki Baat with celebrity chef Sanjeev Kapoor, the most celebrated face of Indian cuisine, at The Akshaya Patra Foundation's Gala in Houston. He made cooking appear cool, and fun! His TV show has had over 500 million viewers all over the world. Listen to him talk about his favorite cuisine, favorite song, recipe to becoming a chef, and how he got involved with the Akshaya Patra Foundation's amazing cause. Watch the video to hear his take on plans of opening a restaurant by Sanjeev Kapoor in North America.
Here is an interview with actor Omi Vaidya aka 'Chatur' from 3 Idiots! Find out how he got involved with the foundation, his thoughts on becoming a father, how he landed the role in 3 Idiots after working in shows like The Office and Arrested Development, and info about his upcoming projects!
Also, don't miss out on Omi Vaidya's "Big in Bollywood," coming out on Netflix on January 1, 2017!
---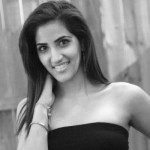 Kanika Monga, a graduate of the University of Texas and is a doctor by profession at the Texas Medical Center. She is a lover of all things creative, and cuddly. Her weaknesses include sushi and sparkling wine. Follow her on social media as she muses over life in her white coat and stilettos—Instagram: Kanika Monga, Snapchat: KandyK579, and on Twitter: @DrKanikaMonga