by Nidhi Singh
In case you've been living under a rock for the past few weeks, "Bajirao Mastani," Sanjay Leela Bhansali's latest star-studded project, released its second song, "Deewani Mastani," and has taken the world by storm.
In fact, this song marks Deepika Padukone's, or Mastani's, entrance into Baji Rao's palace Shaniwar Wada, according to my reliable source Priyanka Chopra. Actually, this information comes from her personal Twitter page but I know I can trust my girl Kashibai. Or should I call her Alex Parrish?
Second song from #BajiraoMastani. When mastani comes in to shanivarvaada the first time…enjoy http://t.co/NB9sQiFPZD

— PRIYANKA (@priyankachopra) October 17, 2015
Let's just break this down, shall we?
In plain words, "Deewani Mastani" is truly a masterpiece. From the choreography to the beautifully produced Qawwali-inspired music to Queen Padukone herself in Aina Mahal, the production for this song is out of this world.  
It's evident in the two videos released by Eros Now (the full audio song and the official video) that Bhansali and his production team ensured that every element of "Deewani Mastani" was taken into serious consideration. No detail was left unnoticed.
The video catches your attention instantly as you see Bajirao, played by Ranveer Singh, sitting atop an intricately embroidered throne while Mastani enters the hall with her eyes locked on her love and a steady gait that complement the lyrics of the introductory verse.
But, let's be real. None of us can stop staring at her.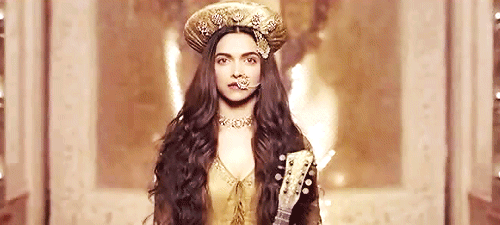 [Photo Source/Tumblr]
Each character's costume, including the background dancers', mesh well with the musical style of the song. Anju Modi, the film's costume designer who also designed Bhansali's "Goliyon ki Raas Leela—Ram Leela," stuns viewers again with her intricate designs. In a recent interview with The Indian Express, Modi said she spent a year-and-a-half researching Marathas in order to design pieces for the film.
But it's Padukone's work as Mastani that truly blows you away. Padukone steals the limelight as she seemingly glides across the golden dance hall with what seems like an effortless grace, while announcing to the world her love for the man before her. Padukone said she underwent serious kathak training to prepare for her role as Mastani.
But, take a closer look and you'll see how Bhansali pays tribute to the hugely popular "Pyaar Kiya Toh Darna Kya" from K. Asif's "Mughal-e-Azam."
Similar to Anarkali, Mastani is not afraid to exclaim her love in the midst of other dancers and viewers. The song's set, choreography and even certain shots can be compared to those of the 1960 classic.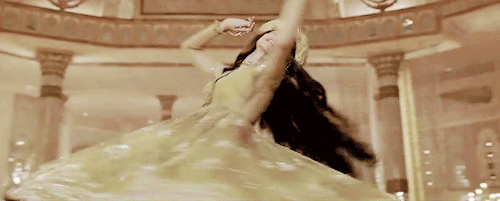 [Photo Source/Tumblr]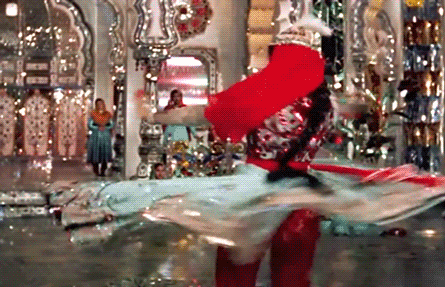 [Photo Source/Tumblr]
Padukone herself emulates much of Madhubala's expressions and grace and adds a twist of her own style to introduce the world to a new "Anarkali."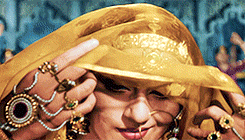 [Photo Source/Tumblr]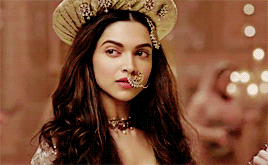 [Photo Source/Tumblr]
 Apart from the production of the official video, the music itself is breathtaking. The moment the song begins, you're in for a classical showcase, which forces you to listen to the song on repeat for days. Clearly, I'm speaking from experience.
What amazes me most with "Deewani Mastani" is how you truly feel Mastani's passion, lust and affection for Bajirao. Check it out below:
The music, lyrics, and artists transmit her love through the song extremely well, keeping you hooked and wanting more from the film's soundtrack. Besides Shreya Goshal's impeccable voice, you're in for a treat once you begin to listen to the Qawwali singers who sing Maratha lyrics throughout the track. The artists carry a regal and passionate vocal style that bodes well with the entire musical production.
Now if you'll excuse me, I'm off to listen to this song a few million times more as we wait for for Chopra's solo track and the film's actual trailer to release. I see what you're doing Bhansali, but we're going to need something more than the teaser trailer.
---
Enter Bollyshake's "Bajirao Mastani" Dance Competition by November 12:
"Bajirao Mastani," Sanjay Leela Bhansali's latest masterpiece, is one of the most anticipated movies releases in Bollywood history. To celebrate this mesmerizing piece of cinema, EROS International and Bollyshake, have come together to host the biggest online dance competition Bollywood has ever seen!
Dancers from around the world can submit their own rendition to the "Bajirao Mastani's" hottest songs. "Deewani Mastani" is already a global phenomena and performers have the opportunity to dance, upload and share their videos on social media by
November 12
.
The best part? Deepika Padukone will be sharing her favorites and choose a winner.
Priyanka Chopra steps in mid-November for her song "Pinga," which will release soon and her fans have an opportunity to perform to this track as well. Priyanka will also share her favorites and choose one champion.
The two winners will compete for the ultimate showdown and a once-in-a-lifetime experience:  attend the movie premiere in Mumbai and meet the stars of "Bajirao Mastani."
Bollyshake
brings unique opportunities to the Indian dance community, which consists of thousands of choreographers,
teams, 
and studios from over 30 countries. Users can find

wedding

dances, stage performances, how-to video's, fun concept pieces and even
flashmobs
!
Over the past year, the Bollyshake platform has driven campaigns ranging from Bollywood America to Dance India Dance, Mystic India and most recently Girl Rising India to spread awareness around girls' education. Over 150 dance videos were submitted and shared, driving the conversation even further.
We're excited about many more exciting things from Bollyshake, so keep tuning in!
---
Nidhi Singh is a recent graduate from UNC-Chapel Hill with a degree in journalism and is taking this time to explore the world through photography, film, and words. She enjoys dancing, travelling, eating Nutella, and watching reruns of old "Friends" episodes (as should anyone!). Follow Nidhi on Twitter and Instagram to see where she takes her next selfeet.