She is a backup dancer for some of the biggest names in Bollywood, the lead dancer in her troupe and a pageant winner. These accomplishments often take a lifetime to achieve, but this dancer has done it all in less than a decade. As she continues to perform around the country, she is also preparing for her graduation—from high school.
The story of Tosha's journey as a dancer started before she was even born. Her mother was a dancer as a university student in India, but due to societal pressures, Patel's grandfather requested her mother to stop. She was of marrying age, and being a dancer could have hurt her reputation. When Patel was two years old, her parents emigrated from Gujrat, India to Farmingdale, New York.
Because of this previous experience, her mother encouraged her to give classical dance lessons a try. Today, Tosha knows that her mother is now able to live her own dream through her achievements in dance. Unlike some children who would be frustrated with the notion of their parents vicariously living through them, Patel loves that she can provide her mother with such a gift.
Tosha, 18, is the youngest dancer to attain many of the honors and opportunities she has received during the past few years. At the age of 12, she was the youngest dancer ever selected to be a part of Arya Dance Academy's senior troupe. That year they went on to win Naya Andaaz, a national Bollywood dance competition.
Four years later, she was chosen by Arya's director Rupal Patel as the lead performer in the troupe.
"Her versatility as a performer is her strength, and her eagerness to always want to learn more will be her greatest asset," Rupal said.
When Tosha turned 13, she was crowned the first Miss Teen India New York and went on to make the top five in the national round of the pageant.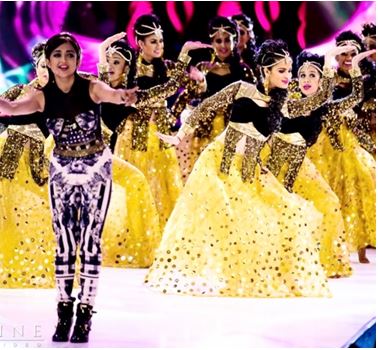 [Photo Source/Tosha Patel]
Her success is partially due to how early she began to dance, which was at the age of five. During the start of her career, she would dread attending dance classes, taught by a friend of her mother in the basement of a Hindu temple, but then Tosha came across the brochure for Arya Dance Academy. She was enthralled by the pictures of Bollywood celebrities on the cover and was eager to join the dance school. Her parents later enrolled her when she was seven.
Tosha is trained in a variety of dance styles including kathak, Bollywood, and hip-hop. When she first began  she experimented with ballet and jazz as well. However, she felt more comfortable with the Indian styles of dance. They also allowed for a deeper connection with her culture.
The Arya Senior Dance Troupe turned Tosha's love for Bollywood dance into a passion and peaked her interest in Western styles of movement. The camaraderie and familial feeling among the dancers in the group strengthened her as a person and as a dancer.
In addition to being able to do what she loves, Tosha said her favorite part about dance is, "meeting new people and making new friends. Not just making new friends, but friends with the same interests as you. They make you want to push yourself."
Although there is camaraderie among dancers, there is also a competitive spirit and sometimes even jealousy.
"Talent is what speaks," Tosha said. And, self-confidence in one's own talent and unique qualities is critical for dancers like her.
In 2013, she left her troupe behind temporarily and stepped into the competitive spotlight alone. Out of 5,000 contestants who auditioned for the North American edition of Zee TV's popular Indian talent show "Dance India Dance," Patel placed in the top 20 and moved on to the live competition.
Despite not making it to the end, it still served as a learning experience for Tosha in many ways. She realized for the first time the extent dance routines for groups and solos differed. She got the chance to perform with judge and professional dancer Salman Yusuff Khan. And, watching the other contestants perform live motivated Patel to train even harder. She aspires to audition for the Indian edition of DID during her junior year of college after she has gained more experience with some of the Western dance styles and further perfects her technique in the Indian forms as well.
The culmination of Patel's years of training occurred a year after her kathak graduation. In 2014, IIFA, Bollywood's equivalent of the Oscars, took place in Tampa, Florida. Arya Dance Academy had many backup dancers present at the event, assisting the most popular superstars in the business. Patel was finally rubbing elbows with the people who had enticed her to join Arya all those years ago.
In addition to performing at the 2014 IIFA Rocks event and meeting actors like Priyanka Chopra and Riteish Deshmukh, Patel has also been a backup dancer for Ranbir Kapoor, Sharda Pallavi, Aditya Roy Kapur, and Parineeti Chopra for the Diwali celebration in Times Square.
Patel continues to set new precedents. In December 2014, Arya's senior dance troupe performed at the Las Vegas Bowl. They were the first Bollywood act in history to entertain during a college halftime.
"She's grown from a young girl with high dreams to a young woman working to make those dreams come true while still maintaining her humility and her roots," Manisha Kinger, Tosha's dance teacher of several years at Arya, said.
She strives not only for excellence in dance but in academics as well. While dancing with her troupe and with Bollywood stars across the U.S., she has also worked diligently to become valedictorian of her graduating class. Because success in dance is fleeting and opportunities are rare, Patel has decided to major in biology and desires to go to medical school in order to become a doctor.
However, dance is what lies deep within her heart. Even when she is 50 years old, with a family of her own, she knows that she will still be dancing to her favorite Bollywood songs.
For Patel, it is a joy that is unparalleled.
---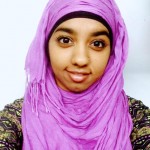 Gabrielle Deonath is a full-time college student. She is a contributor to the teen column, "At The Crossroads," in SISTERS Magazine and the author of the "Hijab Diaries" series on virtualmosque.com. Her dream is to be a journalist and novelist one day. One of her biggest obsessions is Bollywood movies and music. When she's not in class or following her dream of becoming a writer, she most likely is choreographing a dance to the latest song or watching a new Bollywood movie. To read more, visit her blog at hijabdiaries.com.