When Abishek Jonathan visited his ancestral village in Tamil Nadu, India, he was disheartened to learn that his relatives were denied permission to build a church. The reason: He was a "Dalit," or an untouchable.
Jonathan heard about the case of Dalit Research Scholar, Rohith Vemula committing suicide on Jan 17, 2016, at the University of Hyderabad, India, about two days after it occurred. According to him, issues related to the traditional caste system have only been swept under the rug instead of being dealt with in urban parts of India.
"The sentence that stood out for me in his suicide note was 'my birth was a fatal accident.' That really hits the nail on the head," said Jonathan. "He felt an aching emptiness as a child. There may be millions of Rohiths who are silent right now."
The Dalits are a community in India considered to be of low social standing, facing extreme segregation and discrimination. The term "Dalit" and their plight originated from the occupations that Dalits traditionally were in — such as cleaning toilets.
Jonathan is pursuing a degree in Biblical Exposition at Moody Bible Institute in Chicago, IL. His education is funded by the Dalit Freedom Network (DFN), in association with Friends Church in Yorba Linda, California.
Jonathan's association with DFN goes back to its foundation in 2001. His father was actively involved in the organization's creation and worked with the founder, Joseph D'Souza. DFN aims to end the oppression of marginalized groups across India through access to basic rights such as education and healthcare.
"My dad was born a Hindu, but he converted to Christianity at the age of 20 when his brother introduced him to the book of Genesis," said Jonathan.

"He (my father) grew up believing that he was meant to be cursed, until faith changed his perception on life. Now he works to empower Dalit children through education, and I'm continuing his hard work."
The Dalit Freedom Network has set up about 100 schools across India, known as Good Shepherd schools. They focus on families that live on less than a dollar a day.
"We make sure the students have access to healthcare workers, to sanitation, to vaccinations, etc.," said Danielle Sisk, the Student Advocacy Director at DFN, who has been working with the organization for almost 10 years.

"We work on putting a stop to the fact that millions of children in India do not have access to basic rights," she said.
For Jacque Cork, the Director of Communications and Marketing at DFN, empowerment of Dalit children goes beyond education.
Cork recalled a story about a girl who was tortured by her father and her grandfather as a child. Her family didn't see the point educating her, and she was forced to quit school to take care of her brother. When she left her father's family and rejoined her mother, her mother's new husband sexually abused her. One of DFN's social worker's found her on the streets in Bangalore, India and took care of her needs.
"She is in medical school now," said Cork. "The most surprising part is that she wants to go back to the community that abused her and help them."
Jonathan said being a spokesperson for the Dalit community is a burden he willingly takes on.
"I have the privilege and honor of traveling to countries like to U.S. and U.K. to spread awareness about our cause," he said.
---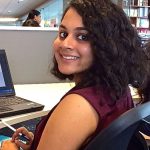 Vishakha Darbha is a videographer and a feature writer, with particular interest in creating profiles of ordinary humans doing extraordinary things. When not hunting for stories, she spends her time singing, backpacking, consuming and/or analyzing pop culture and reading biographies. She is currently pursuing her master's at Medill School of Journalism, Northwestern University.