The following post is brought to you by our newest sponsor, Shan Foods, producer of premium spices, mixes, and ingredients from all over the world.
Shan Holiday Promotion: Buy 3, Get 1 FREE (Bombay Biryani, Nihari, and Chicken Tandoori Masala + 1 FREE Butter Chicken Masala). As you prepare for the holiday season, from impressing your mother-in-law to keeping things quick, easy, and authentic in the kitchen, Shan's got you covered with its holiday pack. Featuring the classic Bombay Biryani, the spicy Nihari, and the flavourful taste of Tandoori Masala complete with a FREE pack of mouth-watering Butter Chicken Masala. With so many authentic and delicious recipe mixes, your menu will have your guests coming back for more. Visit your local Desi store today and taste happiness with Shan!
It's that time of year. You're scrambling to get through your list of people you need to buy holiday gifts for.  You're not exactly a baller, so,  you have to stay mindful of your budget. You're also fresh out of ideas for creative gifts. We feel you. So, what's a gal to do? We say 'tis the season to gift seasonings!
No, we haven't had one too many rounds of strong eggnog. Foodie gift baskets are the perfect way to give thoughtful gifts on a budget and we know the way to make your creation look gourmet.
Shan Foods recommends using any of their seasoning mixes with recipes to build a themed gift basket around a dish.
Many of their gourmet spice mixes cost around $2.50 US dollars. Building a gift around a special spice blend and buying ancillary items from your dollar and discount store will make it possible for you to make a stellar gift basket for $20, if not under. Ready?
Biryani, in my circle anyway, is a favorite amongst many, though a tedious process to recreate at home. That's why I'm showing you how to make a "Da Bomb-ay" Biriyani gift basket using Shan Food's Special Bombay biryani spice mix and recipe.  I have actually gifted this before and it was a hit for my amateur cook/foodie friends!
So how do you make it? Essentially what we suggest you do is curate items that are needed to make biryani. Before you start tying a ribbon on a bouquet of chicken drumsticks though, hold up, and read further!
For a dish like biryani, we don't recommend including all of the ingredients in your basket because uncooked chicken drumsticks and meats are tedious to pack in a way that doesn't compromise food safety. Salmonella poison is not the gift that keeps giving, people.
However, there are other ingredients you can pack that look good and contribute to the theme/recipe.
You can opt to buy quality ginger paste and garlic paste that come in fancy tubes. These can get pricey though, so this inclusion is up to you. However, these are the basics we recommend that you provide:
basket or vessel of choice (be creative!)
cooking utensil(s)
Basmati rice
1 box Shan Special Bombay Biryani
recipe card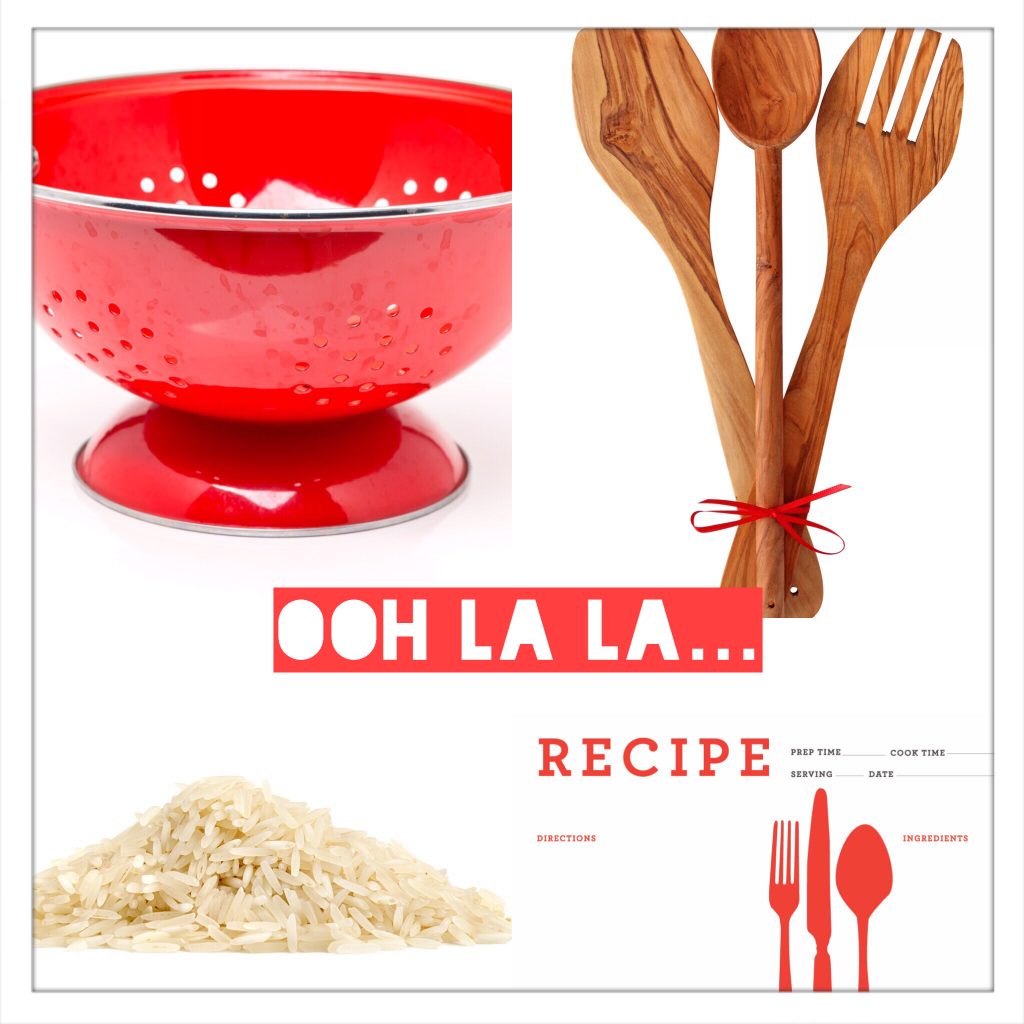 Other items you may want to purchase from your craft or discount/dollar are:
cellophane
ribbons
bows
grass filler/crinkle paper shreds
organza bags
mason jars
card stock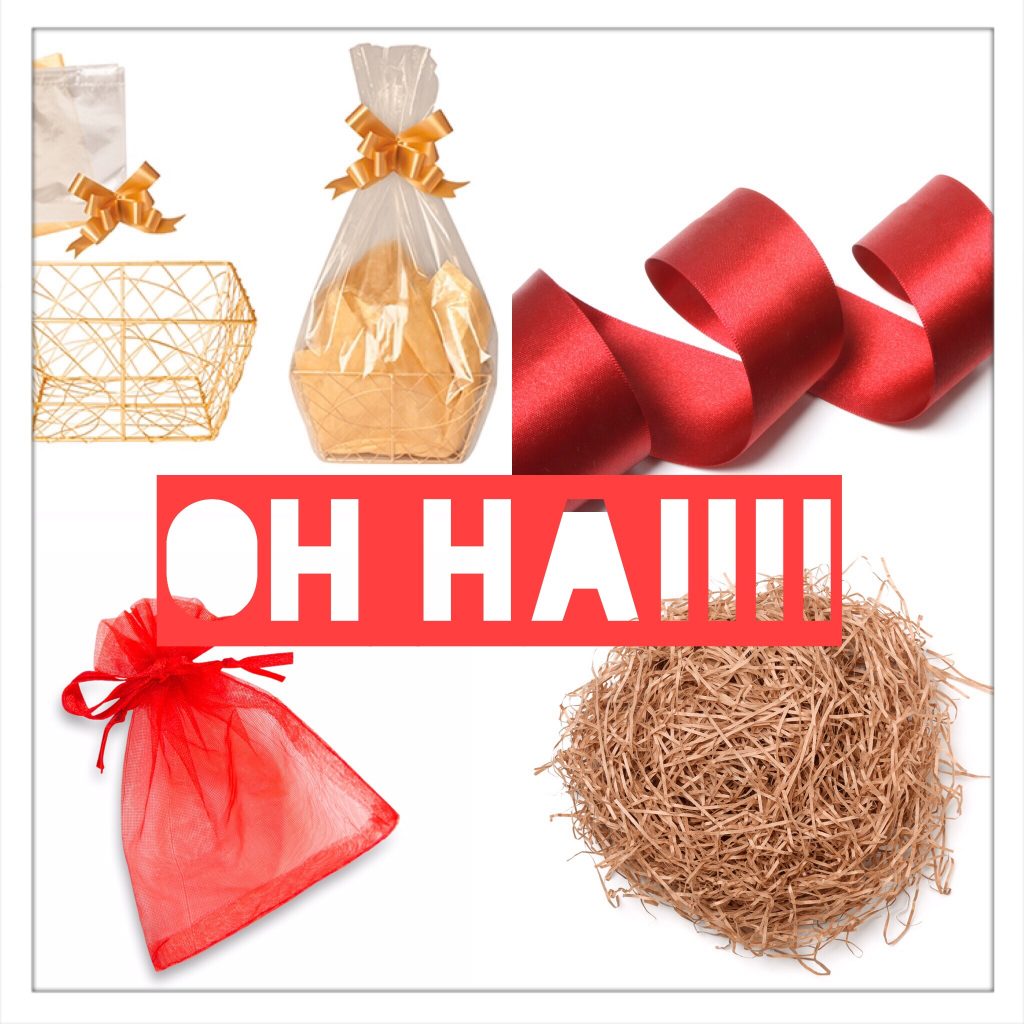 Understand, we don't suggest you buy ALL of these items— just a few special pieces to spruce up your gift!
Let's begin with your base or what you'll be putting all your items in.  Just because you're creating a gift basket doesn't mean ingredients need to literally go in a basket.
Colanders, trays, and big serving dishes make for wonderful bases/holding cells for foodie gifts and can just as easily be wrapped in cellophane.
Another item to include is a cooking utensil, something that a home cook would need to make biryani. Possible inclusions might be a wooden spoon or measuring cup.
Now onto the rice. Make sure you buy enough rice for this recipe, which is 750 grams, though you could certainly give more. Just make sure you don't give less than the recipe amount.
Remove the rice from its original packaging and repack in a festive organza bag or in a mason jar.
To graduate your gift basket from basic to bomb, use the recipe below and customize it. You can also find it on the back of the box.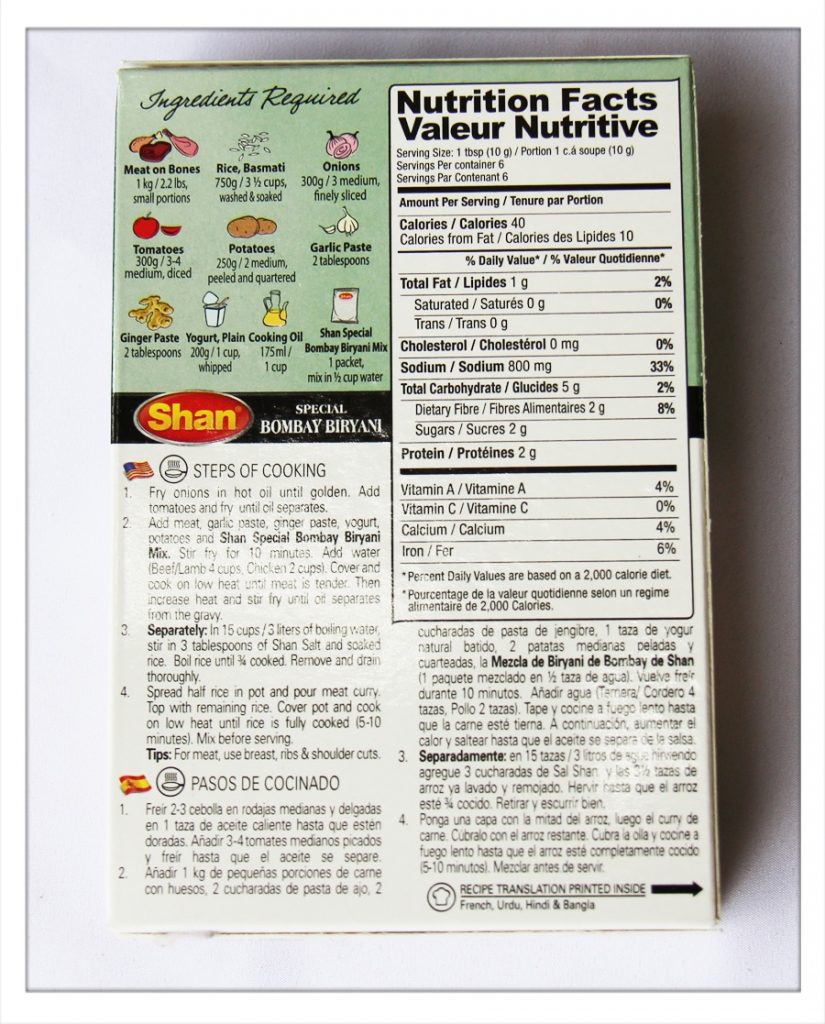 You could certainly buy artsy recipe cards and hand-write the recipe or, you can upload it to one of the numerous free recipe card creation sites.  Customize it, print it, and include it in your gift. Voila!  You have yourself a snazzy recipe card in your basket.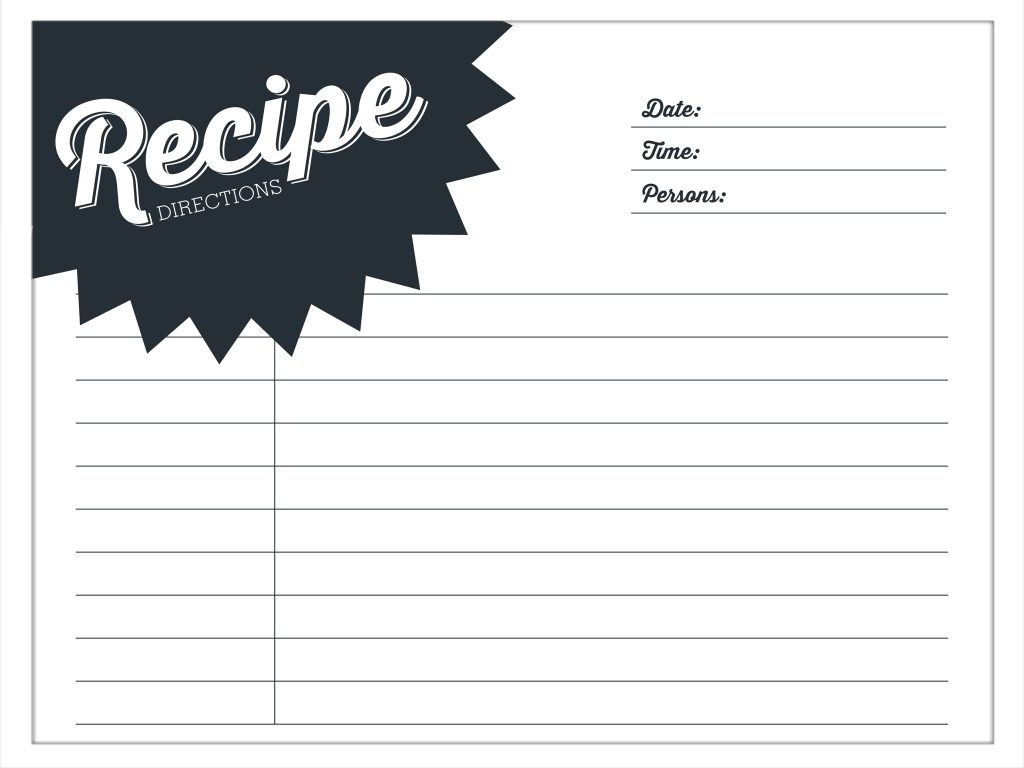 If that process is daunting, yet another alternative is to copy and paste the image and recipe below on a heavy paper stock and print. Either way, we recommend you add the recipe as it's a thoughtful touch.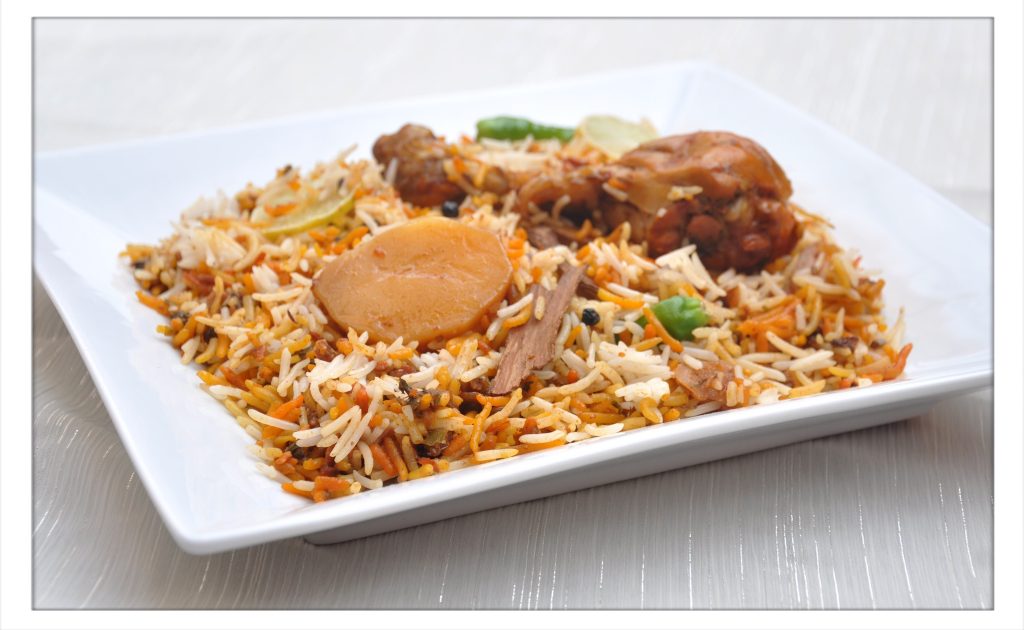 DA BOMB-AY BIRYANI
serves 6
Ingredients 
1 cup/175 milliliter canola oil
3 medium/300 grams white onions, finely sliced
3 to 4 medium/300 grams tomatoes, diced
2.5 pounds/1 kilogram chicken drumsticks
2 medium/250 grams Idaho potatoes, peeled and quartered
1 cup/200 grams whole yogurt, whipped
1 packet Shan Special Bombay Biryani Mix, mixed with one cup water
2 Tablespoons ginger paste
2 Tablespoons garlic paste
water
3 tablespoons salt
3.5 cups/750 grams basmati rice
How to Throw Down
Cook onions in hot oil over medium to high heat until golden brown, about 5 minutes. Add tomatoes and fry, 3 minutes.
Add chicken, potato,  Shan Special Bombay Biryani Mix, garlic paste, and ginger paste. Stir to combine, making sure chicken and potato are evenly coated.  Cook for 10 minutes.
Add 2 cups water (or unsalted chicken stock) and bring to a boil. Reduce heat to low, cover, and cook until chicken is tender, about 15 to 18 minutes and remove from heat.
In a separate pot, boil 15 cups/3 liters of water with salt. Add rice, reduce heat to medium, and cook until the rice is cooked almost 85% of the way, about 8 to 12 minutes. Remove from heat and drain.
In a separate pot, spread over half the rice. Top this layer with the chicken. Cover chicken evenly with remaining rice. Cover the pot with an air tight lid and cook over low heat for 8 to 10 minutes or until rice is fully cooked. Remove from heat and transfer to serving dish.
Want to get extra kudos for creativity? I created a card to put in my gift basket to make it look further personalized. Feel free to take my poem below and use in your own gift!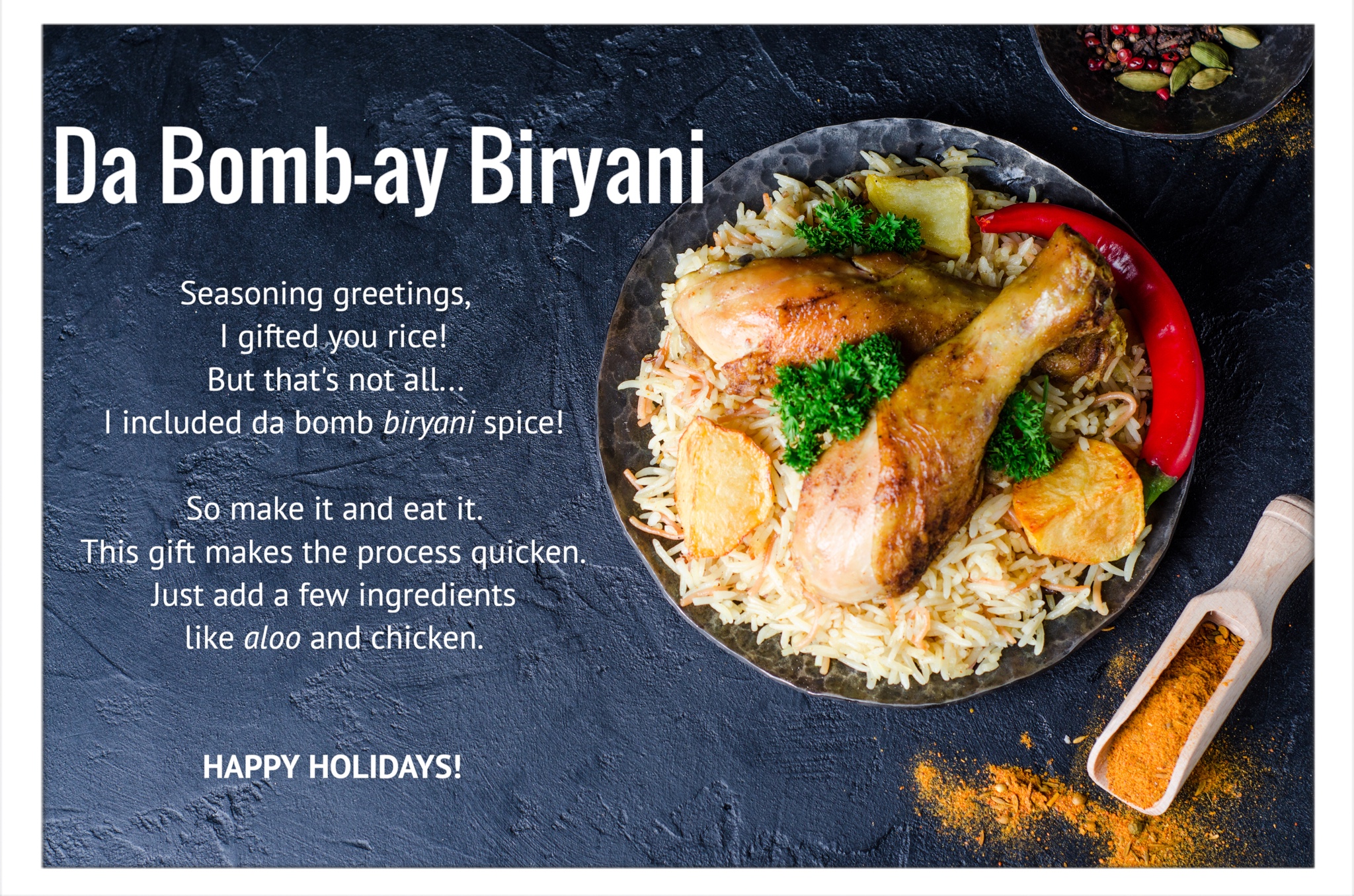 Have fun with it. And hey, if all this planning is taxing, forgo making a gift basket for anyone and make this dish for yourself. It's that good that I know it'll uplift your spirits, Brown Girl!
Seasoning Greetings!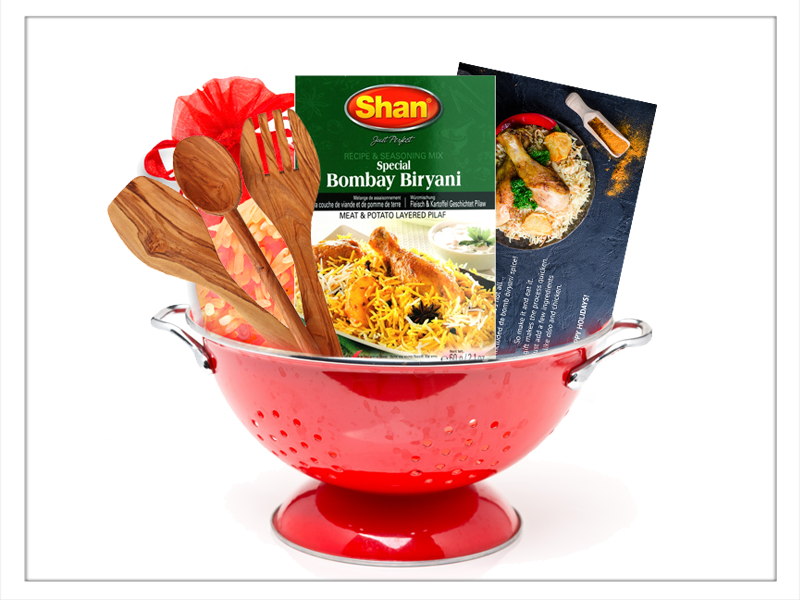 ---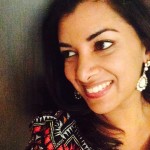 ---
---
Soni Satpathy-Singh is a recipe developer and content writer who resides in Manhattan. She is either always cooking or eating be it for work or simply because she loves to! She is working on her own comic cookbook as her alter ego "Sketchy Desi." Stay tuned to upcoming posts on Brown Girl Magazine.
Podcast: Play in new window | Download