by Anuja Shashipadme – Follow @browngirlmag
This post was originally posted on Anuja's Endeavors and republished with permission.
Almost a month has gone by since I took my flight back home from Cuzco, Peru to San Francisco. As cliché as this may sound, those eight weeks spent in Peru were one of the best ones of my life. For a few years now, I have had a severe case of travel "fomo," especially after I spent a glorious month studying abroad in Spain, in 2014.
The first few days in Cuzco, I took it fairly easy. I had read numerous blogs about the struggle with altitude sickness upon arrival in Cuzco and the common mistake made by visiting popular tourist attractions nearby, without proper rest. Fortunately, I suffered no common symptoms of altitude sickness, which I am extremely grateful about. But, if I had, I knew where to get those coca leaves and that I would need to stay in bed to fully recover, a hot cup of coca tea by my side. I was prepared for the worst.
[Thank goodness I didn't need any coca tea, but you can't go wrong with a swig of Mate de Inka. One serving contains 5 different herbs. Delish!]
Our second week in Peru, my new friend and roommate, Nancy* suggested that we check out the city of Arequipa. Apparently, there was a canyon there in the city of volcanoes, that was popular with European tourists. Arequipa is a beautiful city that locals and tourists visit, and comes in a close second in terms of the popularity scale right after Cuzco. We booked the trip last minute, the night before we were able to go, but the tour agency I spoke with, EcoManu, was extremely accommodating (and gave us a good deal!) It also helped that I spoke Spanish with them.
Insider tip: Never hesitate to bargain with travel agencies, even if you don't speak the language. Cuzco has hundreds of travel agencies and you can always try your luck somewhere else.
That night we took a semi-luxury bus for 10 hours to Arequipa and waited for our tour guide to show up as it was super early in the morning. We boarded the ironically not-so-fancy shuttle bus, that proudly boasted the Mercedes logo, as the tour guide explained our schedule for the next two days. The first few hours of the tour were spent stopping to see different animals (yes, llamas are everywhere) and beautiful viewpoints. We wouldn't make it to the actual "Cañon del Colca" until the second day.
Our first stop was to see the majestic vicuña. I had never heard about these animals before my trip to the canyon, but I learned that they are protected by the Peruvian government because people used to hunt them for their extremely soft and beautiful (not to mention expensive!) fur. They look like skinny, graceful llamas and didn't shy away from us when we tried to come closer to take pictures.
Another stop was at a volcano viewpoint. From here, you could see at least five different volcanoes; and a couple of them were still active, steadily releasing gray smoke as we ooh-ed and aaah-ed at the landscape. The volcanoes Chachani and Hualca were over 6000 meters high and are a defining factor of Arequipa and other surrounding areas.
The tour guide and the driver took us to the small town of Chivay (and by small town I mean it was like a village). The hostel was run-down but had a bed and a hot shower, which are my only minimal requirements when I travel. We were given one hour to rest and freshen up and then there was an optional trip to the Thermal Baths nearby. How could I deny such an offer?
[Oh, that wonders of thermal baths.]
Although my eyes were heavy with sleep, I had never been to thermal baths before and I took advantage of the opportunity at hand. The thermal baths (there were four of them) were nestled in between the mountains and there was nothing better than relaxing in warm waters heated up by the earth's surface, under the clear skies and surrounded by the Andean landscape. The waters were therapeutic and I never wanted to leave!
For dinner, we had traditional Peruvian food accompanied by a traditional folk dance show. The dancers invited us tourists to the floor for engaging dances and to try on colorful traditional outfits that only added to the glamor of the evening festivities.
But that's not all! There are more Peruvian adventures to share where these came from, so watch this space for more!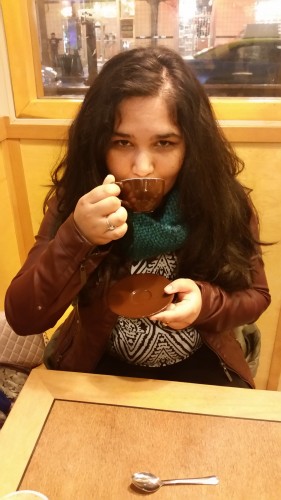 Anuja Shashipadme is a recent graduate of the University of Virginia with a double major in Cognitive Science and Spanish literature. When she's not drinking coffee, you can find her traveling to different places, writing poetry, or getting lost in a good book.