This post was originally published on our partner website India.com:
For three long hours in 19-degree weather on Wed., Feb. 3, Columbia University's #emBODYSouthAsia campaign took place at the center of campus, attracting students, faculty, and passersby. The group of students stood with signs that read gender equality messages to show solidarity with the transnational feminism movement.
Harvard University's Disha Verma, Upasna Sharma, Zeenia Framroze, and photographer Tiana Abdulmassih started the #emBODYIndia campaign in 2014 as part of the Harvard U.S. India Initiative. The campaign has since gained international and national media attention with several #emBODYIndia campaigns held on college campuses in the U.S. and abroad. The basis of the project seeks to speak against the unwanted sexualization of women living in South Asian countries.
The spark that set off this movement was the Times of India Tweet that included pictures of Bollywood actress Deepika Padukone with the caption: "OMG: Deepika Padukone's cleavage show?"
Supposedly India's 'LEADING' newspaper and this is 'NEWS'!!?? pic.twitter.com/D3wiVVXuyM

— Deepika Padukone (@deepikapadukone) September 14, 2014
Padukone's powerful response was met with international support through the hashtag #IStandWithDeepika as well as push-back from the Indian media outlet, upholding their actions in a widely circulated op-ed.
The #emBODYSouthAsia event, hosted by various on-campus organizations, including Columbia University SEWA, Organization of Pakistani Students, Indian Student Association and the Columbia Muslim Student Association, sought to build upon the existing #emBODYindia campaign and bring attention to the contradictions present in the way feminism is represented within South Asia and the South Asian Diaspora.
According to Kaavya Mahajan, co-president of SEWA, the photo campaign at CU and worldwide [have] allowed participants to "exercise autonomy of expression and speak out against sexist entitlement that is present all over the world." Furthermore, she said, "[we are capitalizing] the idea that a woman's body is not public space and should not be minimized to objectification."
As a product of the South Asian Diaspora, Mahajan and other student leaders involved in this growing and important initiative wanted to provide a platform for students to voice what they believed was important to feminism in the South Asian context.
[From left to right: CU student Kaavya Mahajan and Krishana Raghubeer, India.com reporter Vaidehi Mujumdar hold signs at the #emBodySouthAsia event.| Photo Credit: Hebah Khan]
The event also enticed international students on campus, such as Sarthak Kalani, who wanted to connect to Indian society, its problems, and become a part of the solution.
As President of the Indian Students Association at Columbia University and a second year Ph.D. student, Kalani said, "The concept of feminism is greatly misunderstood in today's context, especially in South Asia."
"I was one of the [people] who wanted to stay away from feminism before I got a chance to discuss [it more] in detail with my friends. But now I think the concept of feminism needs to be brought out in open discussion."
Signs were written in English, Hindi and Punjabi, with phrases that read: "Same Symptoms, Global Disease," "The 19th Century Called…They Want Their Attitudes Back," "Feminism is the Radical Notion that Women Are Human Beings," and "Long Live the Revolution."
Several participants chose to write their slogans on whiteboards to highlight unique and/or more personal experiences and thoughts.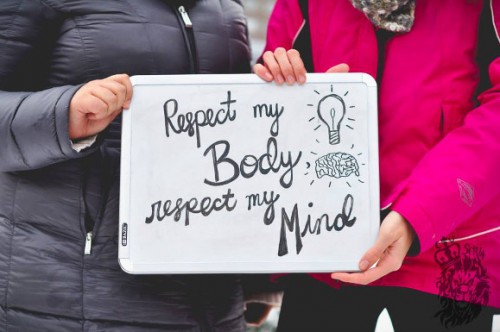 [From left to right: CU students Kaavya Mahajan and Christina LaGamma hold signs at the #emBodySouthAsia event.| Photo Credit: Hebah Khan]
On college campuses, especially Columbia's, photo campaigns, social justice events, and protests are often commonplace. However, what struck me most was the dialogue and meaningful exchange of experiences between participants – both South Asian and not.
The overall message one could take away from the event was: Women's bodies are their own and the idea that a woman's body can be owned by another entity is a large barrier to how we view women's rights both in South Asian and as products of that South Asian Diaspora.
The South Asian Concern, a multi-racial platform that has a particular concern for South Asians living in the Diaspora, approximates there are about 1.6 billion South Asian people worldwide. About 20 million of those people are members of the South Asian Diaspora, scattered worldwide in North America, Europe, the Caribbean, Australia and Africa. With that being said, how can we possibly have a "one-size-fit-all" feminist engagement theory in the South Asian context with so many experiences to understand and dissect? What can we do to provide a platform for people to engage and discuss their own experiences as a community and as individuals?
That sense of solidarity and cooperation we mention above was present throughout #emBODYSouthAsia's photo campaign. More so, Hebah Khan, Barnard College student and event photographer, captured individual stories and their essence beautifully in her photographs, allowing students of all kind to portray their voices.
But it's certain, even with Padukone's recent social media encounter with TOI, the youngest Nobel Peace Prize recipient Malala Yousafza receiving such an honor after almost being killed by the Taliban, and Nirbhaya's fight to live even after encountering a brutal gang rape on a Delhi bus, is more proof that the need for transnational feminism is imperative.
Columbia University SEWA, a co-host of the #emBODYSouthAsia campaign, will continue their feminist initiative by co-sponsoring a panel, called "Transnational Feminism in South Asia: An embodiment of contradictions" on Feb. 12, at 7 pm in Held Auditorium, 304 Barnard Hall. Between performances by author and spoken word artist Rupi Kaur and 2014?s NYC Poet Laureate and author Ramya Ramana, and a lively panel discussion by women (and men) who have contributed significantly to the development of gender equality, this event promises to further engage in the theory and practice of South Asian feminism in the Diaspora.
Feature Image: [A group of students participates in Columbia University's #emBODYSouthAsia photo campaign.| Photo Credit: Hebah Khan]

---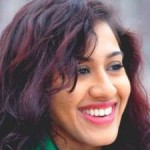 Vaidehi Mujumdar is an aspiring physician, writer, and researcher based in Washington DC. She's a contributing writer for India.com's US Edition. Her work has been published in The Guardian, The Feminist Wire, Media Diversified, and others. See more of Vaidehi's work on her website.