We are Shama and Tiffany, the ladies behind the new podcast series, Chai Tea Party. We are a show dedicated to celebrating the underdogs, the brave, the creative, and the "slightly off" in the Desi community.
We began this podcast because both of us noticed the disconnect between the paths of life we were "supposed" to take versus the ones we have chosen. There were moments of wondering whether or not it was weird to feel the way we felt or if there were others who understood us.
When we had our first meeting, we immediately noticed a familiarity and discussed our stories with raw and unapologetic honesty. It is painfully common for us all to maintain a facade as to who society wants us to be.  We want this show to be different. We want to be able to talk about our imperfections in an open and accepting way in hopes of normalizing the topics and lifestyles our community has deemed "taboo." The only way to understand each other is to open the door to these conversations and to help each other grow.
Some of the things we have covered include online dating, homosexuality, being a minority in "White America," atypical career choices, sexual life choices, mental, verbal and physical abuse and a peek into working of South Asians in the entertainment industry.
It is so important to have these discussions openly to create a positive change in our community. We are typically too quick to judge each other when in reality, there are not enough of us to be so divided.  We want to reach people and let them know that we see you, we hear you, we are you.
We hope you join us on this journey to gain some understanding of the realities of our community and ourselves.
Cheers!
Shama & Tiffany
---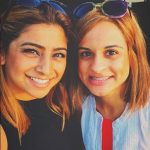 Visit the Chai Tea Party website www.ChaiTeaPartyShow.com. To email them ChaiTeaPartyShow@gmail.com or connect with them on Facebook, Instagram, Twitter, and Snapchat @ChaiTeaParty. Listen to the podcast on iTunes or Soundcloud.