by Sundeep Hans –  Follow @sundeephans
Farhan Akhtar turns 43 years old today. I wanted to celebrate all of the ways in which he spreads his awesomeness around, but that list got way too long. So instead, here is are just some of the reasons why I love him, and why everyone else at Brown Girl does, too!
1. He's a Quadruple Threat!
Farhan Akhtar is as accomplished and well-respected as they come. He is a National Award-winning (!) actor and filmmaker, and he's a singer (not the greatest, but with charm in spades, he makes it work) and a lyricist.
He has been a part of such huge hits like "Don" and "Don 2," instant classics like "Dil Chahta Hai" and "Rock On!" (both of which won the National Award for Best Feature Film!), and my two personal favorites, "Zindagi Na Milegi Dobara" (my own trip to Spain should have had an 'Imran' in it!) and "Bhaag Milkha Bhaag" (watched this one twice, on the big screen, and not just for the story ahem ahem).
2. He's Real.
He's a huge star, but he doesn't sit on his laurels (there are a lot of laurels!) he continues to take action and use the power of his public status to make a difference that matters. He supports and initiates causes that resonate with the good in people.
While nepotism is strong in Bollywood — and his lineage is a prestigious one — his work, his accomplishments, who he is, all of this is grounded in hard work that is his own. And he does it with an authenticity that is refreshing. The movies he makes reflect this authenticity too. He makes movies that matter, that get us thinking, but they tell stories that he is familiar with. Basically, he is who he is, and he is pretty awesome.
3. He's a MARD That Fights for Gender Equality and Women's Empowerment.
Akhtar launched the social awareness campaign MARD (Men Against Rape and Discrimination) in 2013 to create awareness about the issues of rape and discrimination faced by women and engage men directly to galvanize support. The initiative was born out of his desire for concrete action after one of his employees was assaulted and murdered.
The campaign received tremendous support via social media, including many of the Bollywood elite. He then took his campaign to schools and colleges to directly engage the youth in order to, as he said:
"To drive home the message that women need to be respected…I want to see an end to crimes against women. And this can only happen if we reform the young and impressionable minds."
4. He was the First Man Chosen as a Goodwill Ambassador for the UN Women Campaign HeForShe.
The organization, which is dedicated to gender equality and women's empowerment, chose Farhan Akhtar as their first male Goodwill Ambassador. Of his appointment, Akhtar said he hopes "to call on all men and boys to be a catalyst for change and, through our actions, create a value system to end gender disparity."
He was chosen as the South Asian Goodwill Ambassador for his work through MARD to get men and boys involved in the women's empowerment efforts in the region and he shines as a sincere advocate for women's rights
5. Um… Hello, Have You Looked at Him?
No. Seriously. Just look at him.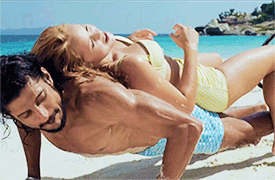 Happy Birthday Farhan Akhtar! There just aren't enough bullet points in the world to tell you how awesome we think you are.
[Photos Source: Giphy]
---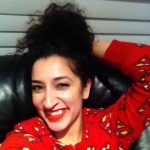 Sundeep Hans was born in Toronto, raised in Brampton, with a slight detour via Punjab. She has a great job, where her work involves collaborating with clinical and community leaders on initiatives around diversity, equity and inclusion in the region to reduce barriers for health care access in vulnerable populations. She has a Master's degree in Global Diplomacy from the School of Oriental and African Studies, University of London, a Bachelor's degree in History from the University of Southern California, and is almost finished with her post-graduated certificate in Ethics. She loves to read, travel and talk to anyone every chance she gets. You can follow her on her blog and on LinkedIn.