C/O Kancharapalem is a film "born from the people," as director G.R. Venkatesh Maha, describes his debut film. It holds the prestige of being the first Telugu language film to be selected at the New York Indian Film Festival.
https://www.facebook.com/venkatsiddareddy/videos/vb.680642663/10156488492452664/?type=2&theater
The plot revolves around eight very different individuals living very ordinary lives and yet, after 144 minutes, there is not a single boring moment. The film portrays a balanced inclusion of emotion-inducing scenes for the audience such as moments of laughter, tears, and suspense. Although a love story at its core, the director's choice to cast the residents of Kancharapalem, a small village near Vishakapatnam, offered a refreshing perspective and personality to the film. 
While a script with a large main cast has the scope to lose focus, Maha succinctly provides just enough information about each character's backstory to help the audience form a relationship with the individual. The story follows the philosophy that we are all one, but many. The choice to showcase love and religion, the central themes of the film, through different stages in life, leaves the audience with a sense of nostalgia and hope. 
This film is produced by NYC-based Cardiologist, Vijaya Praveena Paruchuri and is presented by Rana Dagguabati, of Baahubali fame, in association with Suresh Productions. It features Subba Rao, Radha Bessey, Kesava K, Nithya Sree, Praneetha Patnaik, Karthik Rathnam, Mohan Bhagath, Vijaya Praveena Paruchuri and Kishore Kumar Polimera.
If you're looking for an organic and content-centric movie to watch this summer, look out for C/O Kancharapalem — scheduled to release at the end of June 2018. Additionally, you can follow the film's Facebook page for more information.

---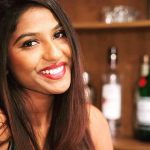 Mohitha Sripathi works in pharmaceutical consulting and is an independent filmmaker. Her dream projects include those which blend social awareness with creativity. Follow her pursuit of plot twists via Instagram @momosree.