Actress and model Sana Serrai plays the role of Samantha in the new Netflix series "Brown Nation." The comedy series that plays on the quirks of everyday Indian-American life was filmed a couple of years ago, but was only recently released globally on Netflix last month.
I had the pleasure to chat with Serrai to learn more about her background, her role, and what she's planning on tackling in the near future. But first, a bit on her background.
Sana Serrai unexpectedly paved her way into the entertainment industry by participating in beauty pageants as a teenager. Those pageants led her into a modeling career and that's how she realized how much she loved being on camera and set.
At first acting wasn't the biggest priority. Not too long ago Serrai was juggling school, a full-time job, and acting all at once. She actually wanted to be a psychologist before she decided to work in the entertainment industry.
She says, "acting was something I was doing on the side, and you know how Indian families are, you need more of a serious career. I didn't have that much support from friends and family at first."
But what about now? Do you have support from friends and family?
"I think once they saw that I could actually act, and saw me on camera, they thought, 'I think I'll start taking her more seriously now.'"
The upcoming star also touched on the buzz around "Brown Nation."
The actress "was quite the newbie" compared to the rest of the cast (which featured actor Omi Vaidya of "3 Idiots" fame) of "Brown Nation." She explains that the series was one of her biggest breaks in the industry and it was what led her to focus on acting full-time.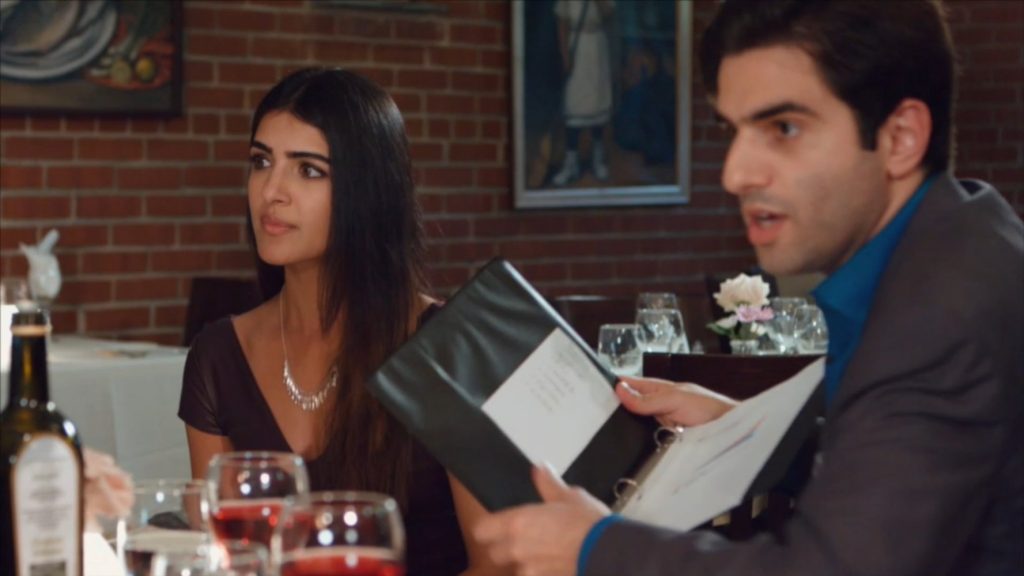 [Serrai plays the role of Samantha in the Netflix series, "Brown Nation." Photo via: Screenshot/Netflix.]
When we discuss her role in the show, the actress admits that the character of Samantha was perfect for her:
"[Samantha] is so bubbly and she has so many different quirks that I love and I felt like I could put so much of myself into her. She's very aggressive but not in a way that's intimidating—almost in a light way. She's confident, she knows who she is, and what she wants."
Did you think "Brown Nation" would be this big?
"I thought it would end up on some Indian channel. I thought my aunties in India would be saying 'oh Sana, we see you on Zee TV.' I had no idea it would reach such a wide audience."
Serrai's candor is comforting, as I can tell she didn't come with a prepared script. Further down our conversation she even mentions that one of her biggest pet peeves in the industry is when people tell her "she's pretty for an Indian girl. I mean what does that mean?" I totally get where she's coming from!
But aside from that, what's next for you in your career?
"I'm getting my modelling reel together and will blast it out to a bunch of agencies. Hopefully I'll move to LA and get some work started there. That's my goal for the next 3-4 months."
My final question is one for us all:
Do you have any advice for BG readers on how to pursue their passions?
"You have to support yourself, love yourself, and believe in yourself because you can't rely on other people to help you follow your dreams. If I had relied on others to help me achieve my dreams I would have never been where I am today."

---
Akansha Agrawal is a writer, pilates instructor, and an Insights Analyst who lives in San Francisco, CA. She is also the creator of Citrus & Gold— a blog that focuses on wellness for the mind and body. Akansha loves to connect to like-minded individuals so feel free to say hi on Instagram or Twitter!