Oh, ya'll wanted to be holly jolly and spread some cheer, eh? Come on December Brown List, let's get sickening! For this exclusive edition of our monthly staff picks, we offer a better than ever Brown List. With treats that'll pamper your friends (and yourself), you'll be dashing through the snow with carefree bliss and a checked off holiday gift list.
1. Nail Color of the Month: Darjeeling Darling by Smith & Cult
[Darjeerling Darling by Smith & Cult/Photo Source: Saks Fifth Avenue]
Make sure your nails are just as jolly as you this season! BG Marina loves the dark green color of this Smith & Cult nail polish. "The color is in style for Christmas time and can even make a great stocking stuffer. Also, the nail polish formulas from Smith & Cult are super luxurious and dry fast." You can get a bottle of Darjeerling Darling from Saks Fifth Avenue by clicking here.
2. The Entire HEATTECH Collection by Uniqlo
[Women HEATTECH EXTRA WARM TURTLENECK T-SHIRT/Photo Source: Uniqlo]
BG Sonali beats the winter cold with Uniqlo's HEATTECH Collection. "The HEATTECH clothes have this special fabric that are better at holding in your body heat than regular fabrics. Uniqlo is also very affordable and this entire collection is a must have if you live in a cold region of the world!" The HEATTECH collection features leggings, shirts, and sweaters. Uniqlo also has a $5 flat shipping rate for any order and you can even get free shipping if your order is over $99! Currently, there are huge sales online, with some HEATTECH clothes going for as little as $1.90. Click here to check out the entire collection and maybe grab a shirt for a friend who's always shivering.
3. Melted Matte Liquified Lipstick by Too Faced Cosmetics in Cool Girl.
[Melted Matte Liquified Lipstick in Cool Girl/Photo Source: Too Faced Cosmetics]
Treat yourself or someone in your life in desperate need of a good nude liquid lipstick. BG Sandeep says "they're amazing for everyday wear. If you're looking for the perfect nude shade in matte lipsticks, Cool Girl is my go-to!" If the nude-brown color is not what you're going for, then try the extensive shade range from Too Faced. This lipstick comes in pinks, reds, and even a dark green, so you're bound to find a color that's just right for you! Click here to get your own.
4. Tasty Food App
[Tasty App by Buzzfeed/Photo Source: iTunes]
Holiday parties and potlucks got you frustrated? BG Priya has the best solution for you! Check out the Tasty food app. It's filled with informative and easy recipes, along with how-to videos. You'll be cheffin' in no time. Tasty also has a popular YouTube channel and Instagram. All of their recipes, videos, and the app itself are completely free. Don't spend another minute overpaying for take out. Download the Tasty app today!
5. "Daring to Drive: A Saudi Woman's Awakening" by Manal al-Sharif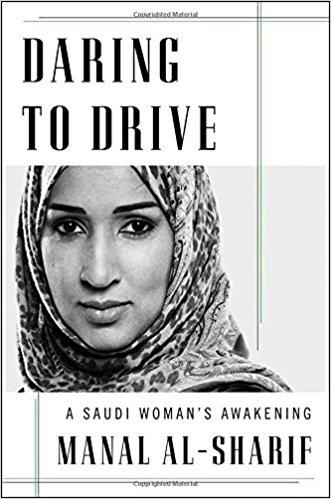 ["Daring to Drive: A Saudi Woman's Awakening"/Photo Source: Amazon]
Our COO Atiya enjoys a good book to curl up with in sunny Texas. "'Daring to Drive' is the book you should be reading right now. Saudi Arabia recently gave it's female citizens the right to drive starting from June 2018, not to mention a whole lot of the other political stuff going on there right now. This book gives a glimpse of what life is like in the country from the point of view of women's rights activist." You can find a copy of Manal al-Sharif's compelling book on Amazon or Barnes & Noble.
6. Obsessions Eyeshadow Palettes by Huda Beauty
[Obsessions Eyeshadow Palettes by Huda Beauty/Photo Source: eBay]
BG Hina loves to have options available when she's picking her signature eye look for the day. She's collected all four of the Huda Beauty Obsessions Eyeshadow Palettes and can't imagine a better eyeshadow set. "The shadows are very buttery and pigmented with little to no fallout! With the holidays coming it's the perfect all in one palette. My favorite of the four palettes is Smokey. And it's only $27!" You can find all of them on Sephora or Huda Beauty's official website.