by Manisha Nair
What do you imagine when you hear "hourglass" body shape? Bombshells like Kim Kardashian or Marilyn Monroe? Sure, but a body can have the same proportions of an hourglass, but be less accentuated, though no less stunning.
The basic definition of an hourglass shape is when your hips and shoulders are similar widths but your waist is smaller. Some research suggests that hourglass waists are around 9" smaller than the bust, but I think that's debatable. The most important characteristic of an hourglass waist is simply that it's narrow and defined.
Women with this body shape have amazing curves that are fun to accentuate when you dress them appropriately. Women with this body shape have amazing curves that are fun to accentuate. The key is to look for styles that prevent boxiness and bulk, and that highlight that narrow waist. Below are a few suggestions on pieces that can truly flatter an hourglass body shape.
Tops
Tops for an hourglass figure must accentuate the waist while doing away with any bulkiness.  This includes avoiding tops with ruffles or heavy/additional fabric around the bust unless you're looking to accentuate that area. Options include:
Wrap tops or anything with a tie/belt: These tops can be fitted or slightly lose as long as it's light fabric.
Scooped or v-neck tops: These tops should be more fitted than loose otherwise it will add bulk and not accentuate the waist.
Yes, to crop tops: Yes, you can wear crop tops too! The idea here is that they should hit right at your true waist.
Bottoms
Just like the tops, bottoms for an hourglass figure should also highlight the waist, and if possible show off shapely legs. Options include:
High-waisted skinnies: These must be paired with an appropriate top when wearing. Also, avoid low-waisted skinnies as they can shorten your body.
Pencil and a-line skirts: Both will accentuate your waist and streamline your overall figure.
Mid or high-waisted pants: This includes wide-leg, boot-cut, and straight leg pants.
Dresses
Similar to both the tops and bottoms for an hourglass figure, dresses should also highlight the waist and help display those shapely legs. Options include:
Wrap dresses or anything with a true or faux belt/tie.
For both dress options, the length and shape of the bottom half of the dress can vary as long as the bodice is properly fitted.
Play around with different cuts and shapes to see what works best for you. There's never any reason to squeeze yourself into any one category.
---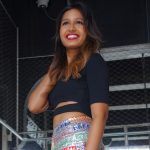 Manisha Nair is an NYC-based, globe-trotting founder of fashion blog, @ifstyledanced. A multi-disciplinary artist, Manisha was once told her fashion reflected her dance style— classic, but experimental. Manisha specializes in weaving statement pieces into your wardrobe creating versatile, elevated and unique combinations.