"Brown Girl News" is a panel discussion where we discuss issues of significance to the South Asian community. In this particular video, we discuss recent events in the South Asian-American community and current issues.
First, we discuss Jairam Hathwar and Nihar Janga's co-victories in the Scripps National Spelling Bee, as well as Rishi Nair's recent geography bee championship. The fact that all of these victories come as part of a streak of Indian-American national champions is often mentioned as a great achievement for the South Asian community.
In the second segment, we discuss TruTV's plans to launch Indian-American comedian Hari Kondabolu's new feature-length documentary about the controversially stereotypical "Simpsons" character Apu.  Kondabolu's comedic work has typically been politically and socially charged, and he is famous for his initiation of the twitter hashtag #BobbyJindalIsSoWhite.
Finally, we discuss California's decision to make certain changes to social studies textbooks that some Hindu groups have found controversial. Both sides of this issue are discussed, including the Hindu American Foundation's advocacy to change the current narrative and the advocacy of Dalit groups and other scholars, who believe that the HAF is trying to whitewash the curriculum. The proposed changes include renaming the Pakistan/India/Nepal/Bangladesh area currently known in textbooks as "India" with the more geopolitically correct term "South Asia" and reducing a current emphasis on the caste system often presented in school.
The video ends with a panel discussion with Zeeya Aspandiar and Suvedha Ruppa regarding the issue of textbooks and religion on a broader level. Other issues covered during the discussion include whether the geopolitical region in question should be called "South Asia" or "India" in textbooks and whether the caste system has too heavy a focus throughout the curriculum. We also discuss our own experiences in social studies education in school  and "who is to blame" regarding the biases presented in religion education.
---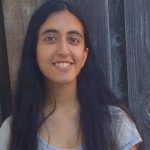 Sravya Tadepalli is a student at the University of Oregon studying political science and journalism. She is a proud Indian-American-Oregonian and grew up in a small town in the southern Willamette Valley. Sravya is passionate about theater, racial issues, and politics. She is also particularly interested in figuring out policy solutions to problems of social justice and political partisanship.