by Ruchi Shah
Meet our Brown Girl of the Month for February, 2014! 
Ruchi Shah is a sophomore at Stony Brook University in the Scholars for Medicine (B.S./M.D.) and Women in Science and Engineering (WISE) program. Her major is biology with a minor in journalism. Ruchi's work, ranging from creating an all-natural mosquito repellent to improving cervical cancer diagnosis, was recognized by the National Young Inventor's Hall of Fame, the AXA Achievement Scholarship, the Simons Fellowship, and Intel International Science and Engineering Fair. She was featured in Forbes and USA Today, as well as invited as a spotlight speaker and the youngest participant at the inaugural Forbes Women's Summit in May 2013.
In her TEDx talk, Ruchi passionately shares her story, including the challenges of being a young scientist and the triumphs she experienced through the power of mentorship. Elaborating on the perception of science by the public, Ruchi proposes solutions to break the stereotypes of scientists.
How do plants grow? What is the moon made of? Why do I get sick?
"These questions and many others were what I badgered my parents with from a very young age. These questions were a product of my desire to understand the world so that I could make positive change in it.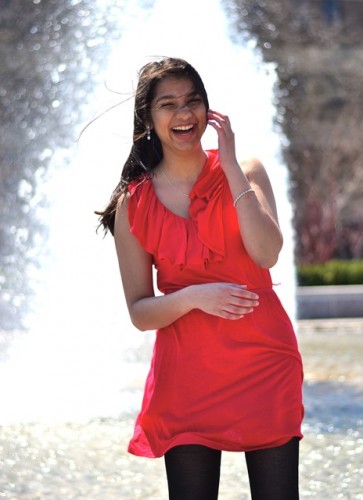 Fast-forwarding from elementary school science fairs and after-school projects, I found myself on a trip to India with my family. At the time, I was 15 years old and still remember the unbearably hot sun, the beeping rickshaws and the sticky clothes on my back. More than that, however, I remember seeing a long line of people outside of a clinic, waiting to get treatment for mosquito-transmitted diseases. This image remained ingrained in my mind and as I returned home, I knew I had to do something to help those I saw.
As I began researching statistics, I was surprised to find that over 250 million people worldwide are affected by Malaria alone, and millions of other people suffer from other mosquito-transmitted diseases. While continuing my reading, a question struck me. Why is there such a high prevalence of mosquito-transmitted diseases in developing countries? The answer, often times, is that people there cannot afford mosquito repellents. My solution was to create an all-natural and inexpensive mosquito repellent that would be accessible to a global population.
As a high school sophomore, however, I had passion and this big idea, but very limited resources. Most people I told my idea to thought I was crazy or too ambitious. Thankfully, however, my science research teacher and my parents believed in my lofty goals. That's when the fun and hard work began. Looking back, on many levels I was a "start-up," working in my garage and a classroom. I started out with trips to hardware stores to build the mosquito test chamber and housing tanks.
The first question I wanted to answer was, why certain people are more attractive to mosquitoes than others? What I found was that some people, like myself, who are more attractive to mosquitoes have a higher level of certain compounds in their perspiration than those who don't attract as many mosquitoes. These results led me to my next theory. If I could neutralize those attractive components, then they would no longer be present and the mosquitoes would not be attracted to humans.
I started experimenting with fruit juices, oils and plant extracts. After a notebook full of failed recipes, I finally landed upon a recipe that is not only effective, but also all-natural so it will not lead to environmental or bodily harm. It is also inexpensive, rendering it accessible to a global population.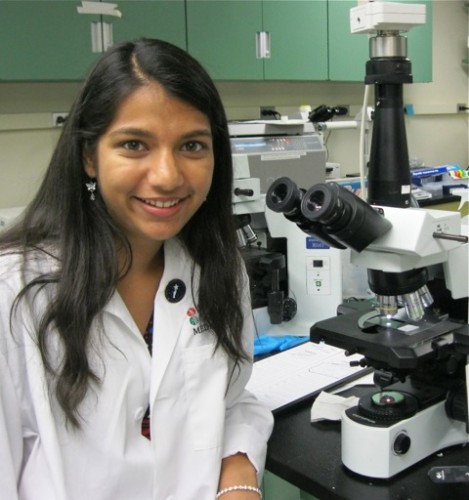 It has been a true honor and humbling experience for my repellent to be recognized at the national and international level. Currently, I am looking for investors to globally market the repellent and use a portion of profits to donate more repellents to developing countries.
Besides allowing me a medium through which I can positively impact our community and world, my experience in creating this repellent has also taught me the importance of failure in progress. I spent hours, days, weeks and months trying recipe after recipe in my test chamber. I would be lying if I said that there was not a time when I considered taking a break from my project. It was through learning to use my failures as motivators that allowed me to continue. Looking back, I realize now that my failures were the reasons behind my success.
This valuable lesson has allowed me to continue my dedication to science research. For the past three years, I have investigated ways to improve cervical cancer diagnosis. Furthermore, I recently completed a 9-week fellowship with the Jackson Laboratory, in which I investigated the role of an immune pathway in cancer. Traveling and speaking at national and international conferences sparked a love for communicating science. It surprises me that most people, when asked to picture a scientist, picture a male in a white lab coat. My goal is to change this perception of science by making science more accessible to the public, whether through a science column in the local paper or talks in high school classrooms. My career goal is to be a medical correspondent and make scientific advances understandable to all. Through understanding science, we can begin to appreciate it and support it, making our world a better place."
                                                   – Ruchi Shah 
---
 Do you know a Brown Girl who is awesome at what she does? Send an email telling us why at atiya.hasan@0mq.349.myftpupload.com.