Meet our Brown Girl of the Month for December 2015!
Reema Rasool hails from a family of doctors but always knew that she wanted to do something different. After years of editing at an independent publishing house, she launched her first company, Reemarani, a collection of luxury scarves and shawls for women made in the finest silks and pashminas, was inspired by her Kashmiri heritage.
She later went on to co-found We Are PR Consulting, a boutique PR firm based in NYC.
With lots of entrepreneurial experience under her belt, it only made sense to start an organization that gives advice to others seeking business tips. So, that's when she founded South Asian Young Women Entrepreneurs (SAYWE)—a positive and collegial forum in which South Asian women can network, support each other, and applaud one another's major accomplishments. SAYWE aspires to raise awareness and funds for causes and organizations that work toward the advancement of women in South Asia as well as South Asian women here in the in the United States.
She is also the principal and founder of LUXE Consulting Groupe, CMO of Green Card Capital and CMO of StyLead.
A luxury branding and marketing expert for years, Rasool has experience in content strategy, content packaging, social media strategy and optimization, image building, brand management, media relations and international market launch.
Reema graduated with an MFA from NYU Tisch School and is a proud mom of two beautiful boys.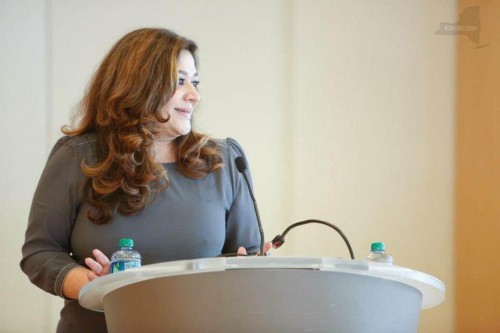 "Growing up as a brown girl in New York, I never felt that I had anyone to identify with. I didn't see the strength that my culture brought to me. Being first generation American was very different then, as compared to now. Being Indian- American was so different.
I mean, when people used to ask me where I was from, and I would say "India," and then they would ask—"are you dot head Indian or feathers Indian." This actually happened often. I was just used to it, but I know it was so wrong on so many levels! But look at us now, even though we are in many ways underrepresented in media, government, and entertainment, we are becoming more mainstream now than ever before. It's huge and it's only the beginning!
As a child, I never really knew what I wanted to do with my life. But I did now what I didn't want to do. I certainly did not want to go into medicine, or as I like to call it, the family business, my parents are both doctors, as is my brother. I knew what I thought I was good at, but I had absolutely no idea how to translate that into a career. Not saying that I do now, but I'm much closer.
My biggest inspiration growing up and even now is my mother. I think a lot of us have these stories, but just to imagine a 22-year-old coming to a new world, and making it work. Figuring things out, raising children, doing her medical training, starting her own practice—all in a new country, so different from home. I think a lot of us take for granted what our parents sacrificed for us to have a better life, the struggles they trenched through, so we would not have to. When I think about how hard she worked for me, I know that I can't strive to be anything else but extraordinary.
I started my career in publishing. I thought I was going to be an editor forever, but life has a funny way leading you where you're supposed to go. I met a lot of amazing women throughout my career that inspired me and mentored me. Later I found myself in the world of public relations and marketing, and that is where I found my niche.
I had a whim, somewhere in between to start a scarf and shawl collection, and from that was born SAYWE—South Asian Young Women Entrepreneurs. Five years later and SAYWE is still going strong, now a national presence. We are currently planning our programming for 2016. We have been extremely lucky over the past four years to be working with and sponsored by Wells Fargo. The women that I have met these past years, the relationships that have developed, the networks that we have built, I can't find words to describe the feeling it gives me.
I love Brown Girl Magazine, I love what it stands for, I especially love being a Brown Girl of the Month, but in all honesty, I am nowhere near the pinnacle of where I see myself in the future. I'm still grinding and hustling. I just want to tell every girl like me out there not to give up. It's so hard not to, but belief in yourself, in your vision is so important. Getting to know yourself is so important.
I remember a few years ago after at an SAYWE conference in New York City, a young girl, still in college, came up to me and told me how inspired she was, how hard things had been for her lately because her parents were very strict and not approving her course of study, her lifestyle. She had tears in her eyes as she told me that she felt alone in her struggle to simply be herself— who she wanted to be. She told me how much listening to other women's stories helped her, made her feel like nothing is impossible. I told her the same. We've kept in touch since and she's now learning to find a balance between respecting and loving her family, and being true to herself. She is much happier to say the least. It's moments like this, connections like this that make whatever I do worthwhile.
It's moments like this, connections like this that make whatever I do worthwhile. And as I said before, this is only the beginning."
-Reema Rasool
---
Do you know a Brown Girl who is awesome at what she does? Send an email telling us why at Trisha.Sakhuja@0mq.349.myftpupload.com.