Neetu Dhanju, a songwriter and singer from Ontario, Canada, is heating up YouTube with her growing music channel and fan base. Since launching her channel in September 2013, she has produced several covers, each with an original spin, while staying true to her vocal ability. Her cover of "Monster," by Eminem and Rihanna, was selected by Ryan Seacrest's team to participate in an online contest, "Best Eminem Cover Contest," which put Neetu in third place out of a wide roster of singers from around the world.
Her promotion campaign for the Seacrest contest made it to ET Canada's Twitter and the cover itself was featured on Boi1da's blog, a producer who has worked with Drake, Eminem, Kanye West and Nicki Minaj.
Another one of Neetu's uniquely produced cover's, "Happy" by Pharrell, was included in hip-hop artist and producer's personal initiative: the "I AM OTHER" campaign, in New York City, on March 20, 2014. Neetu has hit quite a few milestones since starting her music career, all while studying for her entrance exam to law school.
Here is what Neetu has to say about her journey with music and bubbling-career: 
"I've been singing for as long as I can remember, but it wasn't until I graduated from university this spring that I decided to focus on music exclusively.  I thought about pursuing music full-time before then, but because I come from a very academically oriented family, it was very important to my father that I have the security in knowing that I have something to fall back on.
Since graduating with a Health Sciences and Women's Studies degree from the University of Western Ontario, my parents gave me one year to pursue music full-time, but they want something in my back pocket so I am taking the LSATs and preparing for law school as well.
Singing is something that comes natural to me, so in addition to my studies, I delved into the music world. It's only when I met the lead singer of "Glass Tiger" that I was introduced to the entire music process – recording, editing, shooting, etc.
I had no idea how much work goes into every step of creating songs and videos. I probably spend half of my time on social media, promoting myself – that is a big part of getting noticed.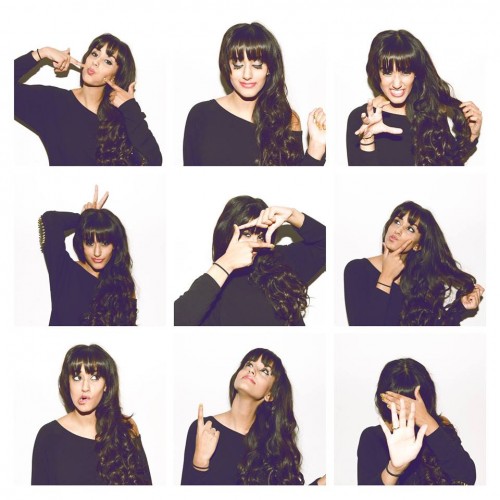 When I first entered the music industry, I felt like I was an inexperienced swimmer thrown into a pool. Having no musical network or knowledge of where to start, it was hard to stay afloat. But having a YouTube channel really helps when it comes to my music career. In a world where independent musicians are slowly replacing record companies, social media plays a vital role for anyone interested in pursuing a career in music.
I've personally found platforms such as YouTube, Facebook, Twitter and Instagram to be an excellent way to build an audience, while providing me with the opportunity to network with other artists. YouTube in particular has really revolutionized how music is shared, because it has essentially become the "new" radio, MTV and record store.
Through my YouTube channel and my social media presence, the support I've received from friends and fans is nothing short of incredible. Time is precious and we all lead busy lives, and this is why I'm always overwhelmed when I see people taking time to watch a video, listen to a song, or leave a nice comment underneath!
After slowly building a small presence online and having my work noticed and endorsed by complete strangers, as well as other notable figures, I have finally begun to scratch the surface and become comfortable in my artistic skin.
With that said, YouTube can serve as a double-edged sword, in that it can be difficult for your content to stand out from the more than six billion hours of video being watched every month.
Thus far, the biggest challenge for me as an artist is trying to establish a 'distinctive' sound. My musical inspirations are quite varied, which is why I would love to make music that reflects these influences. This can be both a daunting and exciting task because the creative avenues an artist can explore are limitless.
Songwriting is what I enjoy doing most and my goal would be to step outside of my comfort zone to create catchy but thoughtful lyrics that tell a story. I recently started writing music because I would love to be a songwriter. Writing songs people can relate to is the most rewarding part.
I'm also learning how to play the guitar and taking voice lessons. Overall, I feel empowered when writing and listening to music that plays off of vulnerabilities.
My style of music is about creating songs that face life head-on, and put feelings that one would otherwise want to keep private, out there for the world to see.  Since I was raised by a very loving family, but one that was reluctant to overtly say 'I love you' or 'I am sorry,' I think that my audience will welcome hearing someone condone the open-sharing of emotions.
While I believe that actions do speaker louder than words, words have a cathartic essence that is necessary to one's existence.  As for my singing, given the depth of the emotions that are carried in my lyrics, I find myself gravitating towards a more soulful sound.
As for being South Asian, I have balanced the ideals of being a first-generation Canadian, while trying to break out into the entertainment scene with expectations of traditional South Asian parents.
I see more and more South Asians  break out into the entertainment scene in Canada.  I have learned a lot from watching them succeed, particularly Lily Singh, aka Superwoman, who broke  so many barriers and amassed a huge following.  She's a woman, in comedy, of colour who has a level of professionalism that is inspiring.  
It's encouraging to see such good representation from the South Asian community, and I hope that I can continue to learn from them and one day be a source of inspiration to others. Since there aren't many mainstream female Indo-Canadian musicians, I would like to be the first. Right now, my goal is to create an EP. Even though the music business is tough, I never say never.
My advice to aspiring singers: If you can't go a day without doing something, that's a sign you need to pursue it. However, attaining a degree is important in today's job market, but you can still pursue music while you are in school, such as participating in open-mics."
-Neetu Dhanju
Follow our Brown Girl of the Month on Twitter, subscribe to her growing YouTube channel, 'like' her fan page on Facebook, and stay up to date with her music career through her new website!
Do you know of a brown girl that is awesome in what she does? Send an email about why she should be our next brown girl of the month to atiya.hasan@0mq.349.myftpupload.com