Meet our Brown Girl of the Month of June, 2014!
Asha Sing graduated last May from the University of Miami with a major in music business. She works in  promotions for Y100, Miami's #1 Hit Music Station, a TOP 40 Radio station in the Miami market. Since starting, she's networked with record reps and artists. A few artists she has had the pleasure of meeting include Demi Lovato and Tegan and Sara. Her role is to deal with logistics of events and contests at the radio station, which ranges from awarding listeners tickets to shows to 'Meet and Greets' with artists.
"From a very young age, I have always remembered myself to be obsessed with music and singing. I would sing everything as a child. I mean everything. 'Oops, I just dropped my pencil, and now I need to go pee pee' – picture that in my five-year-old operatic voice. Looking back now, that must have been really annoying for my parents, but instead of telling me to stop singing, they enrolled me in violin lessons at the age of three, then piano and private training for voice. The best of all was a Christmas present I received from my dad when I was ten – a journal covered in mistletoe. He told me that I could start writing my "songs" down and although I didn't know it at the time, I started to develop a fever for the music industry.
Fast forward to high school and college, finally preparation met opportunity and I was able to be a part of a lot of very cool experiences. Singing backup for Shakira was a defining moment in my career because it was when I pinned down my artistry. I knew in that moment, I wanted my culture to play a greater role in the way my music was made and projected. Being able to land a song on Daddy Yankee's last album was also incredible. I was being recognized in the music industry in a different light, one that most people had never seen me in. Being noticed as a songwriter had a different kind of depth of satisfaction for me because it was a skill that I had kept hidden most of my life, but it was finally to come to light.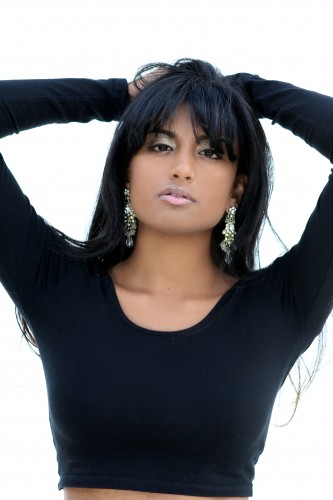 My hit single "Mercy" came flowing out of me, unfortunately, from a bad experience. Rumors ran around that this girl didn't like a lot of things about me. The odd thing was, I never met her but she, for some reason, felt very personally about me. It was just really weird. Anyways, I'm not always as tough as some may think and it got to me. Instead of crying about it, my best friend told me to write about it. The song originally had a second verse and bridge, but when we went into production, we cut it down to a hook and ran with it. If you listen closely you may even hear her name in the song ;).
"Now picture yourself six months from now and work backwards from there."
I would have never guessed the success that came with "Mercy," would have happened when I wrote it. In fact, I had just finished it a week before I met my producer for the first time. A month after its release. it charted at the no. 7 spot on Billboard's Hot Single Sales.
A few months after, Bollywood America approached me asking to collaborate to create a music video. The music video then got picked up by VEVO and was viewed more than 400k times. Now it's featured on VH1 and MTV — LIKE WHAT?! How did that even happen???
I think people have gravitated to the song because the melody is catchy and the message is relatable. Everyone has someone in their life that is always trying to bring them down. I'm glad I didn't let that happen to me.
The next project I'm working on is my single, which comes out this summer, called "Satellite." I'm really excited about this one because it is a bit of a departure from my last single "Mercy." It's about meeting that person for the first time and just falling in dizzy love! It will also be my first time taking a more director-like role in the music video, which makes me super nervous, but I really want to share some of my personality with my listeners.
My mom and dad are very closely involved in my career, everything from the outfits I wear on stage to what I'm singing. I'm very blessed to have parents who want to reach for my dreams with me. I get messages at least once every few months specifically from Indian girls who want to go into music – asking me how I do what I do and the only answer I can come up with is "support." I know, personally in my experience, it takes a team. I can't do anything that I'm doing by myself. I know that might sound discouraging to those who may not have family support, but any kind of support is what's going to help you keep going when you want to give up.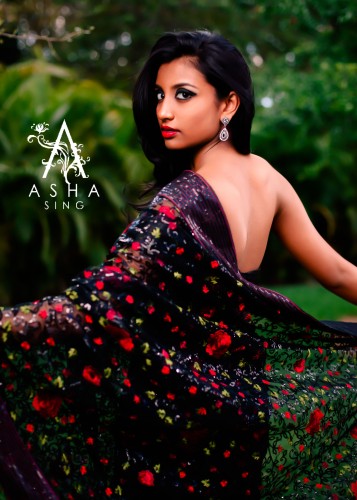 I feel super lucky that I am able to pursue a dream I have wanted for so long. Even luckier, that I have a support system to do it with. You only have so long to live, you might as well spend it doing something you absolutely love. Be passionate about living. Love what you do and if you're not doing what you love, figure out a way to make what you love a part of your life. Second, educate yourself. Always be learning and increasing your knowledge about whatever it is that you love. Both passion and knowledge have played key roles in where I am today!"
                                                            -Asha Sing
Exclusive: Listen to a snippet of "Satellite" and later this month, we will showcase the music video!
Follow BGOTM Asha Sing on Twitter.
---
Do you know a Brown Girl who is awesome at what she does? Send an email telling us why at atiya.hasan@0mq.349.myftpupload.com.