Meet our Brown Girl of the Month of October 2014: Anjali Asha 
Anjali Asha, whose name translates to "Offering Hope," is a singer/song-writer from the San Francisco Bay Area, who is fully intent on making her way to the top. She is a 15-year-old high school student of Indian and Mexican decent, who was born into a music loving family.
Her father, Rajeev Prasad, started out in the music industry as a DJ and progressed into becoming a music producer, remixer and an engineer. While not an industry person, her mother enjoyed listening to Jazz, Blues, Soul, R&B, Mexican Folk and Ranchera's around the house while Anjali was growing up. Add a touch of Bollywood, Punjabi, Techno and Reggae from her dad to the list of influences, Anjali brings quite a unique experience especially having grown up in and around the recording studio.
She began writing lyrics ever since she learned to writem and soon discovered singing to be her true passion. At 13-years-old, Anjali wrote lyrics from her perspective of the fun times hanging out with her mom in San Francisco. She sang the lyrics for her father, who was initially been against her wanting to become a singer. He told her "she was too young and didn't understand what it took to be a singer." However, upon hearing her sing the song she wrote, he agreed to record it, not only because it was a beautiful song, but also because he saw a true passion for singing come to light. 
Without ever having attended music classes or vocal lessons, Anjali was naturally able to pick up how to create melodies, hooks, change pitches, and other aspects of musicianship, as she got into the studio to become a recording artist. Her interest in listening to various music genres has helped her be creative and find a style of her own. Some of her biggest influences come from: Ke$ha Cole, Rihanna, Cierra, Alicia Keys, Etta James and Patty LaBelle.
Music industry veterans, including Danny Thomas of "Con Funk Shun," have taken Anjali under their wings after hearing and seeing her skills, talent and drive.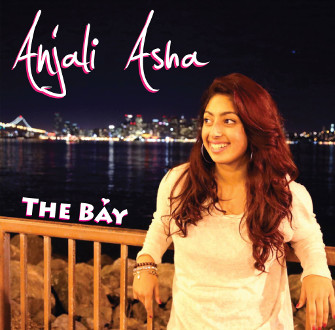 Anjali decided to give up the 'normal' high school life to give her time and full attention to the studio, where she feels most happy. In a conversation with her about her decision, she said "I'm going all out." She indicated that if she was going to sing, she was going to put her all in it. Anjali understands it's a tough industry, but her love and passion for music knows no bounds.
In April 2014, she released her first single, a soulful and jazzy song which she wrote and sang herself at the young age of fourteen titled "The Bay," which is a love song about the city of San Francisco. Her first music video was followed by many performances at different events, including the Omino Day World Music Festival and San Francisco's Carnaval.  
Anjali is set to release her next single, an R&B number, called "Hold Me Down."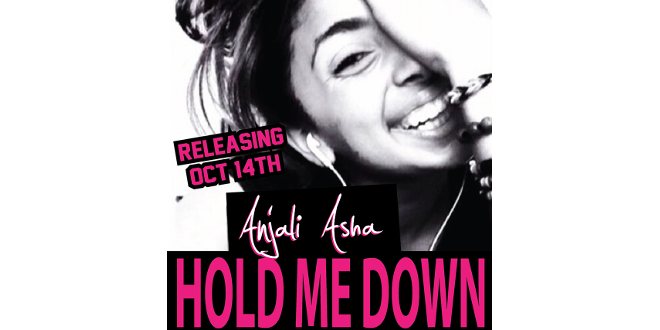 We have the exclusive song and video here,  coming soon to iTunes and Google Play:

"You could say I came into this world singing, and that's how I plan on living it. I aim to share my music with the world, to make people feel good, and evoke emotion by simply singing some notes and saying a few relatable words. I love performing. I naturally was never very good at speaking in front of anyone, I can barely tell a good joke, and mostly I'm quiet around people I don't know, but performing brings the real me front and center. Singing gives me the chance to pour my heart out no matter how deep a feeling may be, or how badly a memory might scar.I intend to share my good times as well as my mistakes with the world. I look forward to the spotlight no matter how scary it may be.
The first performance I ever did was "Starships," by Nicki Minaj, at a friend's birthday party in 7th grade. There were only about 30-40 people there, but I was ridiculously nervous and shaking when they gave me a microphone.When I was performing that night, everyone listening was happy, no drama, no arguing, nothing. You might say, "Well it was a party," but I had never felt such pure euphoria in my life. It was simply amazing.
After that experience, I decided that performing was a lot of fun and decided to try out for Canyon Middle School's Winter Talent Show. I went on to perform "Girl On Fire," by Alicia Keys. I was a nervous wreck; I went from performing in front of 30-40 people to around 1,500. I was shaking for so long afterwards that the school nurse was almost positive that I was having an anxiety attack, but the actual show? It went wonderfully! I got a standing ovation, and to this day when I visit Canyon Middle School, my performance is still well remembered around the school by the staff and students.
From then on it was all career moves. I wanted nothing more than the feeling of performing again. I love putting people in that musical trance. I love when people sing along, dance, and feel the music. It's beautiful to see people come together even if it is only for that 3-minute tune that everybody loves. I went on to record my very first single "The Bay," which is my personal love song to San Francisco and the Bay Area: This beautiful place that I'm so lucky to call my home.
Friends always ask me how much money I'm making, or what's the first thing I'm going to buy when I'm famous, but in reality for me it's never been about money. My goal is to spend my life doing something I love and am passionate about. I only want as much money as I need to live comfortably. Of course, don't get me wrong, I'd like money but it's not my main goal, and I believe that when your doing something you truly love, the money will come. However, the one thing I would want to buy is a nice home for my parents, the people who raised me with a good head on my shoulders and taught me to reach for my dreams no matter how out of reach they may seem, rather than force me into something purely to be successful for the money. More than anything they support my happiness and that has been extremely important for my self-esteem. Once I knew I had their support everything fell into place, and I couldn't be any more grateful.
I love music. Nothing could ever change that, whether everyone believes in me or not. This is all I ever see myself doing. Everyone tells me I should have a back-up plan but I refuse. I'm going to give it 100% and nothing less. I'm not giving up on anything. If anything, I am merely adding to what I plan to accomplish, which is graduating high school as well as college. I hope to win a few Grammys along the way while continuing to share my songs and music with the world."
-Anjali Asha