In the last several weeks, I have been an emotional basket case, and since I don't have a therapist, yet, you're it. So here goes.
Situation number one: An opportunity arises to meet up with someone who could help me market my books. The person graciously offers to pick me up so we can get a bite to eat and chat. I rush home to get out of the sweats and runners I wore to the park with the kids after I find a ride home for the girls so they can play a little longer. Change, freshen up, and throw on some make-up and jewelry. Voila! Instant transformation, except for one minor detail. My boots. Where are my boots? My ride will be here in less than five minutes, but my go-to confidence boots are nowhere to be seen. I turn the house upside down looking for them. Hubby sees me in my panicked state, and when he normally says, "With Rajdeep, they could be in China by now," he actually grabbed the car keys and said, "Want me to run out and buy you new boots?"
Just like that. He offered to ride over to Target on his white horse and lasso a pair of brown babies to replace my shoes that disappeared into thin air. I was sure of it. And with seconds to spare, the girls arrive home, and turns out that one of them thought it a brilliant idea to use Mommy's boots as markers for a game at the park. So a few bucks were saved, but the best part: just when I thought I had lost my mind,   I did in fact leave my boots exactly where I remembered.
And my prince takes the boots from my hands, wipes them down with a wet cloth till they look brand-spankin' new, and just as I slip my feet into them, the doorbell rings. My ride is here and I didn't scream or cry or break anything. Although I came darn close to ringing my kids' necks for taking Mommy's boots without asking. Disaster averted, I went off to dinner, and the ridiculous tale made for timely comic relief in the midst of serious conversation. And with my Cinderella track record, there are just some things you cannot make up.
Situation number two: I'm at my very first South Asian book club a couple of weeks ago, and I am thrilled. For the simple reason that my main characters in "Swimming Through Clouds" are either Indian or part Indian, so I'm excited to hear what their take is on my story. Except that as I read an excerpt from the book, I get choked up. I tear up and then full out start crying. One woman hands me some Kleenex and even offers to read for me, but I take a deep breath and manage to finish reading. Then all these lovely South Asian women proceed to stare at me, perhaps confused as I was. Because the crazy thing is, I wasn't even reading a sad part. I chose one of the happiest scenes in the entire book to read and yet I was a sniffling, blubbering mess.  Sheesh.
We went on to have an engaging discussion, and the question that I appreciated the most that afternoon came from a very honest soul who asked,
"What's the message of the book? Are you trying to tell women to stay in abusive situations since your main character struggles throughout the story to leave?"
My jaw dropped as I took in her blatant disapproval of some very specific details in "Swimming Through Clouds," but after some thought, I replied,
"Actually, if there is a take away from this book, I would say to readers to go and be a  'Lagan' to a silent hurter out there. Because we can't always explain why a person stays in an abusive situation as long as she does, but we can certainly exercise small acts of kindness when we find out that someone is hurting."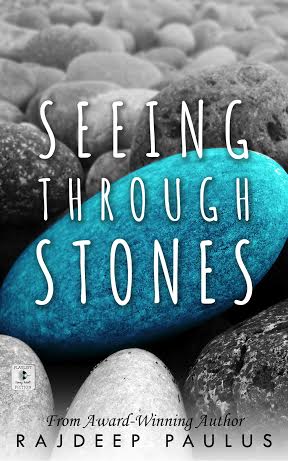 And finally, Situation number three: It's the night of my book signing for "Seeing Through Stones" at the Huntington Book Revue. All day long, friends and invitees are sending me texts, tweets, emails and Facebook messages apologizing for not being able to make it. I'm sure I received twenty plus regrets and with each incoming message, I take a deep breath and pretend not to care.
Come t-minus two hours from start time, my sister calls to wish me luck and says,  "So tonight's the big night, huh?" and I start bawling. And she immediately offers words of comfort that only a sister can say. "Look at the bright side. If no one shows up, you'll have the entire bottle of vino to drink all to yourself." Try three.
And then when I'm still freaking out that I'll be standing in front of an audience of five—made up of my family members—she offers to jump on the next plane and come over to "cut my bangs." Long story. And since I have your attention… We're talking fifteen years ago, on the night before my wedding, my sister cut my bangs. Twice. The second time was to fix the mess from the first go around. All this to say, hubby wondered if his bride had a case of the walk like an Egyptian as I made my way down the aisle.
"Because I'm there for you," my sister reminds me. "On your most important days, you can count on me." And that was the truth of it. She had me laughing through my tears so hard, my kids were whispering to themselves that mommy had truly lost it this time.
"Because wasn't she just crying? And now she's laughing. Dad better get home soon!"
And he did. And we made it, in the rain, to the Book Revue, while the girls set up the snacks, and hubs carried all the books. Everything went so smoothly, we had an hour to spare, awaiting the arrival of the first guests. Plenty of time to get nervous again. And when they started rolling in, with umbrellas in tow, I was floored. Neighbors, teachers, the principal from the girls' school, librarians, news media, hubby's coworkers, and friends both old and new.
When it was time to take the stage, I began with, "I told myself I wasn't going to cry," And of course, I proceeded to tear up. Because the crowd, although many faces were missing, was made up of individuals who had become a very special part of my journey.
"Today has been amazing!" I began, taking a deep breath. And another. "Not too different from the first spiral bound book I published in fourth grade called, 'Fortunately, Unfortunately,' where something bad happened, followed by something good. Followed by another bad moment, and so on." I pointed to my orange nails and sadly confessed, "I couldn't find my new blue nail polish I bought for Talia. But… I found a different color that shimmered up my henna designs just as well. And then, it began to rain, and I thought, no one is gonna come." I beamed my best smile as I spanned the room with my open arms. "But here you are. Despite the downpour… You. All. Came. And that means the world to me."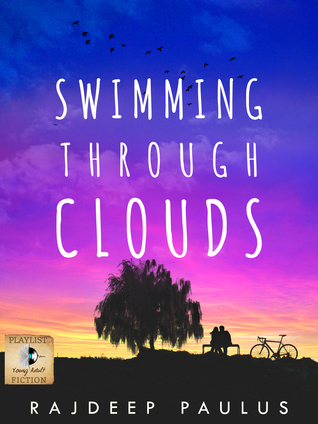 And then I proceeded to read an excerpt from both "Swimming Through Clouds" and "Seeing Through Stones," and my girls came up, one by one, to help pick questions from a basket to choose the nights' winners of some fun book swag. All and all, the evening was a grand success, and the Book Revue staff told me to let them know when my next book comes out. They wanted me back!
And that's the end of my story. For now. If I had known my writer's life would be a roller coaster ride day in and day out, I might have reconsidered.  Not really. Well, at the very least, I might have to invest in shoe-cuffs to, you know, keep my boots from disappearing at the next opportune moment. In the end, I must admit, I'm enjoying the ride, with its ups and downs, and spin my world around moments. Life's an adventure, after all, and if it weren't for the madness, there'd be no material for the next story that someone's gotta tell.
I chose the writer's hat. So, yep. That someone would be me.
All photos are provided by Rajdeep Paulus.