February's Brown Boy of the month is from Los Angeles, CA. He is a self-described poet, writer, geek and music aficionado, who is a Security Response manager by day. He's released three EPs (extended plays) and four singles. His EP "Heart of a Lion" is available on iTunes, Amazon MP3, Google Play, and Spotify. His name is Satnam Narang, and he shares with Brown Girl Magazine how his passion for music and writing began, along with his exciting creation, The Pushpa Project!
Satnam Narang began a passion for writing poetry unknowingly at the age of 13:
"When I was a kid, the first thing I did was take a language arts class in Junior high. We had a poetry writing segment in the first class, I wrote some poems. The first poem I ever wrote was about death, it just came out of me, I have a fascination with how short life is. That was the first piece I've ever written, then I wrote a piece about ice-cream and Pizza, goes to show the randomness of my writing for class."
That passion would follow Satnam outside of class, where he found his own creative stimulus through his teenage experience in courting girls, and his own life occurrences.
"Then I started writing about girls, as a teenager asking girls out, and being subjected to rejections, my poetry was written about the girls that I liked and the heartache I felt, and the challenges I felt with myself. I had many personal issues growing up, I dealt with depression, a lot of folks in our community [South Asian community] don't talk about mental health."
Satnam, using his passion and his wealth of talent, wrote about mental health via the platform of LGBT bullying and suicide crisis, which occurred in 2011.
"I wrote a song called 'Stop Crying Yo,' I was keeping up with what was happening in the country, many LGBT kids were bullied and that really disturbed me. I wrote that song and it's usually something that prompts me to write, and what was happening with the LGBT youth prompted that song."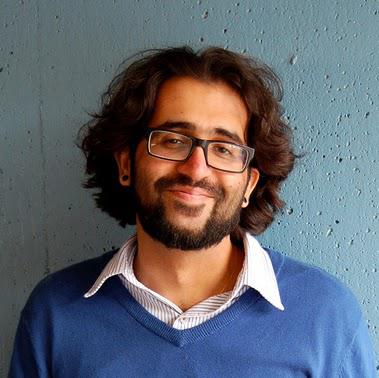 The appetite for music has been a journey for Satnam, but between 2002-2009, he took a hiatus.
"I stopped writing for a while, I would write every now and then and it wasn't that frequent, I basically, went away from the craft, I wasn't writing for almost a decade, I stopped in 2001-2002, picked it up again in 2009, wrote 'New Day's Eve', which became a song on my debut album 'Last Breath', and I got back into the craft. A friend told me, you have this talent, and you should think about sharing it more, it's going to be a good thing."
Good thing for Satnam that he took his friend's advice and he started to put himself out there. He started visiting nearby colleges  in Los Angeles, participating in contests and sharing his poetry during college lunch hours. His passion for performing would pick up during this time period and it would bring him to the Utah Hotel, where he performed his first open mic night.
"I went to San Francisco, for a work trip, and found this open mic at the hotel in Utah, where they record every performance and put it online, the audio. They draw your name out of a hat, and I was number 45, the open mic started at 8:00 p.m. and I didn't perform until 12:00 a.m. It was a humbling experience, because I thought I was going to perform for this packed crowd, and there was only a few people by the time I performed. I made it a point to perform every time at the Hotel Utah when I'm in San Francisco"
All of these experiences brought Satnam to his current project. By focusing on his passion for music, and being able to lyrically and creatively bring attention to a cause, he created The Pushpa Project.
The Pushpa Project is a four song EP, which raises awareness about female infanticide occurring in India.
The 'Pushpa Project' is a movement to raise awareness to the issue of female infanticide (deliberate killing of newborn female children or the termination of a female fetus through selective abortion) and female foeticide happening in India, phenomena also collectively known as gendercide.
The EP includes an original track by Satnam, featuring Sonia Rao, called "Sunshine," along with other gifted tracks from Sonia Rao, Saraswathi Jones and Saint Solider. When heard all together, these songs create a haunting portrayal of what new-born girls in India have to face, which makes the pain and suffering very real.

Satnam talks in-depth about his motivations for The Pushpa Project:
"I learned about the issue of female infanticide in 2009. I was really disturbed; I didn't think this could be happening. I looked into it and it bothered me, I learned later by doing more research, the 2011 [India] census made it clear to me. 2001 statistics says there's 927 girls born per every 1000 boys born, from birth to the age of six. Then in 2011, that statistic is 914 girls for every 1000 boys, and that number continues to dip down, this is a problem and it's going to get worse. The less girls you have, the more problems it will present for society. You'll have a bunch of guys that can't get married, or you're going to have situations where they will have to go to areas of India where a surplus of women, and traffic them, or kidnap them, or put them in prostitution. I thought I have to do something about this. I had just finished writing a song about the LGBT issue, so in 2012, I started writing a song for The Puspha Project, and with what was happening in New Delhi at the end of 2013, prompted me to finish the track that I had written."
Satnam named The Pusha Project after his mother's first name. She is also on the cover of the EP, which is a picture he found of her as a girl. When asked about how his mother felt about the project, Satnam said:
"She was very flattered when I told her that I was naming it after her. She was very appreciative. When it released, [the EP] she would grab her iPod when people came over, and play the video for them, she was very proud."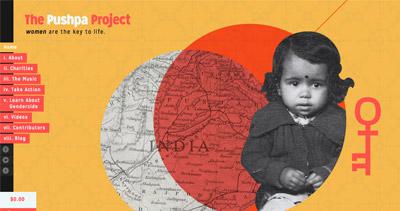 We're very proud of Satnam Narang's project! Along with following his passion, he's doing a great service to new-born girls in India by bringing attention and awareness to infanticide. The EP for The Pushpa Project is a free download and all donated proceeds support three charities that also aid in awareness of infanticide and support neglected girls. Help Satnam move his project forward & help a new-born live!
Images and Information provided by Satnam Narang