Vikram Singh Khalsa , also known as Amasingh (as in amazing) is a young magician born and raised in California. He graduated from UC Davis with a degree in Electrical Engineering. Vikram has been performing magic for audiences around the world since he was a teenager and has been posting magic videos online since before Youtube. He also enjoys playing tabla, harmonium, and singing Sikh devotional music and has won a few international competitions.  In his free time, Vikram likes to create, invent, build, and design everything from graphic T-shirts to mobile apps. He also loves making terrible puns. You can see some of his creations here. 
"We were standing at one of those little shops at the mall – the ones which are right in the middle of the walkway. The shop owner showed me two red sponge-like balls. He put one into my hand and had me tightly close my fist around it. He put the other one in his own hand. A few gestures later, he opened his hand to show it was now empty. I opened my hand, and to my astonishment, the second ball had appeared there along with the first! At that moment, I felt like I had experienced real magic. I clearly saw him put only one ball in my hand, but two came out!  How was this possible?!
Enchanted by this miracle, I quickly asked my big sister to buy me the trick so that I could learn it's incredible secret. As soon as I reached home, I tore open the package and hastily read the instructions. I remember thinking, What? That's it? No, that could never work! This is stupid! I felt like I had wasted money. Disappointed, I cast the trick aside and it was doomed to sit around for years.
Looking back, I miss that feeling of wonder. I first became interested in magic when a magician performed for my kindergarten class. I was called up as a volunteer to follow along with her. We each put small handkerchiefs in our hands and said some magic words. When I opened by my hands, my handkerchief was still there but hers had disappeared! That day, I vowed that I would learn to do the same trick and perform it myself someday. Soon after, I received a magic set as a gift and thus started my journey.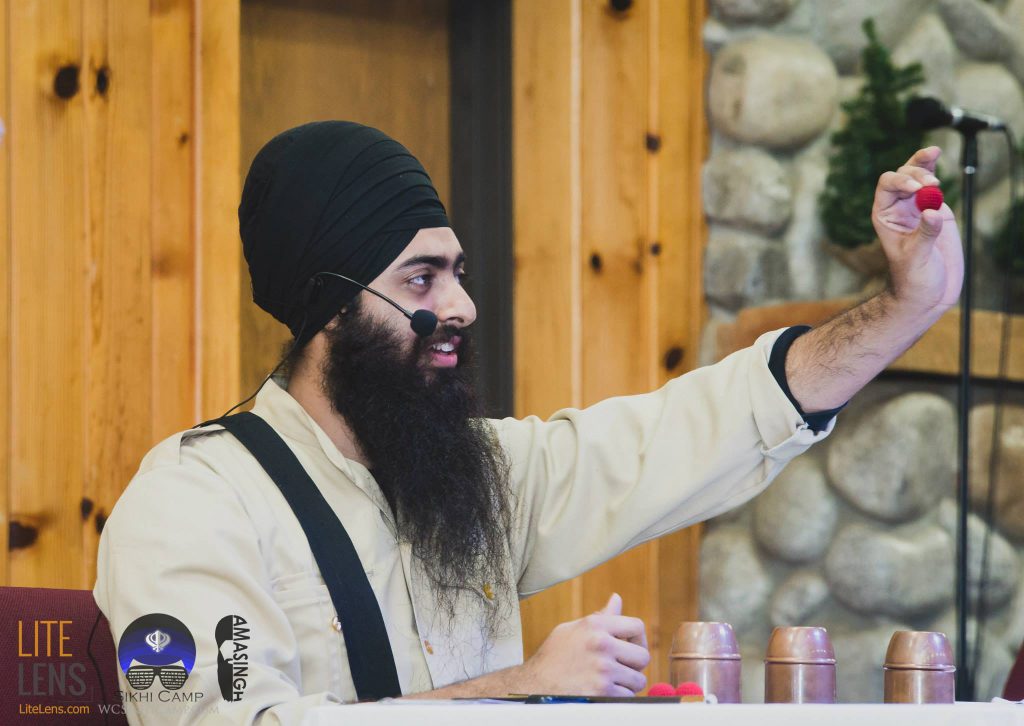 [Amasingh performing "Cups and Balls" at West Coast Sikhi Camp. Photo Credit: LiteLens Photography.]
As I was growing up, I learned more and more tricks. I found magic books at the library. I read magic forums and ordered tricks from online shops. I wanted to understand how everything worked and perform it all. But the more I learned, the more that sense of wonder escaped me. Spoiled with the knowledge of hundreds of secrets, I could no longer just enjoy a trick. Being a creative child, I was always interested in the mechanics of how stuff worked. Rather than seeing a magic illusion and enjoying it, my brain would automatically start putting together various theories to make sense of it. Nevertheless, I continued learning and practicing.
I eventually went back and picked up those sponge balls. At 16 years old, I performed my first paid show. I performed the same illusion, where the ball disappeared from my hand and appeared in the little girl's hand who I had called on stage. Her eyes grew wide in wonder, and I immediately recognized her expression as the same feeling I had experienced in my childhood. Sure, I no longer felt that sense of amazement watching magic myself. But I could provide it for others! I suddenly realized that this in and of itself was a huge gift and blessing.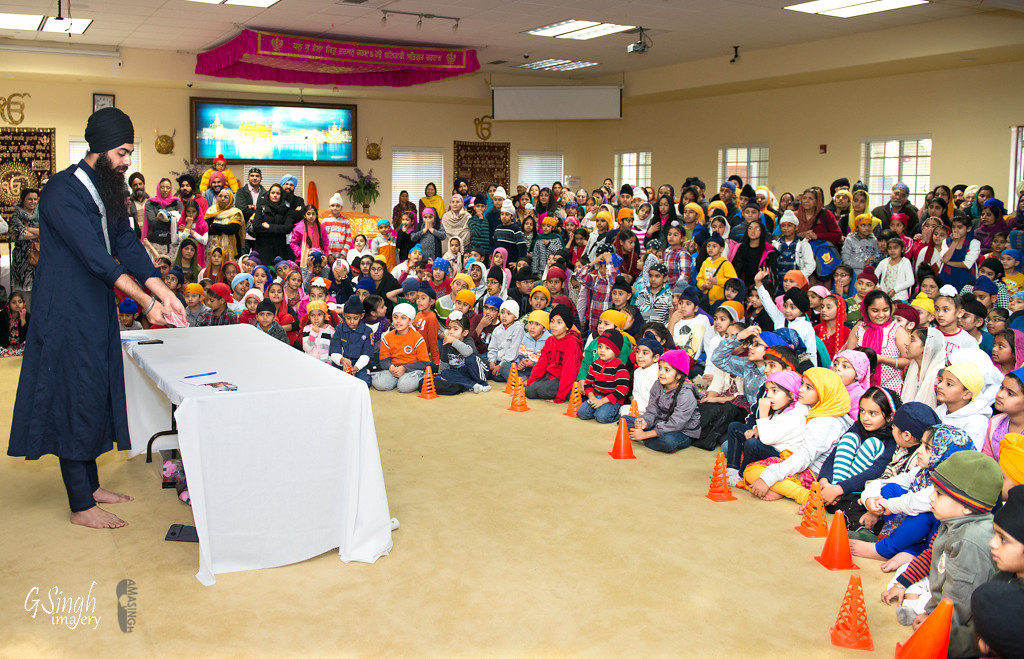 [Magic show for 400+ kids at Guru Nanak Khalsa School, San Jose. Photo Credit: G. Singh Imagery.]
Over 100 shows later, I feel happy knowing that I have been able to create that experience of wonder for thousands of people. Adults are just as amazed as children, if not more. Why? Children are constantly learning with each new experience so they are still open to the impossible, but adults have already established an understanding about how the world works. When magic causes them to question or doubt that understanding, they often don't know how to react. Some people enjoy this feeling, while others see it as a challenge to their ego and feel the need to prove their intellectual prowess by figuring out the secret. To them, I say, "Don't try to figure it out, just enjoy it!"
We magicians are not trying to 'trick' or 'fool' everyone. Our purpose is to give people a break from their daily lives by momentarily suspending their reality. I think, deep down, we all want to believe in magic. Miracles give us hope that anything is possible.  Just as people immerse themselves in movies and video games to forget about their worries, magic provides a way for people to temporarily escape the limitations of real life.
It has been ten years since my first paid show. Since then, I have flown to Vancouver, Toronto, New York, Atlanta, Los Angeles, Phoenix, Boston, the UK, and more to perform magic. I have performed for nonprofits, food banks, birthday parties, fundraisers, camps, gurdwaras, weddings, and more. I have performed for up to 800 people at a time. I have performed on stages, at schools, workplaces, airports, in cars, buses, and airplanes. I feel blessed that each year has been more successful than the last. Recently, I even released my own kid's magic kit!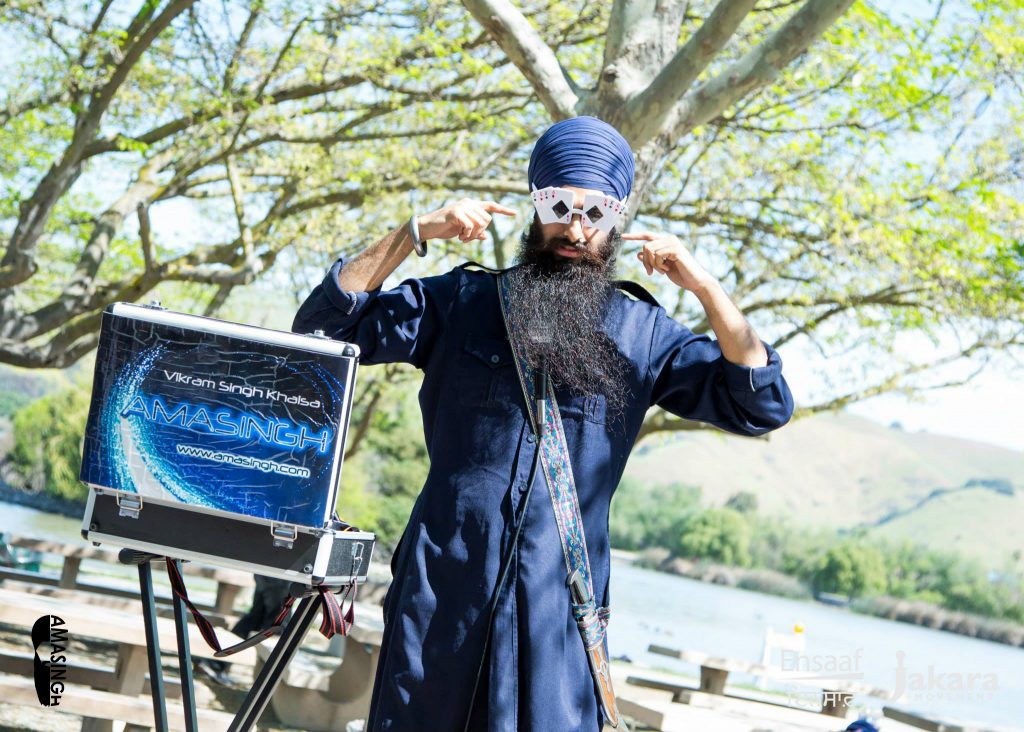 [Amasingh Mind Control at Ensaaf's "Appear for the Disappeared" at Lake Elizabeth Park in Fremont. Photo Courtesy: Vikram Singh Khalsa.]
Through my passion for performing magic, I have encountered many interesting individuals and built relationships with people who I may not have otherwise met.  I recently had the opportunity to perform for hundreds of children from underprivileged communities. Although many of their parents could not speak English, seeing them have such a great time showed that art forms such as magic can go beyond the barriers of language.  Another touching experience was during a volunteer performance for some elderly folks at a retirement home. Although many of them could not speak or walk, I could see their eyes light up during my performance. Their gratitude was so humbling!
Looking back, I have come very far. But I feel like I still have a long way to go. In the Sikh faith, one of the most important principles is giving up one's pride and being humble. However, my success as a magician relies on my ability to promote and praise myself, which is often at odds with maintaining humility. This is an ongoing struggle for me as I attempt to keep my ego in check while portraying myself as a great magician. Fortunately, I know I have much to improve and that is why I am always striving to learn more. I have recently started exploring how to add more meaning to my magic. How I can use it to tell stories, give messages, or prove points? There is so much more to learn!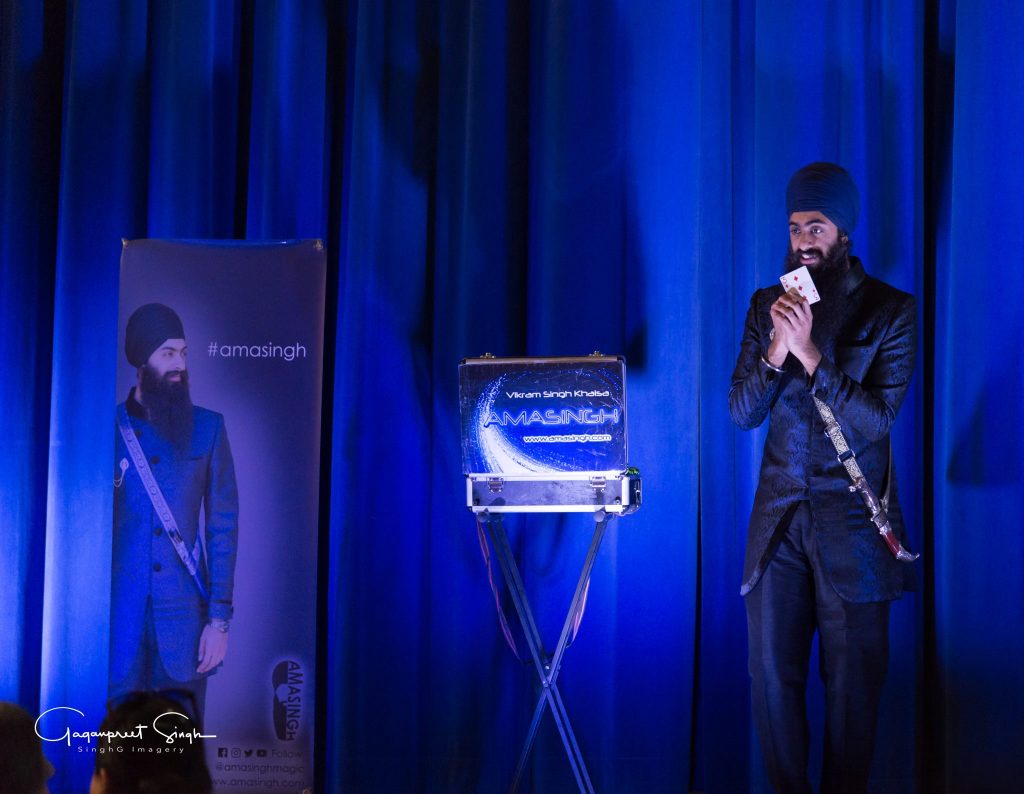 [Performing magic for Sikh Awareness Month in Santa Clara, CA. Photo Credit: G. Singh Imagery.]
I hope that I can continue to inspire people. While I may have romanticized the idea of being wonderful magician, I must admit that it is not my full-time career (yet?). Due in part to practical considerations, I am a software engineer by day, living up to my South Asian stereotype. I have faced some of the typical stigma from the Indian community but I have received plenty of support as well. I am happy to see so many desis pursuing art, music, and other unique passions and careers and breaking free from the narrow mindedness which once engulfed our community. I am still exploring what exactly I want to do and how I can balance economical needs with my passions and live a fulfilling life. I may one day end up being a full-time magician, or I may end up doing something completely different. Whatever it may be, I'm sure it will be amasingh."
-Vikram Singh Khalsa
Follow Amasingh on his website, Instagram, Facebook, Twitter, and Youtube or contact him at vsk@amasingh.com.
And check out this video of Vikram performing some amasingh tricks for people hanging out in the city:
---
Do you know a Brown Boy who is awesome at what he does? Send an email telling us why at Trisha.Sakhuja@0mq.349.myftpupload.com.