June's Brown Boy of the Month is Monty Kataria, a young multifaceted journalist, entertainer and media personality whose work provides young South Asians all over the world with more outlets to remain connected to their heritage no matter how many miles away from "home" they are.
Being far from home is a concept Monty can relate to. The son of a member of the Indian Foreign Service, Kataria, born in Delhi, moved frequently throughout his childhood. He spent time in Cambodia, Switzerland and the U.K. after finally coming to New York City, about ten years ago. Kataria completed high school as well as his undergraduate and master's work in New York City.
However, even while obtaining his advanced degrees, Kataria never had a concrete or specific plan of where he envisioned himself post-grad. Through following his interests of film and Bollywood and maintaining his passion of being desi, he obtained his two most consistent positions: the New York Indian Film Festival and Urban Asian.
Kataria started off as a volunteer for the New York Indian Film Festival, which celebrated its fourteenth year this May, a few years ago and soon rose through the ranks, eventually becoming the production manager for the event. His responsibilities as production manager include screening films, setting the program and obtaining the films. The five-day festival is the largest Indian film festival outside of India and features films from India, South Africa, Argentina and more. While Kataria is an avid Bollywood fan and enjoys his masala-blockbusters, he is most proud of the "independent meaningful cinema" that the festival showcases.
Film is a powerful tool.  You can make a big difference with a film because so many people see it and it can stay with you forever," he said.
Kataria is also a writer for Urban Asian, an online portal popular in the United States and Canada, aimed at young South Asians to keep them in-the-know about desi pop culture happenings, as well as beauty, fashion and lifestyle news. Kataria describes Urban Asian as the perfect medium to showcase "our [Indian-Americans'] western lifestyles that we're living our way." The company is also involved with public relations and artist management, and soon hopes to have its own radio station, as well as a television segment. Urban Asian was also one of the major media sponsors at the IIFA 2014 Awards show in Tampa, Florida.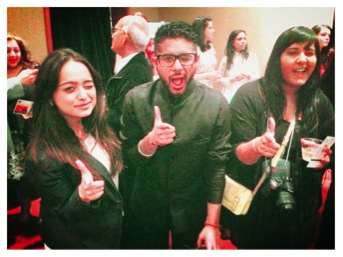 Through these platforms and effective networking, Kataria has had many opportunities to interview celebrities and artists and host different public events. Some of his favorite interviews include Bohemia, a Pakistani-American rapper and one of the pioneers of the Punjabi rap scene, and Bollywood star Priyanka Chopra. These interactions are the best part of his job because he meets people he's always wanted to meet but "on a sophisticated level, not on a fan girl level," Kataria said.
Despite achieving success so young and meeting so many high-profile artists, Kataria remains humble. He says, "If I feel like I've done something that I'm proud of, then, I'll stop doing anything. I'll get lazy." But with a little persuasion, I persuade him to describe the proudest moment of his career thus far. Kataria speaks about hosting Diwali at Times Square in 2013, which had an attendance of more than 100,00 people and included appearances by Ranbir Kapoor and his family.
He experienced a surreal moment during the show, stating,
I just looked at the crowd in Times Square for ten seconds and all I could see with my naked eye were brown people in the center of the world. I thought, we're taking over."
This sentiment perfectly demonstrates Kataria's intense and admirable desi pride.
This pride reflects onto his goals for the future. He wants to continue his journalistic pursuits to become a full-fledged television anchor on an American network to ensure South Asian representation in America. Kataria believes in entertainment for a purpose and wants to increase representation because he feels like that's what he's been doing on a smaller-scale his whole life.
Since growing up all over the world, he always felt like he was "able to be more Indian outside of India."
Wherever I go, I feel like I am a representation of India. I stayed very Indian and was connected to my people back home."
Thus, Monty's ambitions parallel the experiences he's had being a global Indian. However, with these ambitions, come challenges. The fields of journalism and entertainment are quite competitive. Kataria explains that these fields involve politics and timing. He warns, "There's a lot of shady people involved in entertainment, whether you're in New York or New Delhi. You have to be street smart and smart with your knowledge."
Although Kataria has his sights set on bigger things in his future, his experiences and success are still valuable resources for many BG readers. For those interested in journalism, entertainment and media, he advises,
Don't forget that you're desi. Some people try too much to be American and they shouldn't forget that they can make a difference and be successful by being desi and representing their culture. If you're desi just be desi."
To all the brown girls, he says,
You girls are perfect. Just do you. Don't let a brown guy put you down. Be brown and be who you are."
Images provided by: Monty Kataria