by Kanika Monga
This week, Brown Boy Kovid Gupta's first venture as an assistant director releases on the big screen for the world to see.
Can you guess for which movie?
Yes, you guessed right — Salman Khan's "Prem Ratan Dhan Payo."
This Indian-American author from Houston is also a screenwriter and social activist. He is most known for his biography of director Ekta Kapoor—aptly titled, "Kingdom of The Soap Queen: The Story of Balaji Telefilms."
He obtained an MBA from Cornell University, and attended the University of Texas-Austin (with me) where he was the founder of a nationally performing dance team called Nach Baliye! Hook Em' Horns!
Read on to learn more about the immensely talented Gupta in our "Fast Five Interview" series, which introduces budding artists/activists to the Brown Girl community.
1) What has it been like working on the set of "Prem Ratan Dhan Payo" as an assistant director?
It has been an incredible expedition. Sooraj Barjatya is one of the major reasons I joined the Hindi film industry in the first place—his films have been a huge source of inspiration to me. He truly believes in doing what his heart tells him; that's what makes his films so popular.

Have a glance at our cinema today—it's filled with vulgarity, obscenity, and abusive language. Parents have to think twice before taking their children to watch a film. Our women are repeatedly objectified, and an umpteen number of films become box office hits courtesy item numbers and crass tactics. In the midst of this, Sooraj Sir has continued to make family cinema. In an era where films have few songs, he has brought back the melodies of the 90s in 'Prem Ratan Dhan Payo.'

On set, he always creates the atmosphere he wants his characters to live in. We were filming a sequence at a railway station in Karjat, a town near Mumbai. The entire platform was decorated from top to bottom with marigolds and roses. A wedding band was called to play festive tunes. Numerous extras were bejeweled to look like nobility and gentry. Even the train itself was filled with flowers.

As we wrapped up the scene, Sooraj Sir mentioned how the larger-than-life décor wasn't just for the sake of creating a film set. It was also about creating the right environment for our actors—when they walked onto the set, they should have felt like royalty in order to immerse into their roles.
2) You've been a script writer for famous TV shows such as 'Balika Vadhu' and 'Bade Acche Lagte Hain,' but how has working as an AD different?
Television and film are very different playing fields. Television is very fast paced – we have to pen five episodes a week, which sums up to the length of a feature film. A screenwriter doesn't have much time to contemplate; you are churning out nearly twenty pages of screenplay per day. There is also the pressure of ratings; weekly ratings determine the fate of one's show.

I remember a specific instance on a soap opera where we had to drastically alter the course of the story in order to salvage our falling ratings. The producer is pressurized by the channel who in turn is pressurized by fluctuating advertisement spot rates. Also, with television, you are going into people's homes every day—your audience grows with your characters, day after day, week after week, month after month. You can take your time in telling the story.

Film is a different ball game. Audiences come to theaters to watch your work—you have anywhere between two to three hours to take them through your protagonist's journey. In films, you also have a massive amount of time to plan out your projects. Unlike television, where character graphs can oscillate, film characters and plot points are set and decided beforehand to a large degree.

On 'Prem Ratan Dhan Payo,' for instance, Sooraj Sir had an entire hardbound screenplay ready before we went on floors with the film. Shooting is also not as fast paced on a film set – you don't have the burden to deliver an episode to a channel for an evening telecast when shooting a movie.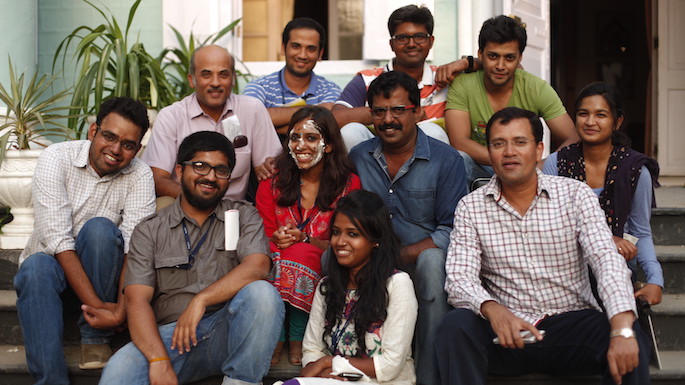 [The entire PRDP directorial team with Director Sooraj Barjatya, and Director of Photography, V. Manikandan. | Photo Credit: Ravendra Singh Bhadauria]
3) What kinds of obstacles have you had to overcome while transitioning from the U.S. from a non-Bollywood background to moving to Mumbai?
I think for anyone coming from a non-Bollywood background, gaining entry is always the toughest part. It's a tough business to crack. I've been fortunate in that the industry has always been kind to me—I've been lucky to have met people who were willing to try me out.

That's how I bagged my first show in fact—Rajesh Dubey, the screenplay writer of had me write a few episodes with him. He liked my work and hired me. I fortunately kept meeting bighearted people along my journey. I feel so grateful.

Two very major facets of survival in our industry are patience and persistence. I cannot stress on the importance of these enough. I have seen many people move to Mumbai and then go back to their homes after trying for a few months—giving up is the easiest thing to do, persevering is the hardest. It took me, for instance, nearly four years of effort in Mumbai to work on a Sooraj Barjatya film. Patience is also critical. Meetings, deadlines, and the likes are often decided last minute due to the volatility of the industry. Similarly, weekends are nonexistent when film and TV projects are on crunch time.  
4) Words of advice for upcoming writers, directors, and scriptwriters?
Never, ever, give up on yourself. That's the first thing one feels like doing, especially in an unstable industry such as ours. It's tough, it's very tough. But it's not impossible. Sometimes you'll just want to quit everything, go back, and lead a 'normal' life. But persistence is the name of the game.

You have to believe in your ability to conquer whatsoever dream you have. You must dream asleep, you must dream awake. If you are entirely focused on that one big dream you have for yourself in this industry, there is no way any person or any force can stop you from achieving it.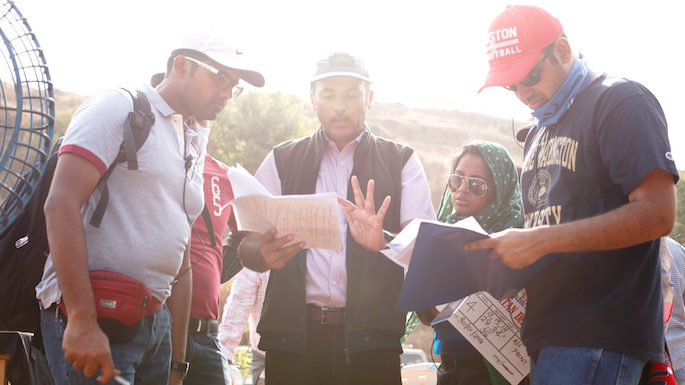 [Director Sooraj Barjatya briefs the Assistant Directors on a scene. | Photo Credit: Ravendra Singh Bhadauria]
5) What types of future projects can we see you in?
I am working on two books at the moment. The first is a collection of short stories revolving around growing up in the United States as a second generation Indian. The second is a love story; it's a romantic piece about two star-crossed lovers. There is also a film script in the pipeline that I have been working on for quite some time now. I would also love to produce television that focuses on family drama issues in NRI families.
Follow Brown Boy Kovid Gupta (@kovidgupta) on Twitter to keep up with his latest updates.
---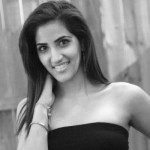 Kanika Monga, a graduate from the University of Texas, is a doctor by profession at the Texas Medical Center. She is a lover of all things creative, and cuddly. Her weaknesses include sushi and sparkling wine. Follow her on social media as she muses over life in her white coat and stilettos—Instagram: Kanika Monga, Snapchat: KandyK579, and on Twitter: @DrKanikaMonga