by Syeda Hasan

When Amandeep Singh wakes up, his mind is already buzzing with creative ideas. As he heads to his art studio for morning meetings with his team, he pictures his coffee mug morphing into a planet with Saturn-like rings. There is seldom a moment when he isn't using his imagination.
I think I use a pinch of everything I see in a day to inspire me on a piece," he said. "I'm an artist of life really."
That imaginative spirit is reflected in Singh's artwork, edgy illustrations in eye-catching inks that are purposefully messy. He's known as Inkquisitive, a nickname he thought up thanks to a conversation with his mom. When Singh finished his first-ever painting – a portrait of the Indian revolutionary Bhagat Singh – his mother asked him some tough questions about his artistic vision.
Aman, why have you done that or why have you done this blue?" he said. "I was like, yo mom, you're really inquisitive about my work, aren't you? I had this eureka moment, so I thank my mom for the name."
Singh has loved art for as long as he can remember. His mother used to scold him for painting on the walls as a two-year-old. Today, he's a renowned artist whose work has gone viral on social media and gained him global recognition. Singh recently completed the Souled Out tour, an exhibition showcasing his work across North America.
I met so many people from different cultures, races, religions who were all engaging in my artwork," he said. "The friends I made, the people I shared stories with, gave me a dosage of their life as well, and it was a fantastic experience."
An artist of the digital age, Singh said social media has played a big role in his career. He shares his illustrations on Instragram, where he has gained a loyal following of over 70,000. Singh encourages all emerging artists to reach new audiences by sharing their work online.
When I first started out, I'd just been this guy that draws in his bedroom, puts in on the internet, and then there are people all over the world sharing it," he said. "If you have a phone, the world is literally in your hands."
It's not just fans who appreciate Singh's work. His art has been shared by a number of celebrities, including Drake, David Blaine and LL Cool J.
Owning their pieces myself, I'm very thankful to know that LL Cool J has an Inkquisitive piece now," he said. "This just fuels me with more energy to keep going, keep doing more things and reaching out. There are no limits."
Singh often uses his art to honor major events of the day. Last month, he painted a touching tribute to the late Robin Williams.
He's able to produce work fast, and he can usually complete a painting in six or seven hours, but Singh says he doesn't try to race the clock when creating a new piece. When it's ready to share, he knows.
When something affects me, it affects me," he said. "Instead of me sopping about it, I pick up a paintbrush and do something about it. Me doing that is actually me having a conversation with my canvas."
With his natural creativity, it's hard to imagine Singh as anything other than an artist, but he does have another passion that he devotes hours of his time to daily.
I think if I wasn't an artist, I would be a professional cricketer," he said. "Cricket is one of the sports that is like life for me."
Singh tries to work in an evening match with his friends whenever he can. After sweating it out on the cricket ground, the busiest part of his day begins. He tends to be a night owl. Singh spends hours working in his studio every evening, sometimes painting until 3 or 4 a.m.
All the best ideas are flowing in the night while everyone's sleeping, so that's the best time to grab them," Singh said. "I just have this massive creative flair for me going on strong at nighttime. I always feel more confident drawing and painting at night time."
Singh is currently in the process of filming a documentary on his work. After months of touring the world, he also plans to do more showcases in the U.K., where he lives. Singh says he can't reveal too much about his upcoming exhibitions, but fans can expect an announcement soon.
I never have a limit to my ideas because I see inspiration in everything," he said. "It's always me experimenting and challenging myself. I only paint what I truly believe in."
To see more of Inkquisitive's work, visit his website, 'like' his Facebook page and follow him on Twitter. 
---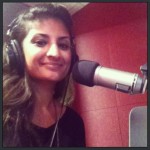 Syeda Hasan is journalist reporting for Brown Girl Magazine and Houston Public Media News 88.7. She is a news junkie who loves non-fiction, from documentaries to the Real Housewives. She is a proud Texan and Longhorn with a mild obsession for all things French. Syeda has previously reported for the Daily Texan and KUT News in Austin. She is also the host of BG's podcasts.