With England's historic win at this year's ICC Men's Cricket World Cup earlier this month, people across the U.K. will be rushing to pick up a bat and ball and start playing themselves. The exception might be South Asians here, though, who make up a third of the 2.5 million people playing recreational cricket in the U.K and 4 percent of the professional players. The England and Wales Cricket Board (ECB) govern all things cricket in England and Wales and have done so since 1997. They have now launched an 11-point Action Plan, aiming to engage more South Asians in cricket at every level. To even out the playing field, Sport England has awarded the ECB with £1.2 million to make cricket a game for everyone, South Asian women included! 
The key aims of the Action Plan are to create more opportunities for South Asian communities to engage with cricket and remove the barriers that South Asian players and fans face. Through building strong relationships between South Asian communities, the ECB aims to use the sport to create positive synergies — after all, cricket is a game for everyone. 
Shruti Saujani, City Programme Manager at ECB, explains how they look at the different levels of play, from recreational to elite, to encourage a wider pool of players who will eventually become professionals. The aim is to increase South Asian participation in the game, and Saujani focusing is on involving more South Asian women. She states, 
South Asian women are part of the demographic that are least likely to be active. We set out to attract around 2000 South Asian females to the sport. The All-Stars Cricket scheme focuses on girls between the ages of 5 and 8 and runs as an eight-week programme. It's all about getting girls involved as part of family time, which is the main barrier they face.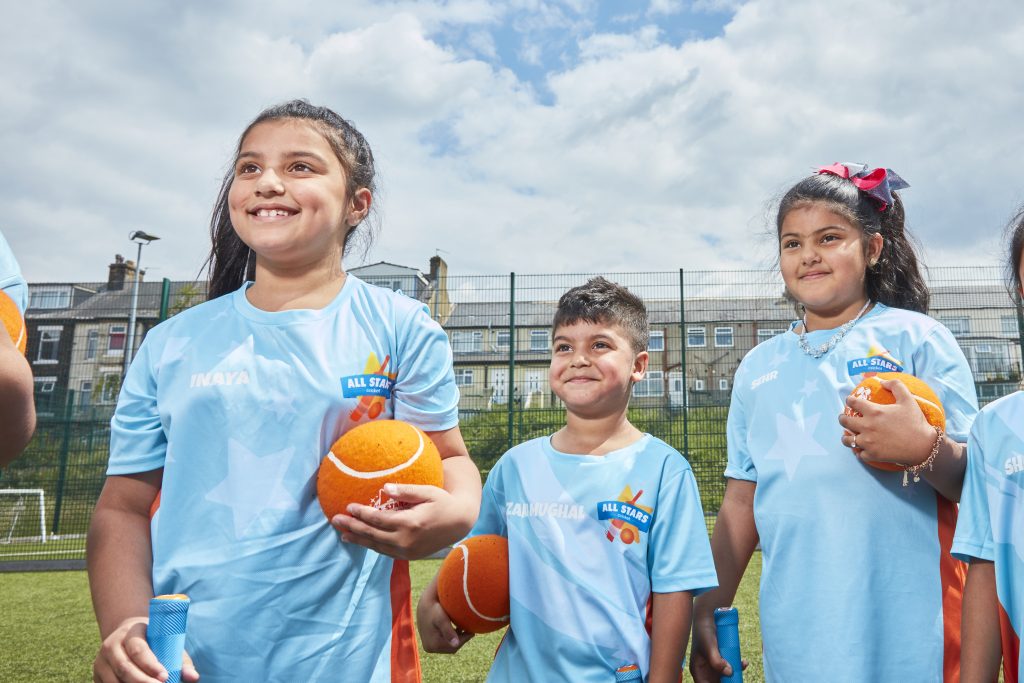 It certainly seems to be working in Leyton, East London, with its high density South Asian population, where the ECB has just opened up an Urban Cricket Centre, designed to be a permanent fixture. Saujani explains, 
We take cricket to the inner-cities, mosques, gurdwaras, to places where South Asian girls will be, with the family.
By and large, it's been a success. The response has been good and South Asian girls who attend the program have a great time.
What's been really interesting is watching the dads step up, Mums tend to control the diaries, so they'll sign their girls up, but the dads are turning up to sessions! It's an interesting new challenge for us because we try to get the mums involved, but unless it's a ladies-only session, we tend to get a lot more male participation. And it's not a problem, but the dads tend to be more competitive – we have to ask them to take a step back to give the girls a fair chance.
Each of the ECB All Stars Cricket City programmes is run by a corresponding South Asian Activator — a South Asian woman over the age of 16 to act as a role model and coach at the sessions. The hope is, Saujani tells me, is younger girls will see a woman who looks like them leading the session, and realise that they can play cricket — maybe even professionally. 
We've taken cricket to them. For those girls, seeing a female cricket coach gives them that aspiration too.
The All-Stars scheme has seen over 66,000 children sign up, with the number of girls participating in the initiative doubling year-on-year. But even the South Asian Activators are getting an equal amount of support. 
They are there to act as role models, and our job is to support and empower those women. We look at both personal and professional development, holding CV workshops and looking at getting these women working in sports, in national bodies.
With women like Saujani fighting for inclusivity policies, encouraging under-represented groups, it generates diversity results that teams of a single demographic just won't be able to get. Her team was instrumental in the recruitment of nearly 200 South Asian Activators over a period of four months — well on track to fill the 2,000 posts across 50 programmes in British inner-cities.
The ECB held a number of consultations and reached out to South Asians to understand the barriers we face. We designed the kit for the South Asian Activators, with a headscarf, longer t-shirts – the ECB has taken those extra steps to ensure that it's culturally appropriate.
With headscarves, longer shirts, long-sleeved tops and jogging bottoms for women who are more comfortable in certain attire, the uniforms for the South Asian Activators have taken care of every cultural expectation that a woman might have. 
https://www.instagram.com/p/BzC8Bu-nrej/
While the stigma against girls playing cricket is dwindling in India, mostly due to the success of the Indian women's team in the 2017 World Cup, there is still a stigma attached here in the U.K. Family time and education are the two most important things in a young brown girl's life, leaving little room for creative arts (sorry mum!) or recreational sports. 
Saujani tells me the story of a middle-aged woman whose husband laughed at her when she signed up to the program—but also paints an inspiring picture of women in saris holding a cricket back and feeling the freedom they missed out on in their youth. By standing in solidarity with other women, by bringing cricket to the inner-cities—to London, Birmingham, Leeds, and any other South Asian hotspot—it has encouraged women to step up and join in. 
I studied sports science. I did my dissertation into the lack of South Asian women in sport and there was always a lack of role models for people like me. I wanted to change sports for women.
With initiatives like this, she is well on her way to inspiring a new generation to throw down the rolling pin and pick up a cricket bat.
Learn more about getting involved with the South Asian Activators scheme here. Follow Shruti on Instagram.